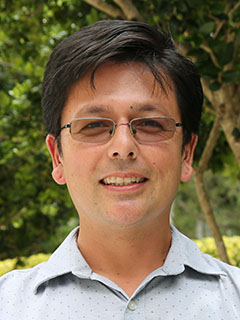 Thomas Lisse
Asst. Professor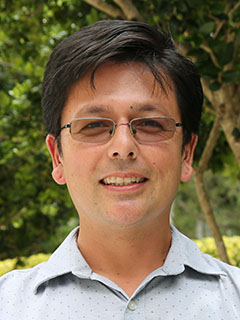 Education
| | |
| --- | --- |
| 2014 | Post Doctoral , Massachusetts General Hospital & Harvard Medical School |
| 2011 | Post Doctoral , Orthopedic Hospital Research Center, University of California at Los Angeles |
| 2008 | Ph.D. Experimental Genetics , Helmholtz Zentrum (Munich,, Germany) |
| 2004 | M.S. Cell Biology & Biochemistry , Technical University of Stuttgart (Germany) |
| 1996 | B.S. Biology, Purdue University |
Teaching Interests
I am teaching part of the Graduate Core I (BIL612-R) course on Genome Structure and Organization this semester (Fall 2018). My teaching style for this module is a combination of discussion of primary literature as well as complementary traditional lectures when needed. I encourage students to think critically of the research objectives, approaches taken, presented data, and final conclusions. I also challenge the students to conceptualize the "next steps" needed to advance the research projects at hand. I encourage all students to ask questions during class, and importantly to engage their fellow peers during discussions as well.
LIST OF SPECIALTIES: Stem cell biology | Steroid hormone and growth factor signaling | Genomics and transcriptomics | Hair and skin biology
Professional Experience
| | |
| --- | --- |
| 2018 - | Assistant Professor , Biology Department, Assistant |
| 2016 - 2010 | Associate Scientist , The Jackson Laboratory |
| 2015 - 2015 | Director, Genomics Core Facility, Oio University |
| 2007 - 2008 | Intramural Research Training Fellow, Intramural Research Training Fellow |
| 1998 - 2001 | Post baccalaureate research, University of California at San Francisco |
Honors & Acknowledgements
NIH, IDeA Networks of Biomedical Research Excellence (INBRE) Core Access Award, 2016
Young Investigator Award, American Society of Bone and Mineral Research, 2012
Chancellor's Award nomination, University of California at Los Angeles, 2011
Presidential Award, The Endocrine Society, 2010
Harold M. Frost Award, American Society of Bone and Mineral Research, 2010
Endocrine Society Award, Class of 2009
Travel awards from the American Society of Bone and Mineral Research, FASEB, and NIH, 2005-2012
Research Interests
Our lab is interested in answering fundamental questions how eukaryotic cells control their migration, survival and self-renewal during homeostasis and in response to injury and disease. Our long-term goal is to understand how growth factor and steroid hormone signaling pathways distinctly regulate skin cells to control the hair cycle and hair follicle regeneration. We are also interested in understanding the molecular mechanisms that govern growth factor and hormone-mediated wound repair and healing processes of injured skin. To reach these goals, we apply various genetic, genomic, comparative biological, biochemical and lineage tracing approaches. By investigating these fundamental processes, we envision a better understanding of hair and skin biology.
The Lisse Lab is seeking Graduate students to join the lab. Please contact Dr. Lisse for further information.
LIST OF SPECIALTIES: Stem cell biology | Steroid hormone and growth factor signaling | Genomics and transcriptomics | Hair and skin biology
Publications
Lisse, T.S., M. Sharma, N. Vishlaghi, S.R. Pullagura & R.E. Brau Nature Publishing Journal Regenerative Medicine 5 GDNF-mediated skin and hair regeneration through bulge stem cells (2020).
Lisse, T.S. Applied Science 10 Vitamin D regulation of a SOD1-to-SOD2 antioxidative switch to prevent osteosarcoma transformation2554 (2020).
Vishlaghi, N & T.S. Lisse Frontiers in Cell Developmental Biology Dicer- and BSC-dependent miRNAs during murine anagen development (2020).
Vishlaghi, N & T.S. Lisse Clinical Endocrinology Exploring vitamin D signaling in skin cancer (2019).
Lisse TS, Rieger S. " IKKalpha regulates human keratinocyte migration by surveillance of the redox environment" (2017).
Zhao H, Rieger S, Abe K, Hewison M, Lisse TS "DNA damage-inducible transcript 4 is an innate surveillant of hair follicular stress in vitamin D receptor knockout mice and a regulator of wound re-epithelialization." (2016).
Lisse TS, Middleton LJ, Pellegrini AD, Martin PB, Spaulding EL, Lopes O, Brochu EA, Carter EV, Waldron A, Rieger S. " Paclitaxel-induced epithelial damage and ectopic MMP-13 expression promote peripheral neuropathy in zebrafish" (2016).
Lisse TS, King BL, Rieger S. (2016 Feb).
Lisse TS, Saini V, Zhao H, Luderer HF, Gori F, Demay MB. "The vitamin D receptor is required for activation of cWnt and Hedgehog signaling in keratinocytes." (2014).
Lisse TS, Chun RF, Rieger S, Adams JS, Hewison M. "Vitamin D activation of functionally distinct regulatory microRNAs in primary human osteoblasts."
Lisse TS, Liu T, Irmler M, Beckers J, Chen H, Adams JS, Hewison M. "Gene targeting by the vitamin D response element binding protein reveals a role for vitamin D in osteoblast mTOR signaling."
Projects in the lab
In a current project, we seek to better understand how growth factors (GFs) and steroid hormones regulate the activation of hair follicle stem cells during the telogen (rest)-to-anagen (growth) transition, as well as maintenance of hair follicle cells by studying the anagen-to-catagen (regression) transition. We are interested in studying potential cross-talk between multiple pathways, as well as independency toward biological roles. We apply conditional and cell-type specific hormone/GF receptor knockout animal models
and organ cultures, as well as genomic and cellular approaches such as CRISPRi, ChIP-seq and lineage tracing to study hormone/GF signaling in hair follicles.
Another project aims to extend our knowledge how steroid hormones interact with stress signaling pathways during the cutaneous wound repair process. We are interested in understanding how specific hormone signaling pathways can act upstream of stress pathways such as the mammalian target of rapamycin (mTOR) to regulate biological responses to skin injury. In this system, we are focused on interactions within epidermal keratinocytes during the re-epithelialization process of wound repair.
A more recent area of interest is in understanding the significance and the molecular and biological roles of long and small non-coding RNAs during hair cycling and skin regeneration. These regulatory RNAs are not well-characterized in the cutaneous system and may function at the gene transcriptional, post-transcriptional, and/or epigenetic levels. We utilize conditional genetic animal models to perturb either non-coding RNA biogenesis or targeting to investigate potential biological functions in tissues.
Feel free to contact me if you are interested in knowing more about our on-going research projects, or interested in being part of the group.
Areas of Specialty
Stem cell biology | Steroid hormone and growth factor signaling | Genomics and transcriptomics | Hair and skin biology