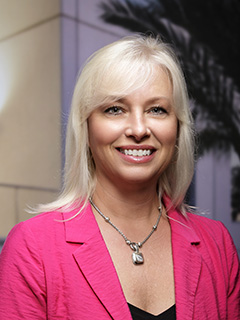 Karen M. Kerr
Director, Admissions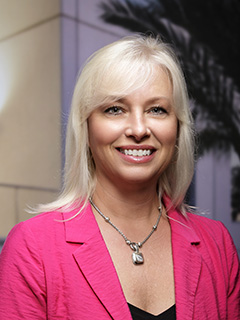 Biography
Personal Quote
Finding the right fit...that's what it's all about.  At FROST, we get that right, which is why students excel and reach their potential and thrive!
Biography
Karen Kerr is the Director of Admission and Recruitment at the FROST SCHOOL OF MUSIC at the University of Miami. Her office is responsible for the recruitment, auditions/interviews, and admissions for all undergraduate and graduate applicants to the school.
Named Director of Admission for the FROST SCHOOL OF MUSIC in 2006, Ms. Kerr streamlined several areas of operation by moving to online reports, online applications and media submissions, and paperless processing. A strong supporter of academic standards, she has been instrumental in the significant increase in the academic profile for admitted undergraduate students since being appointed director. 
In addition, Ms. Kerr is involved in all levels of the admission process, including development and implementation of recruitment plans, management of the application review and admission committee, analyzing data about trends across the applicant pool, and producing music-specific recruitment brochures. She also serves on the Executive Committee of the FROST SCHOOL OF MUSIC, an advisory committee to the Dean and the UM unit Liaison Committee.  She is a current member of ICCAM, the Independent Consortium on College Admissions in Music, and the National Music Roundtable.  On campus, she interacts with multiple constituencies including faculty, administration and other university administrative offices.
Ms. Kerr is an accomplished professional with over 22 years of experience in higher education, specifically focusing on admissions and recruitment. Prior to joining the FROST SCHOOL OF MUSIC, she served on the admissions staff at the University of Michigan School of Music, Theatre and Dance, and the admissions staff at Indiana University Southeast.  She earned her Bachelor of Arts degree from Indiana University Southeast, where her principal instrument was piano, and a Master of Arts in Liberal Studies from the University of Miami. 
Honors & Acknowledgements
Professional Experience
Career Highlights
Serves on the Executive Committee of the FROST SCHOOL OF MUSIC, an advisory committee to the Dean and the UM unit Liaison Committee
Member of ICCAM, the Independent Consortium on College Admissions in Music, and the National Music Roundtable
Served on the admissions staff at the University of Michigan School of Music, Theatre and Dance
Member of the admissions staff at Indiana University Southeast