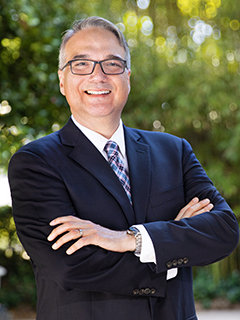 Anthony E. Varona
Dean, School of Law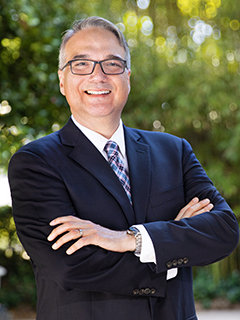 About the Dean of the School of Law
Tony Varona is the University of Miami School of Law's twelfth dean and the M. Minnette Massey Professor of Law. Prior he was professor of law and former vice dean (2016-2018) and associate dean for faculty and academic affairs (2010-2016) of the American University Washington College of Law, where he taught Contracts, Administrative and Public Law, Media Law, and Sexuality and Gender Law.
He has written extensively in the areas of media and sexuality law, and has published solo and co-authored pieces with notable law reviews/journals, including those associated with American, Stanford, Columbia, and Georgetown Universities, NYU, and the Universities of Michigan and Minnesota. He is a co-author of the second and third editions of the casebook Administrative Law: A Contemporary Approach, published by West, has served as a Huffington Post contributor, and has appeared in various national and regional traditional and electronic media outlets as a commentator.
Dean Varona is a co-editor of the AALS Journal of Legal Education, and serves on the national board of directors for Stonewall National Museum and Archives (SNMA), for which he co-founded and for its first year co-chaired the SNMA National Advisory Council. He is the chair of the Host/Planning Committee for the Fourth National People of Color Legal Scholarship Conference (NPOC19), is a member of the Executive Board of the Association of American Law Schools Section on Teaching Methods, and is on the Advisory Board for the International Telecommunications Satellite Organization (ITSO)/AUWCL Program on International Communications Regulation and Policy. He has served on the national boards of GLAAD, the Human Rights Campaign (HRC), and the Alliance for Justice, has been a member of the District of Columbia Bar's Global Legal Practice Task Force, and served on the AALS Associate Deans Section's Planning and Nominations Committee.
Before entering full-time teaching in 2002 at Pace Law School in New York, Dean Varona was General Counsel and Legal Director (initially "Chief Counsel") to the Human Rights Campaign, the nation's largest LGBTQ civil rights organization, and Adjunct Professor of Law at Georgetown. In 2000-2001, he served as a Wasserstein Public Interest Fellow at Harvard Law School. Earlier in his career, Professor Varona was an associate at Skadden Arps and Mintz Levin and an honors program enforcement attorney at the Federal Communications Commission.
Professor Varona shared the 2018 Egon Guttman Casebook Award, an AUWCL Faculty Scholarship Award that "recognizes outstanding scholarship in the form of casebooks and treatises," with Professors Andrew Popper and Mark Niles. He won the 2014 American University Faculty Award for Outstanding Teaching in a Full-Time Tenure-line Appointment and in 2011 shared an AUWCL Teaching Award for Innovation in Pedagogy.
Dean Varona was named AUWCL Teacher of the Year for the 2007-08 Academic Year. In 2014, Lawyers of Color Magazine named Dean Varona one of the "50 Under 50" top minority law professors in the United States, and in 2009 he was presented with the Hugh A. Johnson, Jr., Memorial Award by the Hispanic Bar Association of the District of Columbia, an honor recognizing "unwavering commitment and achievement [in] public service and dedication to the principles of equality, cultural respect, and social justice.