Elizabeth Reynolds Losin, Ph.D.
Asst. Professor

As of March 2023, the SCN Lab will be moving to The Department of Biobehavioral Health at Penn State University. Dr. Losin will be accepting graduate students through the Penn State Department of Biobehavioral Health or The Neuroscience Graduate Program in the Huck Institutes of Life Sciences in Fall 2022 to start in August 2023.
---
Elizabeth Losin, PhD is an Assistant Professor of Psychology and Director of the Social and Cultural Neuroscience Lab at the University of Miami. She received her Ph.D. in Neuroscience from UCLA in 2012 and came to the University of Miami at the start of 2015. Her passion lies in combining her training in anthropology and neuroscience to explore the bidirectional relationship between culture and the brain. She has investigated how humans acquire cultural beliefs and practices through imitation, how these beliefs and practices shape psychology and brain function by comparing individuals with different sociocultural backgrounds, and how both processes impact human health and health care. Along with the members of the Social and Cultural Neuroscience Lab, she is currently focusing on how cultural experiences (e.g., discrimination) and social situations (e.g., the doctor-patient relationship) influence pain perception and the brain mechanisms underlying it. She is also passionate about sharing scientific knowledge and enthusiasm with the general public!
Education
| | |
| --- | --- |
| 2012 | Ph.D. Neuroscience, University of California, Los Angeles |
| 2005 | B.S. Highest Honors, Neuroscience and Behavioral Biology / Anthropology, Emory University |
Professional Experience
| | |
| --- | --- |
| 2015 - | Assistant Professor, Department of Psychology, University of Miami |
| 2012 - 2012 | Postdoctoral Associate, Department of Psychology and Neuroscience, University of Colorado at Boulder |
| 2005 - 2006 | Postbaccalaureate Research Associate, Center for Mind and Brain, University of California – Davis |
Honors & Acknowledgements
2018: NIH Mentored Research Scientist Award (K01) Proposal Grant
2012: Society for Neuroscience Chapter Travel Award
2012: International Cultural Neuroscience Consortium Travel Award
2011: Brain Research Institute Society for Neuroscience Travel Award
2006: National Science Foundation Research Fellowship
Memberships
Cognitive Neuroscience Society
Organization for Human Brain Mapping
Social and Affective Neuroscience Society
Society for Neuroscience
Research
Dr. Losin's work combines theory and methodology from anthropology, psychology, and neuroscience to understand the complex relationships between culture, the brain, and health. Ultimately, she and her lab believe that this interdisciplinary approach has the potential to refine and expand our understanding of the human mind and brain, and inform translational approaches in domains such as health care and education. Her research takes a sociocultural neuroscience approach to cultural learning, pain, and cultural and neuroplasticity.
Recent Publications
Losin, E. A. R., Anderson, S. R., & Wager, T. D. (2017). Feelings of clinician-patient similarity and trust influence pain: Evidence from simulated clinical interactions. Journal of Pain, 18(7), 787-99. doi:10.1016/j.jpain.2017.02.428 [Losin pdf]
Anderson, S.R., & Losin, E. A. R. (2016). A sociocultural neuroscience approach to pain. Culture and Brain, 5, 14-35. doi: 10.1007/s40167-016-0037-4. [Anderson pdf]
LIST OF SPECIALTIES: Influences on pain perception | Multivariate fMRI analysis | Psychophysiology | Imitation
Research Projects
Pain in simulated clinical interactions
To investigate the sociocultural and contextual factors at play in pain perception during medical care, we are currently utilizing simulated doctor-patient interactions that include experimental pain induction as an analogue of a painful medical procedure.
Neurobiological mechanisms of pain report
In one study, participants undergo painful heat stimulations while inside an fMRI scanner, so that we can examine the role that brain activity plays in pain report, in combination with other sociocultural factors.
Sociocultural influences on pain perception
Our neurocultural model of pain predicts that certain sociocultural factors may influence pain report and perception across the lifespan. Through this lens, we are examining the differences in pain self-report across different social groups (East Asian vs. American; bilingual vs. monolingual).
Disparities in pain treatment decision
Funded by a K01 grant from the National Institutes of Health, this project involves probing possible explanations for biases and disparities in physicians' decisions to prescribe or not prescribe opioid analgesics. The study importantly involves creating a stimulus set of diverse people experiencing real, rather than posed, pain.
In the Media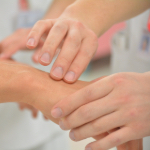 Doctor-Patient Trust may Affect Pain Levels
The Cut, New York Magazine
May 05, 2017
---
Is this proof pain is psychological?
The Daily Mail
May 05, 2017
---