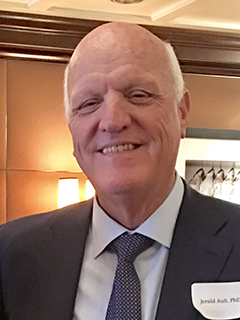 Jerald Stephen Ault
Professor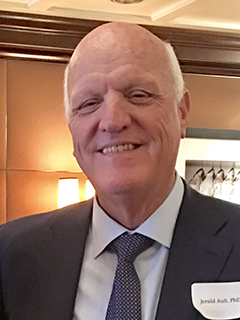 Professor, Department of Environmental Science and Policy - Rosenstiel School of Marine and Atmospheric Science
Jerald S. Ault is a Professor of Environmental Science and Policy at the University of Miami's Rosenstiel School of Marine and Atmospheric Science. Dr. Ault is an internationally renowned fisheries scientist specializing in population dynamics, predictive analytics, machine learning, sampling design, ecosystem modeling and risk assessment. He analyzes sustainability risks of marine fishery resources from exploitation and environmental changes.

Teaching and Mentoring

Ault teaches several graduate courses for M.S. and Ph.D. students in: (1) Population Modeling, Risk Assessment and Management (MES 714); (2) Advanced Biometrics, Predictive Analytics and Machine Learning in Marine Science (MES 715); and, (3) Computer Simulation Modeling (MAS 546). He periodically teaches an undergraduate course: Fisheries Resources of the Global Ocean.

Service at UM and the Wider Scientific Community

Ault is Chair of the Department of Environmental Science and Policy at the University of Miami who regularly provides expert testimony to U.S. Fishery Management Councils, Florida Governors (Chiles, Bush, Crist, DeSantis), U.S. House Committee on Natural Resources, NOAA Fisheries, National Park Service, International Council for Exploration of the Seas, International Union for Conservation of Nature, and International Scientific Committee for Tuna and Tuna-like Species in the North Pacific Ocean.  He has been widely featured in print and TV media concerning fisheries assessment and management.  He has held numerous positions on the Scientific and Statistical Committees of the Gulf of Mexico and South Atlantic Fishery Management Councils, Blue Ribbon Panel on Marine Recreational Fishing Data for the Theodore Roosevelt Conservation Partnership and the U.S. Fisheries Collaborative, EPA Board of Scientific Advisors, and the Interagency Ocean Observation Committee Animal Telemetry Network.
Education
| | |
| --- | --- |
| 1977 | A.A. Mathematics and Life Sciences, San Diego Mesa College |
| 1979 | B.S. Fisheries Sciences, Humboldt State University |
| 1982 | M.S. Natural Resources (Fisheries), Humboldt State University |
| 1988 | Ph.D. Fishery Management Science & Applied Statistics, University of Miami |
| 1990 | Post Doctoral Fish Population Dynamics, University of Maryland |

Career Summary
Ault has worked in coastal and coral reef fishery ecosystems around the world and published extensively on the biology, statistical assessment, mathematical modeling and management of marine fisheries. He specializes in sampling survey design, mathematical modeling, quantitative fishery assessment and development of dynamic ocean ecosystem simulation models to assess sustainability risks of marine fishery resources from exploitation and environmental changes.  Ault's fishery systems science approach is the recognized national standard for U.S. coral reef ecosystems in Florida, Caribbean Sea and tropical Pacific Ocean.  Ault is an avid recreational fisherman, considered the world's foremost authority on tarpon and bonefish, he frequently lectures to fishing organizations.
Scientific Research
Ault's research focuses on theory and application of quantitative methods to assess marine population risks from exploitation and environmental changes; predictive analytics and machine learning; ecosystem modeling; and, fishery management decision-making under uncertainty.