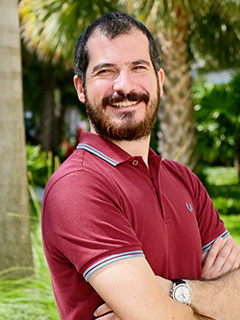 Javier del Campo
Asst. Professor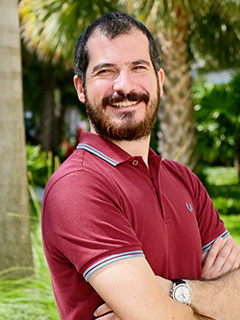 Assistant Professor, Department of Marine Biology and Ecology - Rosenstiel School of Marine and Atmospheric Science
My research aims at understanding the global diversity and distribution of eukaryotic and prokaryotic microbes employing curated phylogenetic frameworks focusing on novel environmental taxa. Through the use of novel culturing and isolation approaches and single-cell genomics, I also study uncultured species to discover new biological processes and their ecological implications. My experience generating and analyzing next-generation sequencing data allows me to use genome-scale data to address a multitude of questions on the diversity and distribution of microbes across natural environments. I am currently investigating microbial community ecology in marine animal-associated environments using cutting edge sequencing technologies and computational biology. My knowledge of eukaryote diversity is proving to be a vital resource as I develop the infrastructure necessary to incorporate microeukaryotes into microbial ecology studies in a phylogeny informed manner.
Career Summary
My career started in 2006 at the Institute of Marine Sciences (ICM – CSIC) and the University of Barcelona, Spain, where I got my PhD in Environmental Microbiology and Biotechnology in 2011. Afterward, I moved to the Multicellgenome lab at the Institute of Evolutionary Biology, Spain, where I did a first postdoc (2011-2013). After obtaining a Center for Microbial Diversity and Evolution (Vancouver, Canada) postdoctoral fellowship from the Tula Foundation and a Marie Curie outgoing fellowship from the European Union, I moved to the University of British Columbia in Vancouver, Canada (2013-2017). In May 2017 I went back to Barcelona to the ICM –CSIC as a Juan de la Cierva Incorporación Fellow. Since February 1st, 2019 I am an Assistant Professor at the Rosenstiel School of Marine and Atmospheric Sciences at the University of Miami.
Honors & Acknowledgements
Honors and Acknowledgements
FUNDING
| | | |
| --- | --- | --- |
| •   EukRef (The 18S annotation initiative). Gordon and Betty Moore Foundation, USA. |   | 2016-2019 |
GRANTS, FELLOWSHIPS & AWARDS
| | | |
| --- | --- | --- |
| •   Juan de la Cierva - Incorporation Postdoctoral Fellowship, Spanish Government (Spain) |   | 2017-2019 |
| •   Marie Curie International Outgoing Fellowships, European Commission (EU). |   | 2014-20166 |
| •   CDME Postdoctoral Fellowship, Centre for Microbial Diversity and Evolution & Tula Foundation (Canada). |   | 2013 |
| •   PhD fellowship, Consejo Superior de Investigaciones Científicas, MICINN (Spain). |   | 2007-2010 |
| •   PhD fellowship, Universitat de Barcelona (Barcelona, Spain). |   | 2004-2006 |
| | | |
| --- | --- | --- |
| •   Elected Information Officer of the International Society of Protistologists protistologists.org |   | 2015-2020 |
| •   Elected coordinator of the Microbiology section of the Catalan Society for Biology, scb.iec.cat |   | 2018-2019 |
| •   Member of the steering committee of UniEuk "A Universal taxonomic framework and integrated reference gene databases for Eukaryotic biology, ecology, and evolution" unieuk.org |   | 2016-2019 |
| •   Elected Vice Secretary of the Catalan Society for Biology, scb.iec.cat |   | 2011- 2013 |
Memberships
Memberships
| | | |
| --- | --- | --- |
| •   International Society of Protistologists (ISOP protistologists.org). |   | 2014-present |
| •   International Society for Microbial Ecology (ISME isme-microbes.org). |   | 2014-present |
| •   Society for Molecular Ecology and Evolution (SMBE smbe.org). |   | 2014-present |
| •   Societat Catalana de Biologia (Catalan Society for Biology, scb.iec.cat). |   | 1999-present |
Scientific Research
My research has always been focused on the study of the ecology and evolution of microbial eukaryotes but recently I have been expanding my scope to the prokaryotes in order to have an integrated view of the microbial compartment, particularly when dealing with microbiomes. My research includes both wet lab and dry lab, to develop experiments and bioinformatics analysis to enable the broadest possible research goals. I plan to initially focus on two important outstanding problems in the field of eukaryotic ecology and evolution: the study of host-associated protists and the effect of global warming on the microbiomes of benthic and planktonic marine animals. 
The eukaryotic microbiome: unveiling the animal associated protists. Unlike the study of bacterial microbiomes, the study of the micro-eukaryotes associated with animals has largely been restricted to visual identification or molecular targeting of particular groups. The application of a high-throughput sequencing approaches, such as those used to look at bacteria, has been restricted because the barcoding gene we use to study protist ecology and distribution in the environment, the 18S rRNA gene, is also present in the host animals. As a result, when host-associated microbial eukaryotes are analyzed by HTES, the results are dominated by host sequences. Stemming from my work on coral associated protists, I successfully implemented an approach that avoids the amplification of metazoan host genes, which allows us to use high throughput methods to study the microeukaryotic communities of animals. This approach will open the doors to the study of diversity and distribution of protists in a myriad of environments, from the coral surface to the human gut. I have already established several collaborations that will provide me access to samples from a wide range of hosts to start exploring the animal associated protist diversity using high-throughput methods.
Among the animal associated protists, the parasitic ones are particularly interesting. Half of the major groups of microbial eukaryotes contain at least one parasitic member and some of them are ecologically and economically relevant. Recent publications have shown that parasitic protists are abundant in environmental microbial surveys in soils, freshwater, and marine environments. The transition from free-living organism to parasite is an intriguing one from an evolutionary perspective. Across the tree of the eukaryotes we can identify clusters of organisms that include both life styles. This is the case for example for the apicomplexans and related lineages, which include Plasmodium falciparum (the malaria agent), the pseudofungi which include Phytophtora infestans (potato blight) and the metamonads which include Giardia lamblia (giardiasis or beaver fever). Through the use of 18S rRNA HTES and culturing and/or single cell genomics I will improve the environmental and phylogenetic framework of these areas of the eukaryote tree. My final aim is to better understand the ecological and evolutionary mechanisms that drive the transition to parasitism.
Effects of ocean warming and acidification on the microbiomes of benthic and planktonic marine animals. Microbiomes (both prokaryotic and eukaryotic) associated with host organisms have a strong influence on host evolution, physiology and ecological functions. I propose to study how environmental changes affect the composition of the microbiomes in two key members of the marine fauna, corals and copepods, and consequently how these changes affect the hosts. Coral reefs are biodiversity hotspots, whereas copepods are major trophic links in the marine food web. Ongoing climate change such as rising sea temperature and acidity has strong impacts on free-living marine microbial communities, but its effects have not been properly studied on host-associated microbiomes. To tackle this novel research topic, I will use a combination of state-of-the-art molecular biology, ecophysiology and bioinformatics.
I will use high throughput sequencing methods to examine the microbiome, focusing on both bacteria and eukaryotes. Using state of the art software and a pipeline combining Python and R, I will process the generated data and determine changes in the community. From these data, I will define those groups of organisms that best correlate with changes in host health and viability. These organisms will be localized inside the hosts using fluorescence in situ hybridization. Once localized, I will isolate them and retrieve their genomes and transcriptomes, either by culturing them, or by single cell isolation and sequencing. To complement the aforementioned approach alternative methods for genomic characterization that do not rely on isolation will be used, like metagenomics binning and posterior Metagenome Assembled Genomes.
Corals and copepods are key fauna in the marine ecosystems and they are vital to the marine economy in terms of tourism and fisheries. However, understanding of the ecology of these fauna will be incomplete without knowledge of the microbiomes associated with them. A comprehensive study of the microbiomes of corals and copepods in controlled conditions will generate new information on the ecology of the host organisms. The global ocean is undergoing changes in terms of rising temperature and acidification. Studying how these environmental changes affect the fauna by inducing changes to their microbiomes, and in particularly examining which members of the microbiota might emerge as putative pathogens or parasites, is crucial for conserving the ocean and the marine economy and preventing future disease outbreaks. Furthermore, by identifying microbial biomarkers that can help to diagnose promptly whether a population is negatively affected by temperature increase and/or acidification, this research can lead to the development of effective and inexpensive tools to monitor environmental impacts on marine fauna. As such, I expect that the novelty and urgency of the research will result in a series of high impact publications, as well as useful applications in marine conservation, fisheries and aquaculture.
Coral disease prospection in the Florida Reef. Coral reefs are beautiful and diverse ecosystems that harbor a myriad of marine species and that protect our coasts from erosion and supply food and natural products. Corals, the cornerstone and architects of the reefs, are threatened by global warming and by diseases outbreaks that are associated with the increase of the ocean waters temperature. While most of the coral diseases can be easily characterized by changes in coloration or tissue loss little is known about the causing agents of these diseases. So, we do not know what the targets are when fighting to protect our reefs against parasites and pathogens.
Diving and using ROVs we will explore the Florida Reef looking for signs of disease in the corals with the intention to sample as many diseases as possible. Back to the laboratory, we will use molecular methods in order to identify bacterial and microeukaryotic organisms associated with the diseased tissue and compare them with the microbial organisms associated with healthy coral tissues. In parallel, we will proceed to the isolation of those microbes that are associated to diseased based on our molecular data in order to keep them in the laboratory to experiment with them in order to first prove they are indeed pathogenic, and second find the way to fight them back. The final goal of the expedition will be to characterize as many disease agents as possible and establish the basis to develop the tools to fight them.
The Florida Reef is a well-studied system and there is a lot of information about the different aspect of its ecology as well as on the health of the reef. Previous to start the underwater exploration of the different sites of the Florida Reefs my team will screen the available knowledge in order to determine what are the most common diseases that have been already reported there as well as those that are having the strongest impact in the reef ecosystem.