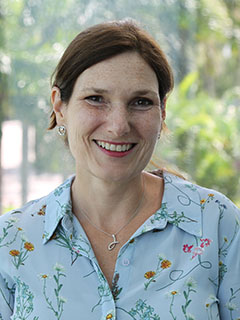 Joanna Johnson
Assoc. Professor Prof Practice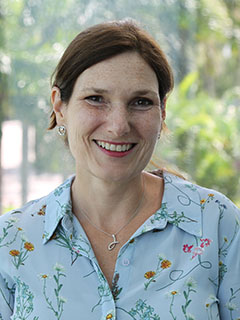 Joanna Johnson has taught in the Writing and Composition Program at the University of Miami since 2000 and has directed the program since 2013.  She is responsible for approximately 200 sections of undergraduate writing courses taught by more than 50 faculty members and graduate students annually; university-wide faculty, graduate, and dissertation writing groups; and Writing Centers at each of UM's three campuses.
She has taught writing at all levels of the undergraduate and graduate curriculum, including first-year writing, the writing and pedagogy graduate practicum, and the CTSI course, Research Ethics. 
The Writing Program also includes support for UM faculty in writing grants, preparing scholarly articles, and, generally, improving research communication. This specialized support is available at every college and school at UM:  On the Coral Gables campus; at the Miller School of Medicine and at the Clinical and Translational Science Institute (CTSI); and at the Rosenstiel School of Marine and Atmospheric Science.
She is an active member of several professional organizations, and serves on committees for the Council of Writing Program Administrators, the Association of Writing across the Curriculum, and the Rhetoric of Health and Medicine Symposium.
Her teaching and research interests include writing studies, rhetoric and composition, pedagogy, Anglo-Caribbean writing, and writing for the sciences.  Her book, Topographies of Caribbean Writing, Race, and the British Countryside, was published by Palgrave Macmillan in 2019.  She was a contributor to the writing text, Composing Inquiry (Pearson 2008).   Her contributions to UM's Responsible Conduct of Research curriculum, on the relationship between writing prose and scientific reproducibility, received the Association of American Medical Colleges "Innovations in Research and Research Education Award" (2017).
Education
| | |
| --- | --- |
| 2015 | Ph.D. University of Essex |
| 2002 | University of Miami |
LIST OF SPECIALTIES: Writing studies, Rhetoric and Composition, Pedagogy, Anglo-Caribbean Writing, and Writing for the Sciences