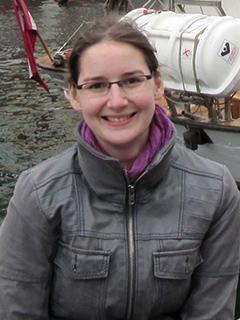 Krista A. A Goff
Asst. Professor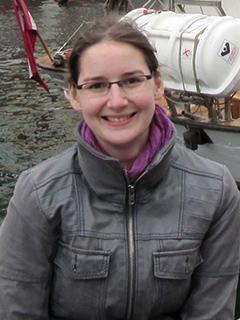 Professor Goff is on leave until January 2019. From September 2017 to July 2018, she will be a Title VIII Kennan Institute Research Scholar at the Woodrow Wilson International Center for Scholars. From August 2018 through December 2018, Professor Goff will be a Kluge Fellow at the Library of Congress.
Krista Goff joined the department as a historian of Russian and Soviet history in 2014. She specializes in the Caucasus (especially Dagestan, Azerbaijan, and Georgia), nationalism, citizenship, empire, ethnic conflict, and oral history. She is currently writing a monograph, titled Nested Nationalism: Soviet Nationality Politics and Minority Experience, about the politics and practices of suppressing non-titular minority identifications and communities in the Soviet Union, and the connection between these policies and ethnic conflict in the Soviet and post-Soviet periods.
The book draws on research Professor Goff conducted in twenty archives across four countries (Russia, Azerbaijan, Georgia, and Armenia), more than 120 oral history interviews, private document collections, and ethnographic texts, photographs, and maps. Using case studies from Azerbaijan, Georgia, and Dagestan, she connects local narratives to global events such as World War Two and the Cold War to describe a regional world that transcended the political borders dividing the Soviet Caucasus from Iran and Turkey. She shows how wartime experiences and Khrushchev's Thaw generated different ways of imagining, policing, and contesting diversity in the USSR.
Professor Goff employs digital humanities skills to enrich her scholarship and teaching. She has cultivated and georeferenced an extensive collection of Soviet ethnographic maps for her current manuscript project. She is also using archival sources to create maps for an article that she is currently writing about a significant Soviet-era migration event in the South Caucasus. In classroom projects, Professor Goff has introduced her students to digital cartography and visualization tools to enhance their research, critical thinking, and presentation skills.
In the 2014-2015 academic year, Professor Goff was a postdoctoral scholar at Harvard University's Davis Center for Russian and Eurasian Studies. Her research also has been supported by the Social Science Research Council, Doris G. Quinn Foundation, a Fulbright-Hays Doctoral Dissertation Research Abroad Fellowship, American Councils, the University of Michigan, the University of Miami, and others. She received her PhD from the University of Michigan, A.M. from Brown University, B.A. with honors from Macalester College, and studied at universities in St. Petersburg, Irkutsk, and Baku.
Education
| | |
| --- | --- |
| | Ph.D. University of Michigan |
| | A.M. Brown University |
| | B.A. Macalester College |
LIST OF SPECIALTIES: Soviet history, nationalism, empire, oral history
Publications
Goff, Krista A., and Lewis H. Siegelbaum, eds. Empire and Belonging in the Eurasian Borderlands (Ithaca and London: Cornell University Press, forthcoming 2019).
Goff, Krista A., "'Why not love our language and our culture?' National rights and citizenship in Khrushchev's Soviet Union," Nationalities Papers 43:1 (2015): 27-44. [Link]