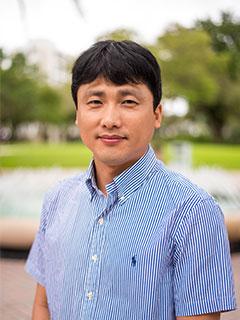 Min Kim
Associate Professor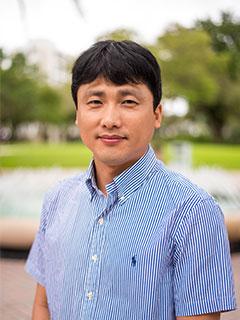 Dr. Kyung "Min" Kim joined the University of Miami in the fall of 2015 as an assistant professor of Athletic Training in the Department of Kinesiology and Sport Sciences. He received his Ph.D. in Sports Medicine at the University of Virginia and Master of Science in Athletic Training at the University of North Carolina at Greensboro. Dr. Kim is originally from South Korea where he completed his Bachelor of Science in both areas of Physical Education and Sport & Leisure Studies at the Yonsei University, Seoul. He had served as the head athletic trainer at the Blue Ridge School in Virginia, and worked as an assistant professor for the Professional and Post-Professional Athletic Training Programs at the Texas State University.

Dr. Kim's primary research is focused on understanding the neurophysiological mechanism of muscle dysfunction following a joint injury, and developing an alternative/adjunctive therapy to active exercise training for patients suffering from sensorimotor deficits. He is currently working with patients with chronic ankle instability in his efforts to identify neurophysiological mechanisms of postural control deficits and develop a therapeutic intervention capable of restoring altered motoneuron activity responsible for postural instability. Other areas of research interest include sensory reweighting during postural control, balance training, brain mapping, biofeedback, sports vision exercise training, and the new sport of Pickleball.

Dr. Kim is an executive member of several professional organizations in exercise science including Korean Athletic Trainers' Association, Global Senior Health Promotion Institute, Korean Society of Exercise Physiology, Korean Academy of Kinesiology. In addition, He serves as an associate editor of athletic training and sports rehabilitation for two journals: (1) Kinesiology and (2) Exercise Science. Finally, Dr. Kim was invited to be a member of the Golden Key International Honor Society, an international academic honor organization.