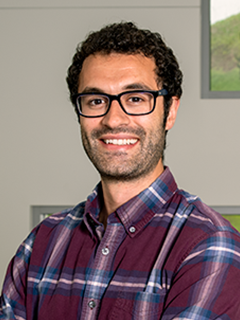 Luis Ruiz Pestana
Asst. Professor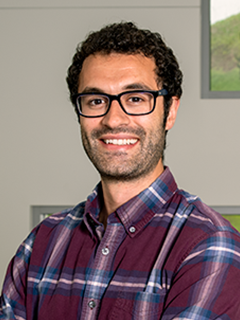 Assistant Professor, Department of Civil and Architectural Engineering
Dr. Reza and Georgianna Khatib Endowed Chair
Research Expertise
Dr. Ruiz Pestana is an expert in molecular modeling and simulation and his research is focused on understanding the amazing properties of nanostructured materials.
Teaching and Mentoring
Dr. Ruiz Pestana teaches courses in engineering mechanics and molecular modeling. He mentors graduate students in diverse fields such as engineering mechanics, computational chemistry, and statistical physics, and thus prepares his students to be successful in a myriad of professional and academic careers. He is a passionate researcher and enjoys teaching basic science to students and the broader public.
Education
| | |
| --- | --- |
| 2019 | Post Doctoral , Lawrence Berkeley National Laboratory, and University of California, Berkeley |
| 2015 | Ph.D. Theoretical and Applied Mechanics, Northwestern University |
| 2009 | B.S. Civil Engineering,, University of Cantabria, Spain |
Career Summary
Dr. Ruiz Pestana earned his bachelor's degree in Civil Engineering from the University of Cantabria in Spain and obtained his Ph.D. from the Theoretical and Applied Mechanics program at Northwestern University under the mentorship of Sinan Keten. After his Ph.D., he became a postdoctoral fellow at Lawrence Berkeley National Laboratory and the University of California, Berkley, where he worked with Teresa Head-Gordon. Dr. Ruiz Pestana has made an impact in a variety of nanoscience topics ranging from the development of computational models to investigate the mechanics of graphene assemblies to understanding the desalination potential of supramolecular peptide nanotubes.
Honors & Acknowledgements
Dr. Ruiz Pestana was awarded a Provost Research Awards for the year 2020-2021. In 2019, as a finalist for the Early Career Laboratory-Directed Research and Development Award, he became part of the Early Career Enrichment Program at Lawrence Berkley National Laboratory. In 2011 and 2012 he obtained the Nanomechanics Summer Institute NSF Fellowship and during 2011 he received the Predictive Science and Engineering Design Cluster Fellowship at Northwestern University. He is a member of the American Physical Society, American Chemical Society, and the Society of Engineering Science.
Research Interests
Our group uses tools from engineering mechanics, statistical physics, and computational chemistry to investigate the molecular mechanisms governing the remarkable and complex behavior of nanostructured materials. We are interested in understanding the roles of disorder, heterogeneity, and hierarchical organization on the mechanical and transport properties, as well as aging behavior, of nanoporous materials for energy and infrastructure applications. Our ultimate aim is to address persistent engineering challenges ranging from access to clean water to sustainable infrastructure through the design of new material architectures that harness nanoscale phenomena.