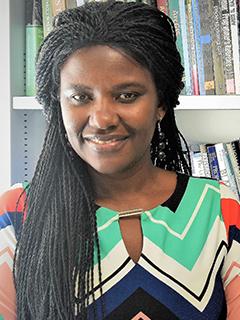 Imelda K Moise
Asst. Professor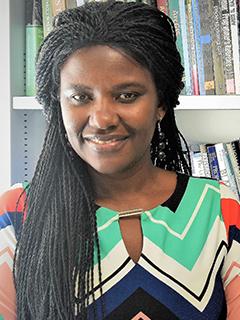 Trained as a health geographer, Dr Moise's overarching program of research focuses on families and communities at risk. Her methodological expertise lies in utilizing quantitative and qualitative methods, often employing mixed methods study designs including geospatial analysis to examine the sociocultural and contextual factors associated with health inequities. She is a recipient of the College of Arts & Sciences Scholarly and Creative Recognition Award, the American Evaluation Association fellowship focusing on culturally responsive evaluation theory and practice, and has been selected for the Fulbright Specialist Roster. She currently serves as a member of the Master of Public Health Advisory Committee at the University of Illinois Springfield, the Vector Control Workgroup of the National Association of County and City Health Officials (NACCHO), and is an Academic Editor for PLOS ONE.
She has completed work as the Principal Investigator of a RWJF New Connections award, "Examining age, racial and gender differences in the causes and contexts of alcohol-related trauma hospitalizations among adolescents and young adults (aged 10-24) in Illinois." Her ongoing funded research projects include a National Geographic project titled "Land use, microclimate & water quality nexus: implications for human health in the Rokel-Seli River Basin, Sierra Leone," the CDC Southeastern Center of Excellence in Vector Borne Diseases and the University of Miami's Laboratory for INtegrative Knowledge Interdisciplinary Research focused on "Leveraging untapped opportunities in place and time: a community-based child well-being collaborative to address early learning gaps."  
Her collateral research endeavors include substance use, ecological dimensions of mosquito-borne diseases, health effects of natural disasters, geographic targeting and health care access, program evaluation and developing decision support tools. She recently co-edited a book titled "Public Health, Disease and Development in Africa" (Geographies of Health Series, Routledge, 2018).
Teaching
Dr. Moise is committed to geographic and public health research, teaching, and practice, and how they inform one another. She engages in scholarship of teaching and learning research to determine how to best prepare the next generation of geographers, environmentalists and global health professionals.
GEG 335: Sustainable Food Systems
GEG 346: Immigrant & Refugee Health
GEG 412: GIS for Health & Environment
GEG 612: Health Applications of GIS
Education
| | |
| --- | --- |
| 2012 | Ph.D. Geography (Health Geography Specialty), University of Illinois at Urbana-Champaign |
| 2015 | MPH. Public Health, University of Illinois at Springfield |
| 2007 | M.Sc. Geography (Health Geography Specialty), University of Illinois at Urbana-Champaign |
| 2005 | B.A. Geography/Environmental Studies (double major), University of Oregon |
Research Projects
Southeast Regional Center Of Excellence in Vector-Borne Disease: The Gateway Program
This is a five-year CDC funded project to investigate Aedes Vector Ecology and Arbovirus Infection Rates in Miami-Dade County Urban Environments.
Funder: The Centers for Disease Control and Prevention (CDC)
Examining Individual Predictors Alcohol-Related Trauma Hospitalizations of Young People and the Impact of Local Liquor-Related Ordinances
This is a one-year New Connections award for early career researchers to examine the measureable impact of existing local alcohol ordinances on population health, particularly the causes and contexts of alcohol-related hospitalizations among young people in Illinois.
Funder: Robert Wood Johnson Foundation (RWJF)
Leveraging Untapped Opportunities in Place and Time: A Community-Based Child Well-Being Collaborative to Address Early Learning Gaps
Develop a cross-sector data integration tool to advance the study of (a) neighborhood resources b) children's experiences, and c) social/behavioral and educational outcomes.
Funder: University of Miami ULINK
Land Use, Microclimate & Water Quality Nexus: Implications For Human Health In The Rokel-Seli River Basin, Sierra Leone
This is 11-month project explores the potential implications of land use and climate changes on water quality and human health.
Funder: National Geographic 
Publications
Moise IK., Kangmennaang J., Hikabisa H., Grigsby-Toussaint DS and Fuller DO "Increase in obesity among women of reproductive age in Zambia, 2002-2014" (Journal of Women's Health. In print). [Link]
Moise IK, de Joya E, Silva VO, Moise V, Farmer DB and Orantia A "Patient-level factors are more salient than a legislation prohibiting minors in bars in predicting unintentional injury hospitalizations among 10-24 year-olds " 1-1019(1010) (BMC Public Health. 2019). [Link]
Dougherty L, Abdulkarim M, Mikailu F, Tijjani U, Owolabi K, Naiya A, Abdullahi A, Hadiza and Moise IK "Enhancing routine immunization paper maps through digital maps: Insights from the maternal and child survival program in Nigeria" doi:10.1136/bmjgh-2019-0016064/e001606 (BMJ Global Health. July 1, 2019). [Link]
Moise IK., de Joya E., Caplan B., Rodriguez VJ., Butts S., Chisembele M., Weiss SM., Jones DL and Alcaide ML. "Adolescent and young adult couples' views of intravaginal practices: a focus group analysis." 49-5611 (International Journal of Women's Health. 2019). [Link]
Rund SSC., Moise IK., Beier JC and Martinez ME. "Rescuing troves of hidden ecological data to tackle emerging mosquito-borne diseases." 75-8335 (Journal of the American Mosquito Control Association . 2019). [Link]
Moise IK., Kangmennaang J., Hutchings TCSG., Sheskin IM and Fuller DO. "Perceptions of Zika virus risk during 2016 outbreak, Miami-Dade County, Florida, USA." 1379-138124(7) (Emerging Infectious Diseases. 2018). [Link]
Moise IK. "Causes of morbidity and mortality among neonates and children in post-conflict Burundi: A cross-sectional retrospective study." 125. DOI: 10.3390/children5090125.5 (125) (Children. 2018). [Link]
Moise IK., Riegel C., and Muturi EJ. "Environmental and social factors influencing Cx. quinquefasciatus densities in post-Katrina New Orleans, 2006-2009." 11 (249) (Parasites & Vectors. 2018).