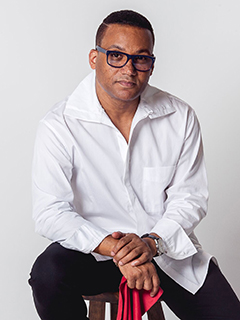 Gonzalo Rubalcaba
Lecturer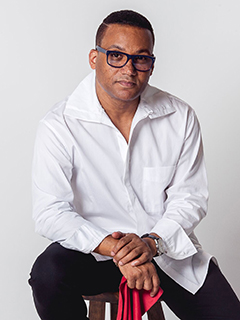 "I perceive education as a way to facilitate those who are interested in their search for a path, the tools to motivate & foster the constant desire for exploration."
Biography
Pianist and composer Gonzalo Rubalcaba is a Studio Music and Jazz lecturer at the Frost School of Music at the University of Miami.
Rubalcaba was already a young phenom with a budding career in his native Cuba when he was discovered by Dizzy Gillespie in 1985. Since, Piano & Keyboard Magazine selected him in 1999 as one of the great pianists of the 20th century, alongside figures such as Glenn Gould, Martha Argerich and Bill Evans; won two Grammys and two Latin Grammys, and established himself as a creative force in the jazz world.
He was born on May 27, 1963 in a musical family in Havana. His father, pianist, composer and bandleader Guillermo Rubalcaba, had also played in the orchestra of Enrique Jorrín, the creator of cha-cha-cha; his grandfather Jacobo Rubalcaba, was the composer of classic danzones, and his two brothers are also musicians. Gonzalo, a child prodigy who by the age of 6 was playing drums in his father's orchestra, started his formal training two years later, with piano as his main instrument to, as he once recalled, "just to please my mother." He graduated from the Institute of Fine Arts in Havana with a degree in composition and by his mid--teens he was working as both, drummer and pianist, in the hotels, concert halls and jazz clubs of Havana. Following graduation he stepped right into the life of the popular musician, touring Cuba, Europe, Africa and Asia with the fabled Orquesta Aragón and also as a sideman in jazz groups and, beginning in 1984, leading his own Afro-Cuban jazz rock fusion band, Grupo Proyecto.
The encounters with Gillespie and, in 1986, with Charlie Haden and then Blue Note Records president, Bruce Lundvall, set the stage to finally showcase Rubalcaba ́s talent before jazz audiences in the United States. These years are documented in a series of recordings in Havana and Frankfurt, Germany, including three superb recordings with his Cuban Quartet on the German label Messidor : Mi Gran Pasión (1987), Live in Havana (1989) and Giraldilla (1990). Rubalcaba moved to the Dominican Republic in 1991 and settled in Miami in 1996.
His international recording career, which includes titles such as Discovery – Live at Montreux, Images-- Live at Mt. Fuji, The Blessing, Suite 4 y 20, Rapsodia, Diz and Imagine – Gonzalo Rubalcaba in the USA, has garnered him 16 nominations including both Grammys and Latin Grammys. He won Grammys for Nocturne (2001) and Land of the Sun (2004), two collections of Latin ballads and boleros recorded with bassist Charlie Haden; and Latin Grammys for Solo (2006) and Supernova (2002).
In 2010, Rubalcaba and businessman Gary Galimidi, founded 5Passion Records and since, the label has not only released Rubalcaba's latest recordings such as Fe (2011), XXI (2012) Live Faith (2014) and the Latin Grammy nominated Suite Caminos (2015), but also album by artists such as Yosvany Terry, John Daversa and Ignacio Berroa. Reflecting his interest in music education, Rubalcaba joined the faculty of the University of Miami's Frost School of Music in 2015.
Education
| | |
| --- | --- |
| 1983 | B.A. Music Composition, Havana Institute of Fine Arts |
| | Piano/Percussion, Amadeo Roldan Conservatory |
| | Piano/Percussion, Manuel Saumell Conservatory |
Honors & Acknowledgements
Professional Experience
Honors & Awards
AWARDS:
1991:"PALMAR D'OR"  of the Music Academy in Paris, France
1991: "BEST INSTRUMENTALIST AND KEYS" of the City holder in Lugano, Switzerland.
1992: "BEST PERFORMER AWARD " for his album "SUITE 4 Y 20", from The Art Critics Association in Japan.
1993:'BEST PERFORMER AWARD" for his album "RAPSODIA" , from The Art Critics Association in Japan
2001: National Academy of Recording Art & Sciences "GRAMMY" to Gonzalo Rubalcaba a Producer "BEST LATIN JAZZ ALBUN"- "NOCTURNE" ( Charlie Haden)
2001: In Recognition of his extraordinary contributions to Jazz, the LEADERS CIRCLE OF THE SAN FRANCISCO JAZZ FESTIVAL ORGANIZATION hereby proclaims Gonzalo Rubalcaba " 2001 LEADER CIRCLE LAUREATE" 
2002: Latin Academy of Recording Art & Sciences "LATIN GRAMMY" to Gonzalo RubalcabaTRIO.
"MEJOR INTERPRETACION JAZZ" "SUPERNOVA"
2004: National Academy of Recording Art & Sciences "GRAMMY" to Gonzalo Rubalcabaa Producer. BEST LATIN JAZZ ALBUM" – "LAND OF THE SUN" (Charlie Haden )
2006: Latin Academy of Recording Art & Sciences "LATIN GRAMMY" to Gonzalo Rubalcaba Artista y Productor, "MEJOR ALBUM DE JAZZ LATINO"- "SOLO"
2007: "LATIN PRIDE NATIONAL AWARD" to Gonzalo Rubalcaba , "PREMIO A LA EXCELENCIA"
2008: The ASCAP Foundation "VANGUARD AWARD" to Composer and Pianist Gonzalo Rubalcaba whose Innovative an Distinctive Music Is Charting New Directions in Jazz.
2009: Critic's Choices at Amazon.com JAZZ ALBUM OF THE YEAR 2009" NUMBER 1 GONZALO RUBALCABA – AVATAR" TOP 10 Best Jazz Albums
2011: GOLD AWARD UNIVERSAL MUSIC present to Gonzalo Rubalcaba for the sales of the Album POLANNA. (Anna Maria Jopek) 
2015: "47 Festival Internacional de Jazz de Barcelona" a Gonzalo Rubalcaba con Admiracion y en reconocimiento a su obra.
2016: "Edison Jazz/World 2016" – Jazz International to Charlie Haden and Gonzalo Rubalcaba  for "Tokyo Adagio"
2017: "Vibrant@10"- Adrienne Arsht Center for the Performing Arts of Miami to Gonzalo Rubalcaba for "Oh Vida" best Performing Commissioner.
2017: GOLD AWARD UNIVERSAL MUSIC present to Gonzalo Rubalcaba for the sales of the Album "MINIONE". (Anna Maria Jopek and Gonzalo Rubalcaba) 
2017: PLATINUM AWARD UNIVERSAL MUSIC present to Gonzalo Rubalcaba for the sales of the Album "MINIONE". (Anna Maria Jopek and Gonzalo Rubalcaba) 
2018: EMPIK BESTSELLERS -  "Minione" - Third Place - Best-selling albums of 2017
GRAMMY NOMINATIONS:
1995: "RAPSODIA"- Best Jazz Instrumental Performance, Individual or Group
1997:"AGUA DE BEBER" – Best Jazz Instrumental Solo
2001:"ANTIGUO" – Best Latin Jazz Performance
2001: "INNER VOYAGE" – Best Jazz Instrumental Performance, Individual or Grup.
2002: "SUPERNOVA"- Best Latin Jazz Album
2002: "NOCTURNO" – Best Latin Album ( Charlie Haden) Gonzalo Rubalcaba Producer 
2002: "EN LA ORILLA DEL MUNDO" – Best Instrumental Arrangement
2002: "OREN" – Best Instrumental Composition
2004:" LAND OF THE SUN" – Best Latin Jazz Album ( Charlie Haden) Gonzalo Rubalcaba Producer
2015: "SUITE CAMINOS" – Best Latin Jazz Album
LATIN GRAMMY NOMINATIONS:
2002: " SUPERNOVA" - Mejor Interpretación de Jazz
2005: "PASEO" -  Mejor Album de Jazz Latino
2006: "SOLO" – Mejor Album de Jazz Latino
2007: "CON EL PERMISO DE BOLA" – Mejor Album Tropical Tradicional ( Francisco Cespedes)
2008: "AVATAR" – Mejor Album Instrumental
Career Highlights
Music Festivals:
Monterrey Jazz Festival (Monterrey, CA)
Montreux Jazz Festival ( Montreux, Switzerland)
Mt Fuji Jazz Festival ( Japan)
Montreal Jazz Festival (Montreal , Canada)
Arnoux Jazz Festival ( Arnoux,France)
Aspen Jazz Festival (Aspen, CO)
Molde Jazz Festival (Molde, Norway)
Juan 92 Jazz Festival (Antibes, Frances)
San Sebastian Jazz Festival (San Sebastian, Spain)
Jazz a Salon (Provence, France)
Istanbul Jazz Festival (Istanbul, Turkey)
Vancouver Jazz Festival ( Vancouver, Canada)
Red Sea Jazz Festival (Eilat, Israel)
Barcelona Jazz Festival ( Barcelona, Spain)
Bergamo Jazz Festival (Bergamo, Italy)
San Francisco Jazz Festival ( San Francisco, CA)
Lugano Jazz Festival ( Lugano, Switzerland)
Umbria Jazz Festival ( Umbria, Italy)
International Jazz Festival (Glasgow, UK)
Vienne Jazz Festival ( Vienne,France)
North Sea Jazz Festival (La Haya, Holland)
JUC Halle Jazz Festival ( Paris, France)
Cully Jazz Festival ( Cully,Switzerland)
Ravina Jazz Festival (Chicago IL)
Santa Fe Jazz Festival ( Santa Fe, NM)
Nice Jazz Festival ( Nice, France)
London Jazz Festival ( London, UK) 
Chapiteau Parc a Comblain La Tour (Belgium)
Concert Halls: 
Teatro Teresa Carreno (Caracas, Venezuela) 
Palermoteatro Metropolitan (Sicily, Italy) 
Massey Hall Theater (Toronto, Canada) 
Toin Gakuen Hall (Yokohama, Japan) 
Bunkamura Orchard Hall (Tokyo, Japan) 
Nerima Bunka Hall (Tokyo, Japan)
Tokyo Bunka Kaikan (Tokyo, Japan)
Olympus Hall Hachioji ( Tokyo,Japan)
Toyohashi Arts Theater (Toyohashi, Japan)
 Izumi Hall (Osaka, Japan)
Westa Kawagoe (Saitama, Japan)
Rokkashomura Swany Hall (Aomori, Japan)
Filarmonica de Munich (Munich, Germany) 
Lyon Auditorium (Lyon, France)
Royal Concert Hall (Glasgow, Scotland)
Beethoven Saal (Stuttgart, Germany)
Tonhalle Zurich Concert Hall (Zurich, Switzerland) 
Sala Kongresowa Jazz Jamboree (Warsaw, Poland) 
Alte Oper Groser Saal (Frankfurt, Germany)
Liederhalle Theater (Stuttgart, Germany)
Seoul Arts Center (Seoul, Korea)
QPAC (Brisbane, Australia)
Auditorium Parco della Musica (Rome, Italy) 
Konzerthaus Wien-Mozartsaal (Wien, Austria) 
Teatro Ateneo (Buenos Aires, Argentina)
Queen Elizabeth Hall (London, England)
Teatro de Venice (Venice, Italy)
Teatro Olimpico (Vicenza, Italy) 
Memorial de America Latina (Sao Paolo, Brazil) 
Philharmonic (Munchen, Germany)
Gran Teatro Opera (Buenos Aires, Argentina) 
Bottom Line (Nagoya, Japan)
Okaya Kanora Hall (Nagano, Japan)
Drama City Hall (Osaka, Japan)
Hollywood Bowl (Los Angeles, CA)
Queen's Hall (Edinburgh, Scotland)
Liverpool Philharmonie (Liverpool, England)
Teatre de Champs-Elysees (Paris, France)
Kennedy Center Hall (Washington, DC)
Chicago Symphony Hall (Chicago, IL)
Festpiel Hause (Baden Baden, Germany)
Kolner Philharmonie (Cologne, Germany)
Hong Kong Cultural Center (Hong Kong, China)
Lithuania national Philharmonic (Vilnius, Lithuania) 
Lisinski Concert Hall (Zagreb, Croatia)
Carnegie Hall (New York City, NY)
Auditorio Nacional Juventudes Musicales (Madrid, Spain) 
Palacio de la Opera de la Coruna (La Coruna, Spain) 
Megaron The Athens Concert Hall (Athens, Greece)
Cite de la Musica (Paris, France) 
Kolner Philharmoniker ( Köln, Germany)
Hamburg Elbphilharmonie (Hamburg, Germany)
Teatro Nacional (Madrid, Spain)
Teatro La Maestranza (Sevilla, Spain)
Teatro Lope de Vega (Sevilla, Spain)
Teatro Verdi ( Pisa, Italy)
Teatro Giuseppe Verdi (Busseto, Italy)
La Seine Musicale (Paris, France)
La Philharmonie (Luxembourg)
Stockholm Concert Hall ( Stockholm, Sweden)
Vegas Crocus Hall ( Moscow, Russia)
Shostakovich Philharmonic Hall ( Sankt Petersburg, Russia)
Teatro Cervantes de Malaga ( Malaga, Spain)
Jazz Clubs:
Club Yoshi's (Oakland, CA)
Jazz Alley (Seattle, WA)
The Village Vanguard (New York, NY) 
Blue Note Club (New York, NY)
Blue Note Club (Tokyo, Japan)
Ronnie Scott's Club (London, England)
Birdland (New York, NY)
Catalina Club (Los Angeles, CA) 
Jazz Standard Club (New York, NY) 
Blue Note Club (Osaka, Japan) 
Blue Note Club (Fukuoka, Japan) 
Universities: 
Wadsworth Theater UCLA (Los Angeles, CA) 
Schloss Elmau (Elmau, Germany)
Clayton College – Spivey Hall (Morrow, GA) 
University of Florida (Gainesville, FL)
UCSB – Campbell Hall (Santa Barbara, CA)
Sonoma State University (Sonoma, CA)
University of North Carolina (Chapel Hill, NC)
Stanford University – Braun Music Center (San Francisco, CA) 
Center for the Performing Arts UCLA (Los Angeles, CA) 
University of Maryland (College Park, Maryland) 
University of PA – Zellerbeck Theater (Philadelphia, PA) 
University of Miami (Miami, FL)
University of Boca Raton (Boca Raton, FL) 
Lafayette College (Lafayette, PA)
UPNA University (Pamplona, Spain) 
Recordings/Productions:
Concierto Negro (1987)
Grupo Proyecto de Gonzalo Rubalcaba (1987)
Mi Gran Pasion (1987)
Live In Havana (1989)
Giraldilla (1990)
Discovery: Live at Montreux (1990)
The Blessing (1991)
Live at Mt.Fuji (1992)
Suite 4 y 20 (1992)
Rapsodia (1992)
Imagine (1993)
Diz (1993)
Concantenacion (1995)
Flying Colors (1997) with Joe Lovano 
Antiguo (1997)
The TRIO (1997)
Inner Voyage (1999) with Michael Becker 
Supernova (2001)
Images: Live at Mt. Fuji (1991)
Inicio (2001)
Nocturne (2001) with Charlie Haden 
Paseo (2004)
Land of the Sun (2004) with Charlie Haden 
Solo (2006)
Con el Permiso de Bola (2006) with Pancho Céspedes 
Avatar (2008)
Love Day (2008) with Richard Galliano
The Monterey Quartet (2009) with Dave Holland/Chris Potter/Eric Harland 
Fe (2010) 
XXI Century (2011)
Volcan (2013)
Feith Live (2015)
Suite Caminos (2015)
Tokyo Adagio (2015) with Charlie Haden
Charlie (2016)
Compositions:
1987: Concierto Negro (23'37')

Embele Iruque (21'47)
Pisando el Cesped (9'45)
Pergamin (8'38)
Rapsodia Española (6'50)
Nueva Cubana  (8'51)
Preludio Proyecto Latino (3'54)
Cuatro y Vente (9'47)
Siempre Maria (6'09)

1988: Concatenacion Heroica  (10'36)

Pluma (14'36)
Regreso Feliz ( 17'24)

1990: Rumbero (10'52)

Proyecto Latino , Part I,II,III, IV  (11'43)
Giraldilla (10'48)
Presidente (8'44)
Campo Finda (10'10)
Comienzo  (15'08)
Velas (6'10)
Prologo Comienzo (5'09)
Joao   (6'50)

1991: Circuito  (5'31)

Sin Remedio el Mar (4'24)
Sinpunto y Contracopa (5'04)
Mima (3'05)

1992: No Name (6'12)

Transparence (6'04)
Comienzo (7'03)
Contagio (6'41)
Circuito II (9'46)
Tributo (9'06)
Santo Canto (4'42)
Chancletera (7'25)
Rapsodia Cubana   ( 10'11)

1995:   Opening ( 0'17) – for the Antiguo Album

Circuito III (8'45)
Ellioko (11'25)
Desierto (6'38)
Intermitencia ( 8'05)
Coral Negro (9'55)
Circuito IV (8:53)
Oddi Lobbe  (6'58)
Eshun Agwe ( 7'43)
Homenaje  (4'26)
Closing (0'18)  - for the Antiguo Album

1997:  Spontaneous Color (2'07)
1998:  Yolanda Anas  (5'23)

Promenade  (7:45)
The Hard One  ( 6'31)
SandyKen  (7'51)
Joan  (11'33)
Blues Lundvall  (6'58)

2000 : Supernova 1  (6'24)

La voz del centro (6'40)
Supernova 2  (6'11)
Otra Mirada (5'41)
Oren  (4'44)

2004: Homenage to Hilario  (6'32)

Bottoms Up  (7'34)
Sea Change ( 6'51)
Paseo con Fula  ( 10'20)
Mean While  (9'43)
Quasar  (14'05)
Los Bueyes  (4'42)

2006:  Rezo  (1'37)

Paseo Iluminado – Improvisacion 1   (3'26)
Paseo en media Luz – Improvisacion 2 (2'57)  
Faro  (3'38)
Paseo Azul -  Improvisacion 3  (2'42)
Paseo Morado   (2'27)
Prologo  (7'06)

2008: Infantil  (7'07)
2009: "50"  (9'59)
2010: Derivado 1 ( 3'30)

Maferefun Iya Lodde me  (7'02)
Improvisation 2 ( based on Coltrane)  (3'54)
Derivado 2  (2'31)
Oro ( 5'33)
Improvisation 1 ( based on Coltrane)  (3'39)
Derivado 3  (1'58)

2011:  Oshun  (9'53)
2012:  Volcan ( 7'06)

Volcan Durmiente  ( 4'25)
Pasos Chapter 1
Alameda de Vientos  (9'29)
Via Prodigiosa  (6'35)
Sendero de Aliento (9'09)
Santa Meta  (10'58)
El hijo Mensajero ( 9'21)
Sendero de Espuma (14'47)
Ronda de Suerte    (13'40)
Destino sin Fin (10'01)

2018: Concierto #1 Para Piano y Orquesta