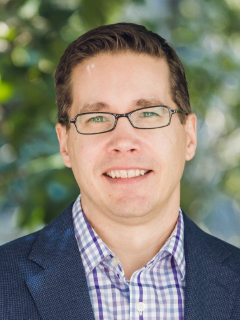 Brian D. Doss, Ph.D.
Professor
Clinical Psychology Faculty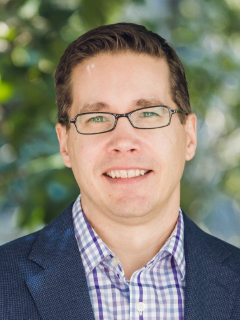 Dr. Doss is a Professor of Psychology and Director of the OurRelationship program. His research focuses on ways to use digital technologies to improve couples' romantic relationships – with a special focus on low-income couples, couples in which one person is a veteran or active-duty service member, and couples in which one person is a breast cancer survivor.
Dr. Doss has received grants from the National Institutes of Health (NIH), the Administration for Children and Families (ACF), and the Patient-Centered Outcomes Research Institute (PCORI). He teaches undergraduate and graduate classes on couple therapy and romantic relationships. His research is focused on ways to increase the reach of couple interventions, including online interventions (www.OurRelationship.com), apps, and a self-help book titled Reconcilable Differences. Dr. Doss' research has been cited on The Today Show, CNN, MSNBC, the New York Times, the Miami Herald, and elsewhere.
Dr. Doss plans to admit an incoming Ph.D. student in 2023 to work on both his ACF-funded project (low-income and military couples) and his PCORI-funded project (breast cancer survivors and their partners). Dr. Doss can mentor students in either the Child or Adult clinical programs - applicants should apply to the program which matches their clinical and coursework interests.
Education
| | |
| --- | --- |
| 2004 | Ph.D. Clinical Psychology, University of California, Los Angeles |
| 2000 | M.S. Clinical Psychology, University of California, Los Angeles |
| 1997 | B.A. Psychology, St. Mary's College of Maryland |
Professional Experience
| | |
| --- | --- |
| 2009 - | Faculty, University of Miami, Psychology |
| 2004 - 2009 | Faculty, Texas A&M University Department of Psychology |
Reviews and meta-analyses consistently show that couple interventions have significant and large effects compared to no treatment. However, few couples seek premarital counseling and only one third of couples seek marital therapy before getting divorced. Additionally, we know very little about how interventions work, factors that predict their efficacy, or the effectiveness of interventions in the "real world". My program of research seeks to further our understanding of research-based couple interventions and apply these findings to intervene with couples in more flexible ways.
Within this broad framework, my research in recent years has focused on developing and testing online and app interventions for couples as a way to increase the reach of effective relationship interventions. Although several empirically-supported interventions to prevent and treat relationship distress have been developed, the majority of couples - especially high-risk couples - do not seek these face-to-face interventions. Thus, to improve the reach of couple interventions, we have been funded by NIH, ACF, and PCORI since 2009 to provide web- and app-based interventions for couples. Results from numerous randomized controlled trials amongst thousands of couples show that these programs improve: a) relationship functioning such as satisfaction and communication; b) mental health such as depression, anxiety, and stress; c) physical health such as insomnia and perceived health; d) and coparenting and children's internalizing and externalizing symptoms.
You can find out more about these efforts at www.OurRelationship.com, on our Couples Lab homepage, and in the publications below.
Publications
Doss, B. D., Knopp, K., Roddy, M. K., Rothman, K., Hatch, S. G., & Rhoades, G. K. "Online programs improve relationship functioning for distressed low-income couples: Results from a nationwide randomized controlled trial." Journal of Consulting and Clinical Psychology 283-29488(4) (2020). [Link]
Doss, B. D., Roddy, M. K., Nowlan, K. M., Rothman, K., & Christensen, A. Maintenance of gains in relationship and individual functioning following the online OurRelationship program 50, 73-86. Behavior Therapy (2019). [Link]