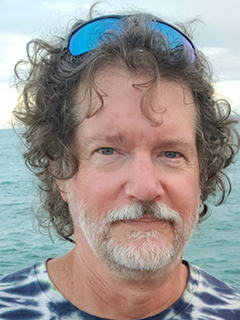 Paul Carl Sikkel
Research Professor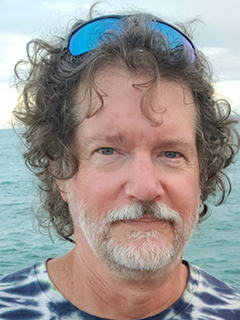 Research Professor, Department of Marine Biology and Ecology - Rosenstiel School of Marine, Atmospheric, and Earth Science
Paul Sikkel, PhD is a Research Professor at the University of Miami's Rosenstiel School of Marine, Atmospheric, and Earth Sciences in the Department of Marine Biology and Ecology. His current research focus is on the ecology of host-parasite interactions in coral reef systems. Dr. Sikkel obtained his MSc (1990) and PhD (1993) from Oregon State University. His international research program includes sites and collaborators in the Caribbean, Philippines, Africa, Australia, and the Mediterranean. His team is a strong supporter of the integration of the arts and sciences and collaborates regularly with artists and musicians world-wide to broaden the impact of their research. Paul's work has appeared in multiple media outlets, including National Geographic (film and print), the BBC (including Blue Planet II), National Public Radio, and "Channel 1 News" (national news program for high school students). His diverse research team includes students from multiple countries and ethnic, cultural, and socioeconomic backgrounds.
Education
| | |
| --- | --- |
| 1985 | B.S. Behavior, Ecology and Evolution, University of California |
| 1990 | M.S. Fisheries, Oregon State University |
| 1993 | Ph.D. Zoology , Oregon State University |
Career
Paul joined the Department of Marine Biology and Ecology at RSMAS in September of 2021. He received his undergraduate degree (1985) from the University of California at San Diego in Behavior, Ecology and Evolution in. He received his MS in Fisheries (1990) and Ph.D. in Zoology (1993) from Oregon State University. From 1992-99 he was a postdoctoral fellow at the University of Washington and McGill University, and served as a Visiting Assistant Professor at the University of the Virgin islands. Between 1999 and 2009 he served on the faculty of and developed marine-focused study abroad programs for the Kentucky Institute for International Studies (Murray State University) the Hatfield Marine Science Center (Oregon State University), and Centre College, receiving awards and recognition for his innovation in teaching and program development. From 2009 until joining RSMAS he led an international coral reef ecology research program at Arkansas State University, along with an undergraduate marine science program, and a study abroad exchange program with a university in South Africa. He concurrently holds honorary adjunct positions at the University of the Virgin Islands, North West University in South Africa, and Silliman University in the Philippines.
Research
Broadly, Paul's research encompasses the interactions between marine organisms and their environment. It includes multiple levels of inquiry from molecular to ecosystems, and microbes to vertebrates. His current emphasis is on the interaction between coral reef-associated fishes and their parasitic and mutualistic symbionts, and the ecological consequences of those interactions. His career, however, started with work on some of the largest marine organisms, sharks, in the Gulf of California, transitioned to behavioral ecology of smaller temperate and tropical reef fishes, and then to still smaller organisms that depend on them, including single-celled organisms and even viruses. This transition is documented in the film "Ripple". His research direction has been strongly fueled by a fascination with behavior, and diel activity patterns in nature, and by spending many hours observing the activities of marine organisms throughout the day and night. His primary base of operation is the eastern Caribbean region, including the Florida Keys. However, his research has expanded considerably in recent years to include the Philippines, Australia, and South Africa and involves collaborators and students from all of these places as well as Europe and Hong Kong. While his research is rooted in "basic" science, observing anthropogenic impacts on his study systems, particularly those associated with climate change and overfishing, has compelled him to include these elements as a major research focus. Most of his work has been supported by the National Science Foundation (15 years of continuous support), National Geographic Society, and Sea Grant. To maximize the broader impacts of their work, the Sikkel team cooperates closely with schools, non-profit organizations, artists, and media outlets.