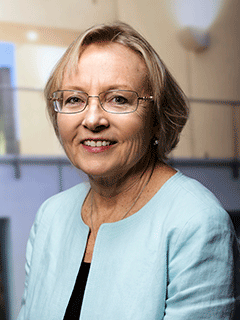 Teresa L Lesiuk
Assoc. Professor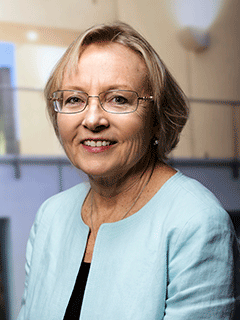 Biography
Teresa Lesiuk, Ph.D., is associate professor and program director for the Music Therapy program at the University of Miami Frost School of Music. She is a board-certified music therapist and a member of the American Music Therapy Association and the Southeastern Region of the AMTA. She is also the North American representative of the Education and Training Commission of the World Federation of Music Therapy.
Dr. Lesiuk began her career teaching junior-high school choir, band, and general music in Winnipeg, Manitoba, Canada. She subsequently provided music therapy to several clientele including those with dementia, dual diagnosis, and children with developmental disabilities. She also coordinated an academic program for music therapy at the University of the Incarnate Word in San Antonio and as well, helped to develop and grow the music therapy program at University of Windsor. Teresa's initial (and still current) research interest included the role of music in high stress occupations, such as air traffic control and computer information systems development. She published several studies of her work in Psychology of Music, Arts in Psychotherapy, Journal of Music Therapy, Information Management Resources Journal and the International Journal of Information Management Professionals.
Along more applied research lines, Dr. Lesiuk created and examined the outcomes of a Mindfulness-based Music Therapy program for women with breast cancer. The benefits of the therapy are shared in publications found in Oncology Nursing Forum and Healthcare. More recently, Dr. Lesiuk has collaborated with the Movement Disorder Team from the Miller School of Medicine and another research colleague to examine the cognitive, motor, and psychosocial outcomes of piano training for adults with Parkinson's Disease. This research was funded by the GRAMMY Foundation and the University of Miami Provost Award. The most recent publication from this work has been published in Healthcare.
She presents regularly at regional, national and international conferences. She is also an accomplished pianist and enjoys teaching functional piano techniques to all the music therapy majors.
Dr. Lesiuk received her BM in Music Education and Master's of Education from the University of Manitoba. She received her Master's of Music in Music Therapy from Colorado State University of her PhD from the University of Western Ontario.
Honors & Acknowledgements
Professional Experience
Career Highlights
Research presentations at international conferences including the World Congress of Music Therapy in Tsukuba, Japan, 2017, in Krems, Austria, and in Seoul, Korea in 2011.
Neurologic Music Therapy and Myers-Briggs Type Inventory Qualification
Advisee, Carolyn Dachinger (now Dr. Carolyn Moore), awarded best dissertation of the year, 2018.
Past editor of the Canadian Journal of Music Therapy
Past President of the Research Alliance for Institutes of Music Education
Research member of the Sylvester Comprehensive Cancer Center, Miami, FL
Honors
GRAMMY Foundation Grant for a study of music training and outcomes for adults with Parkinson's Disease
Several Provost Research Awards and General Research Support Awards from the University of Miami
University of Western Ontario excellence in teaching award and graduate student scholarship
Publications
Articles published in Journal of Music Therapy, Music Therapy Perspectives, Psychology of Music, Healthcare, Oncology Nursing Forum, Information Resources Management Journal, Journal of Human Capital and Information Technology Professionals, Canadian Journal of Music Therapy
Interviews published in popular magazines such as Men's Health, Shape, and More
Reviewer for several different research journals some of which include Psychology of Music, Integrative Cancer Therapy, Journal of Complementary and Integrative Medicine