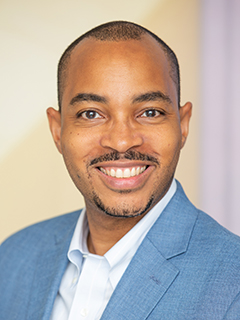 Melvin L. Butler
Assoc. Professor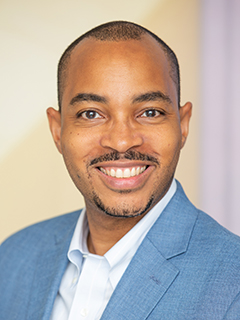 About Me
Quote
"I am fascinated by how music becomes meaningful for people in various cultural and historical contexts. My research and writing lie at the crossroads of music, identity, and ritual, and I strive to tease out the many ways in which those who make music are also negotiating multiple forms of social, political, and spiritual power."
Biography
Melvin L. Butler is an Associate Professor in the Department of Musicology at the FROST SCHOOL OF MUSIC. He specializes in music and religion in Haitian, Jamaican, and African American communities. Dr. Butler's research explores the cultural politics of musical performance, national identity, and extraordinary experience. He also examines the discourses of cultural authenticity and spiritual power that inflect congregational practice. At the heart of his scholarly work lies a critical reconsideration of how spiritually charged music-making is embedded in processes of boundary crossing, identity formation, and social positioning throughout the African diaspora.
An acclaimed saxophonist, Dr. Butler has performed with Brian Blade and the Fellowship Band for over two decades. He is featured with this ensemble on several albums, including Brian Blade Fellowship (Blue Note 1998), Perceptual (Blue Note 2000), Season of Changes (Verve 2008), and the Grammy-nominated Landmarks (Verve 2014). He has worked with several other jazz artists as well, including Betty Carter, Joey DeFrancesco, Eric Essix, Christian McBride, Jimmy McGriff, Dr. Lonnie Smith, and Reuben Wilson. Dr. Butler has also toured the U.S., Europe, and the Caribbean with celebrated Haitian band Tabou Combo, with whom he recorded three albums—Why Not? (1997), 360 Degrees (1997), and Sans Limites (2000).
Dr. Butler served as Secretary of the International Association for the Study of Popular Music (U.S. Branch) from 2008 to 2010 and was also elected to the Board of Directors of the Haitian Studies Association from 2010 to 2013. In 2012 and 2013, he was a fellow-in-residence at Yale University's Institute of Sacred Music. Prior to joining the Frost School of Music faculty, he taught at the University of Chicago and the University of Virginia.
Dr. Butler earned his Ph.D. in ethnomusicology from New York University, where he also received an M.A. in jazz studies. He also holds a bachelor's degree in performance from Berklee College of Music.
Honors & Acknowledgements
Professional Experience
Career Highlights
Ethnographic research on music, religion, and popular culture in Caribbean and African American communities
Published articles and reviews in Ethnomusicology, Journal of Popular Music Studies, Black Music Research Journal, Caribbean Studies, and other journals.
Served on Board of Directors, Haitian Studies Association
Secretary, International Association for the Study of Popular Music (US), 2008–10
Tours and recordings with world-renowned artists such as Brian Blade and the Fellowship Band, Betty Carter, Joey DeFrancesco, Eric Essix, Christian McBride, Jimmy McGriff, Dr. Lonnie Smith, Reuben Wilson, and Tabou Combo
Performances at Carnegie Hall, Village Vanguard, Blue Note, Kimmel Center, Monterey Jazz Festival, Newport Jazz Festival, North Sea Jazz Festival, and other venues
Selected Honors and Awards 
Nominee, Dr. MLK, Jr. Collegium of Scholars, Morehouse College
Fellowship, Yale University, Institute of Sacred Music
Mead Honored Faculty, University of Virginia
Thurgood Marshall Dissertation Fellowship, Dartmouth College
Fulbright Institute of International Education research grant (Jamaica)
Ford Foundation Pre-Doctoral Fellowship
Grammy Nomination, Landmarks (with Brian Blade and the Fellowship Band)
Grammy Award certificate, American Dreamers (with John Daversa Big Band)
Selected Publications
Books
Island Gospel: Pentecostal Music and Identity in Jamaica and the United States, University of Illinois Press, 2019.
Selected Articles and Chapters
"Researching Black Congregational Music from a Migratory Point of View: Methods, Challenges, and Strategies." In Studying Congregational Music: Key Issues, Methods, and Theoretical Perspectives, edited by Andrew Mall, Jeffers Engelhardt, and Monique M. Ingalls. New York: Routledge, 2021.
"Performing Pannkotis Identity in Haiti." In The Oxford Handbook of Music and World Christianities, edited by Suzel Reily and Jonathan Dueck, 606–28. New York: Oxford University Press, 2016.
"Haitian Djaz Diplomacy and the Cultural Politics of Musical Collaboration." In Music and Diplomacy from the Early Modern Era to the Present, edited by Rebekah Ahrendt, Mark Ferraguto, and Damien Mahiet, 209–29. Palgrave Macmillan, 2014.
"Performing Pentecostalism: Music, Identity, and the Interplay of Jamaican and African American Styles." In Rhythms of the Afro-Atlantic World: Rituals and Remembrances, edited by Ifeoma Nwankwo and Mamadou Diouf, 41–54. Ann Arbor: University of Michigan Press. 2010.
"Ethnomusicology and the African Diaspora." In The African Diaspora and the Disciplines, edited by Tejumola Olaniyan and James Sweet, 213–33. Bloomington: University of Indiana Press, 2010.
"The Weapons of Our Warfare: Music, Positionality, and Transcendence Among Haitian Pentecostals." Caribbean Studies. 36, no 2 (2008): 23–64.
"In Zora's Footsteps: Experiencing Music and Pentecostal Ritual in the African Diaspora." Obsidian 9, no. 1 (2008): 74-106.
"Dancing around Dancehall: Pentecostalism, Popular Culture, and Musical Practice in Transnational Jamaica and Haiti." In Constructing Vernacular Culture in the Trans-Caribbean, edited by Holger Henke, Karl-Heinz Magister, and Alissa Trotz, 63–99. Lanham: Lexington Books, 2008.
"Thoughts on the Intersection of Race and Faith in the Study of Popular Music." Journal of Popular Music Studies 19, no. 1 (2007): 113–17.
Selected Recordings
With Brian Blade and the Fellowship Band

Blue Note Review: Volume Two – Spirit & Time, "Warrior," 2018.
Body and Shadow, (Blue Note) 2017
Landmarks, (Blue Note) 2014 [GRAMMY NOMINEE]
Season of Changes, (Universal/Verve) 2008
Perceptual, (Capitol/Blue Note) 2000
Brian Blade Fellowship, (Capitol/Blue Note) 1998

With John Daversa Big Band feat DACA Artists

American Dreamers: Voices of Hope, Music of Freedom, 2018. [GRAMMY WINNER]

With Reuben Wilson

Organ Blues, (Jazzateria) 2002
Down With It, (Cannonball) 1998
Organ Donor, (Jazzateria) 1997

With Stephane Mercier

Flor de Luna, (Fresh Sound New Talent) 2000

With Magali Souriau

Birdland Sessions (Koch Jazz) 2000

With Eric Essix

Southbound (Zebra Records) 2000
Small Talk (Zebra Records) 1998