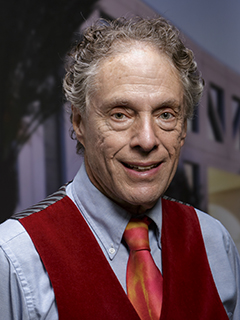 Charles Castleman
Professor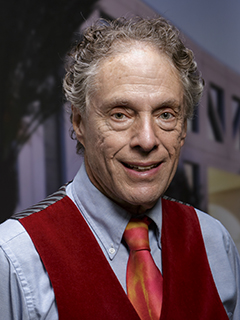 Quote
There is an explicit contract between teacher and student to work together as hand in glove. EACH must be willing to go to the extreme for the entire period of study in order that the student accomplish the maximum amount possible. The school where they are working must be able to attach to this contract educational resources not otherwise available to the teacher and the student. The Frost School understands this responsibility and offers a unique curriculum perhaps optimal for more students than at any other Music School.
Biography
Charles Castleman, perhaps the world's most active performer/pedagogue on the violin, has been soloist with the orchestras of Philadelphia, Boston, Brisbane, Chicago, Hong Kong, Moscow, Mexico City, New York, San Francisco, Seoul and Shanghai. Medalist at Tchaikovsky and Brussels, his Jongen Concerto is included in a Cypres CD set of the 17 best prize-winning performances of the Brussels Concours' history.

Mr. Castleman's solo CDs include Ysaye's six Solo Sonatas (made at the time of his unique performance at Tully Hall in NYC), eight Hubay Csardases for Violin and Orchestra, and ten Sarasate virtuoso cameos on Music and Arts, Gershwin and Antheil on MusicMasters, and contemporary violin and harpsichord music for Albany. As one of sixteen Ford Foundation Concert Artists he commissioned the David Amram Concerto, premiering it with Leonard Slatkin and the St. Louis Symphony, recording it for Newport Classic. He is dedicatee of "Lares Hercii" by Pulitzer winner Christopher Rouse.

He has performed at such international festivals as Marlboro, Grant Park, Newport, Sarasota, AFCM (Australia), Akaroa (New Zealand), Ascoli Piceno (Italy), Budapest, Fuefukigawa, Montreux, Shanghai, Sheffield, and the Vienna Festwoche. His recitals have been broadcast on NPR, BBC, and Australia Broadcasting Company, in Berlin and in Paris.

Mr Castleman has conducted master-classes in London, Vienna, Helsinki, Kiev, Hong Kong, Shanghai, Seoul, Singapore, Tokyo, and all major cities in Australia, Canada and New Zealand. His students have been winners at Brussels, Munich, Naumburg and Szeryng, are in 30 professionally active chamber groups and are 1st desk players in 11 major orchestras. He is founder/director of THE CASTLEMAN QUARTET PROGRAM, in its 48th season, now at S.U.N.Y Fredonia and at Linfield College , McMinnville, OR -intensive workshops in solo and chamber performance.

Charles Castleman's long-term chamber music associations have included THE NEW STRING TRIO OF N.Y. with BASF recordings of Reger and Frank Martin and THE RAPHAEL TRIO with CDs of Dvorak, Mendelssohn, Beethoven, and Wolf-Ferrari for NONESUCH, SONY CLASSICAL, DISCOVER, UNICORN, and ASV, and with premieres by Rainer Bischof and Frederic Rzewski for the Vienna Festival and Kennedy Center.

Mr. Castleman earned degrees from Harvard, Curtis, and University of Pennsylvania. His teachers were Emanuel Ondricek (teaching assistant of Sevcik, Ysaye student) and Ivan Galamian, his most influential coaches David Oistrakh, Szeryng, and Gingold. He plays the "Marquis de Champeaux" Stradivarius violin from 1708, and chooses from more than 80 bows.
Honors & Acknowledgements
Professional Experience

Career Highlights
International Competition Prizes:
Queen Elisabeth (Belgium)..Silver Medal
Tchaikovsky (Russia)..Bronze Medal
Recognition
International Who's Who in Music; Who's Who in Twenty-First Century; Who's Who in Entertainment
Life Achievement Award and dedication of Charles Castleman Music Library–Thayer Academy (Braintree, Massachusetts)
10 Legendary Music Professors Teaching Today (Music School Central blog, 2019)
Biographical Mention
The New Grove Dictionary of Music and Musicians
Wikipedia
Bakers Biographical Dictionary
The New International Dictionary of Music (ed. Philip Morehead., Meridian Press)
"Arthur Fiedler, Music for the Millions", Carol Green Wilson (Evans)
"Musical Prodigies: Masters at an early age", Renee Fisher (Association)
Commissioned Compositions
David Amram: Violin Concerto '74–Commission: Ford Foundation Concert Artists Grant; Premiere: St Louis Symphony (Leonard Slatkin) '81
Thomas Read: Variations for Piano Trio '82–Premiere: Lane Series, Burlington,VT
Christopher Rouse: Lares Hercii for violin and harpsichord '83–Premieres: Kilbourn Hall, Rochester, NY ; Tully Hall, Lincoln Center, N .Y. C. '85(Arthur Haas)
Rainer Bischof: Trio 89 '89–Commission for Wiener Festwochen; Premieres: Vienna (Wiener Festwochen), Paris (Chatelets), New York (Town Hall), D.C. (Kennedy Center)
Christian Woehr: Alaska Passages for Violin and Viola '90–Premiere: Park City, Utah, International Chamber Music Festival (Christian Woehr)
David Liptak: Piano Trio '91–Premiere: Columbia University '92
Edward Cohen: Piano Trio '92–Premiere: M.I.T. '93
Thomas Oboe Lee: Piano Trio '94–Premieres: DC (Phillips Gallery);Rockefeller University(N.Y.C.) '95
Frederic Rzewski: Piano Trio '98–Premiere: DC (Kennedy Center)
Publications
"Bocca della Verita" of George Rochberg edited Charles Castleman 1965 Presser Music Company
"Tre Dame di Ferrara" 1969 (l'Anuario Musicale)..an edition and treatise on the 16th century madrigals of LuzzascoLuzzaschi
"The Romantic Violinist-Composer: Pro-active Artist before a Susceptible Public" — Liber Amicorum Isabelle CazeauxFestschrift
2003 Pendragon Press
"Superior Finger Exercises" of Emanuel Ondricek edited Charles Castleman 2005 Southern Music Company
"Violin Masters: Their Bow Techniques" 2007 Self-Published