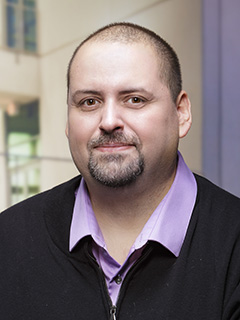 Stephen James Guerra Jr.
Asst. Professor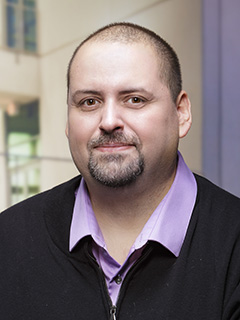 About Me
Quote
"Preparing students for a successful future regardless of their chosen path is of the utmost importance to me. I strive to challenge my students while providing them with fulfilling and meaningful musical experiences that will give them the tools to thrive as musicians and become productive creators of art."  
Biography
Stephen Guerra is the assistant professor in the Department of Studio Music and Jazz at the Frost school of Music. He is also the director of the award-winning Frost Studio Jazz Band and teaches classes in jazz conducting and repertoire, composition, arranging, and saxophone. He formerly served as the director of Frost MusicReach and launched many of the programs that continue today.
Under Dr. Guerra's leadership, the Henry Mancini Institute has appeared in numerous PBS specials, major-label record releases, and high-profile live events throughout the United States including a recent performance with John Williams, Kristen Chenoweth, and Matthew Morrison in Beverly Hills, California. Dr. Guerra, in collaboration with Dean Shelly Berg and Resident Conductor and Artistic Coordinator Scott Flavin, strives to create innovative learning and performance opportunities for HMI.
In high demand as a composer and arranger, Dr. Guerra has been commissioned to write music for Dave Koz, Ben Folds, Carmen Bradford, the National Symphony Orchestra, the Greater Manchester Youth Symphony Orchestra, the Henry Mancini Institute Orchestra, and the Air Force Band of the West. In December 2016, he traveled to Japan as the assistant orchestrator for Japanese music sensation Yoshiki's Classical Tour. He has served as a composer‐in‐residence throughout the U.S., thanks to the Commission Project and the National Endowment for the Arts. Dr. Guerra has also performed alongside many jazz greats, including Phil Woods, Al Grey, Snooky Young, Marshall Royal, Louis Bellson, and Jeff "Tain" Watts. He was a featured soloist on the Clark Terry Young Titan's of Jazz 2003 release Live at Marihan's and the Louie Bellson Big Band release, Louie and Clark Expedition 2. In addition to the Stephen Guerra Big Band critically acclaimed first album Namesake in 2009, he also contributed to the New Hampshire Jazz Orchestra's 2015 release Swingin' for the Holidays.
Before pursuing his DMA and eventually joining the faculty at the Frost School of Music, Dr. Guerra was a high school band director in Concord and Pelham, New Hampshire. He created jazz education programs at both the Manchester Community Music School and the Bedford Youth Performing Company in New Hampshire. Dr. Guerra earned a B.A. from the University of New Hampshire in saxophone performance, a Bachelor of Music in Jazz Studies from the Clark Terry International Institute of Jazz Studies, an M.M. from the Eastman School of Music, and a D.M.A. in jazz composition from the Frost School of Music.
Honors & Acknowledgements
Professional Experience

Career Highlights
Assistant Orchestrator for the Yoshiki Classical Tour
Musical Director and Tenor Saxophonist with the Clark Terry Big Band
Tenor Saxophonist with the Louis Bellson Big Band
Guest conductor, clinician, and adjudicator in performances throughout the United States and overseas
Commissioned to write and arrange music for Pharrell Williams, Emilio Estefan, Larry Rosen's Jazz Roots series, Sony Universal, Ben Folds, and the National Symphony Orchestra
Founded the jazz program at the Manchester Community Music School, Manchester, NH.
Leader of the Stephen Guerra Big Band
Honors, Awards & Competitions
Inducted into Beta Beta Chapter of Phi Kappa Lambda Music Honor Society
Membership in the Jazz Education Network, the International Society of Jazz Composers and Arrangers, the Music Educator's National Conference, and the Florida Music Educators Association
Winner of the numerous Downbeat Awards for Outstanding College Jazz Ensemble as the director of the Frost Studio Jazz Band
Recordings
Larry Rosen, Jazz & The Philharmonic
Clark Terry Young Titan's of Jazz, Live at Marihan's
Louis Bellson Big Band, Louis and Clark Expedition 2
Stephen Guerra Big Band, Namesake
Jess Tardy, Hold On
Percy Hill, Straight On Until Morning