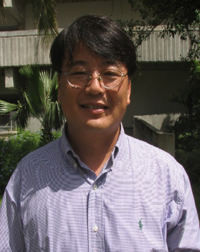 Yunqiu Wang
Senior Lecturer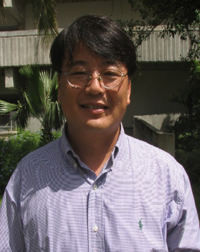 Research Interests
My current research has been concentrating on the characterization of genetic structure of small mammal and South Florida slash pine populations in South Florida. A series of modern molecular techniques, such as DNA sequencing, PCR (Polymerase Chain Reaction), genotyping, etc. are applied in this project. The purpose of thess studies are to identify polymorphic genetic loci, and to utilize these loci to accurately characterize the population structure and the gene flow pattern of these species. Environmental impacts on the population dynamic for these native species could be illustrated at gene level. Based on this information, a series of project to preserve and restore such natural population can be implemented. Even though my current research focuses on population genetics, I also have an extensive interest in molecular biology research. My previous graduate and post-doctoral training encompassed several major topics, including plant somatic embryogenesis, pollen morphology, structural and biochemical studies of the plant reproductive development, and the detection of the expression pattern of pollen specific genes.
Teaching Experience
Wang, D.Y. 2003. Principles of genetics laboratory - BIL251 Lab Manual. University of Miami. 85 pp.

Aug. 2000 - Present Lecturer in Genetics and general biology lecture and lab courses for science majors and biology advisor at Department of Biology, University of Miami, Coral Gables, Florida.

Feb.1994 - May.1995 Lecturing the lab course for BIO-203.202 (Genetic Analysis) at Institute of Molecular Biosciences, Massey University, New Zealand.

Aug.1992 - Nov.1993 Lecturing the lab course for BIO-162.101 (Biology of Cells) at Institute of Molecular Biosciences, Massey University, New Zealand.

Sep.1985 - Jul. 1987 Lecturing in vegetable physiology and crop genetics and consulting for the local vegetable breeders at the Chou Yang Horticultural College, Beijing,People's Republic of China.
Education
| | |
| --- | --- |
| 1997-1998 | Post Doctoral Fellow, Molecular and Cellular Biology Program, University of Florida |
| 1996-1997 | Post Doctoral Fellow, Forestry and Forest Product Research Institute, Japan |
| 1996 | Ph.D. , Massey University, (New Zealand) |
| 1990 | M.S. , Capital Normal University, (China) |
| 1985 | B.S. , Capital Normal University, (China) |
Honors & Acknowledgements
Co-PI, University of Miami Award for Developing Online Biology Courses, 2006
Excellence in Teaching Award of University of Miami; 2005.
Co-PI, U.S. Environmental Protection Agency, Healthy and Energy-Efficient Housing in Hot and Humid Climates; A model design, 2000
TA Outstanding Foreign Post-doctoral Fellowship of Japanese government, 1996.
LIST OF SPECIALTIES: Conservation and Restoration Biology | Tropical Biology
Publications
Yunqiu Wang , Dean Williams, and Michael S. Gaines "Evidence for a recent genetic bottleneck in the endangered Florida Keys silver rice rat (Oryzomys argentatus) revealed by microsatellite DNA analyses" 575-856 (Conservation Genetics. 2005).
Yunqiu Wang, Colin R. Hughes, Edwin. A. Gines-Candelaria, and Michael. S. Gaines "Polymorphic microsatellite loci of Oryzomys palustris, the marsh rice rat, in South Florida detected by Silver Staining." 1931-29 (11) (Molecular Ecology. 2000).