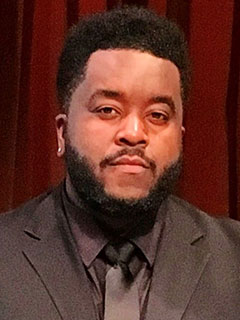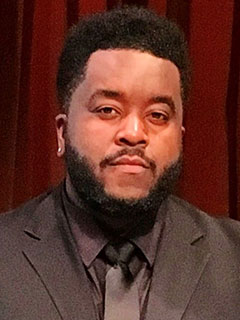 About Me
The beat of a drummer's soul could not have been placed in a more incomparable musician than David Chiverton. His loving parents nurtured the Miami native with a passion for music. He was frequently surrounded by the sound of gospel music during his childhood. Through life's challenges and distinct adversities, Chiverton's desire to leave his footprint in the hearts of many became the driving force through life.

Despite his age, his peers respected him as a professional drummer and his journey in the industry began with Stellar Award Winning Miami Mass Choir under the leadership of Pastor Marc Cooper of Cooper Temple COGIC. At the age of 16, many recording artists became desperate for the pure sound of his classic gift and Chiverton embraced the open door to embark on this musical escapade

Upon graduating from high school, Chiverton was offered a full academic scholarship to Florida International University and served as an intricate player in the university's BigBand generating opportunity to perform with prominent international artists such as Arturo Sandoval, Ingred Jensen, and Nicole Henry to name a few. "Dave is the kind of drummer who reminds you that all music is…is rhythm. In understanding this, he powerfully and humbly leads music down its path while inviting the whole band to dance along. Dave's music is fun, sensitive, exciting and soulfully expressive; his time is impeccable; his creativity is inspiring; his intuition is perfect; and his heart is golden" says International Jazz Vocalist, Nicole Henry.

While focusing on his college career, Chiverton felt the desire to venture into other genres of music, from Hip-Hop to R&B creating a more diverse repertoire. Chiverton linked up with a well-connected producer in Miami, Florida where he was the featured drummer every Wednesday night at Miami L.I.V.E. at Santos Miami. With this weekly club gig, Chiverton has shared the stage with artists ranging from John Legend to Lil Wayne. The visibility of his skills began to broaden, allowing Chiverton to explore other avenues in his performance career. Watching him as he made his mark, his peers could not help but to appreciate his artistry and awe at his continuous humility. "Seriously versatile and virtuosic, but with a deep groove and flare that is just so exciting to watch" proclaimed Downbeat Award Winner, Troy Roberts of Nu Jive. Chiverton did not have a full understanding of the distance his talent reached, until attending the NAAM Winter Conference in Anaheim, CA and was approached by many that recognized him from various YouTube clips and by word of mouth. A spontaneous live shed awakened the guests on the showroom floor and they became captivated by the passion and talent of the David, who had taken center stage with an intensified look as he played. A prominent industry professional drummer, Gerald Hayward said "Good drummer, good person."

Triumphantly receiving his Bachelor's Degree in Music, his time is currently exuded touring internationally with various major talents such as Lauryn Hill, Jon Secada, Donnie McClurkin and has been highlighted as one of South Florida's greatest musicians. "The best kept homegrown secret goldmine of talent in Miami. I am fortunate to have found him!" excitedly says Three-time Grammy Winner, Jon Secada. His range of musical versatility includes Jazz, Gospel, Hip-Hop, R&B, Pop, and the ability to freestyle on cue. Chiverton continuously remains humble and passionate and has vowed to dedicate his life to music. Prepare yourself…because this drummer's beat will captivate your ears and hearts for many years to come.