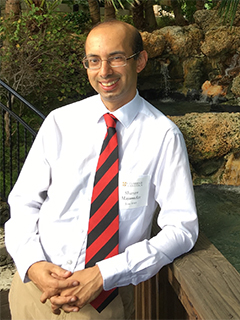 Sharanya J Majumdar
Professor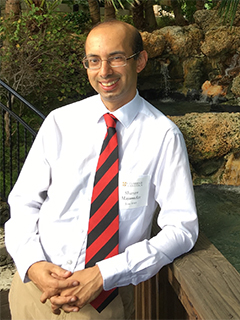 Professor, Department of Atmospheric Sciences - Rosenstiel School of Marine, Atmospheric, and Earth Sciences
Research Interests: Predictability of tropical cyclone formation, motion, and intensification; weather risk communication; ensemble prediction; targeted observations aimed at optimizing current and future observing systems; data assimilation. 
Teaching Interests: Tropical Weather and Forecasting; Atmospheric Science; Hurricanes; Predictability
Service Interests: Accountable Lead in University of Miami's "Roadmap To Our New Century" strategic planning; Former Graduate Program Director and Associate Dean of Graduate Studies; American Meteorological Society and World Meteorological Organization activities.
Education
| | |
| --- | --- |
| 1992 | B.A. (Hons.) in Mathematics, University of Cambridge |
| 1997 | Ph.D. Applied Mathematics, University of Cambridge |
Prof. Majumdar earned his B.A. and Ph.D. degrees in Mathematics from Cambridge University.  A chance meeting on a train in Australia ultimately led him into the atmospheric sciences as a postdoc at Penn State and then the faculty at the University of Miami, where he has been since 2002.  Together with his research staff and students, Prof. Majumdar investigates the predictability and processes of tropical cyclone formation and structural changes, including sensitivity diagnostics, ensemble prediction, verification, optimizing observing systems, and data assimilation.
He teaches undergraduate courses in tropical meteorology, weather forecasting and atmospheric dynamics, and graduate courses in atmospheric science, hurricanes, and predictability.
As a recent Graduate Program Director and Associate Dean of Graduate Studies, he oversaw six graduate programs in the marine and atmospheric sciences, including the admissions and welfare of all M.S. and Ph.D. students.
He is also involved in strategic planning at the University of Miami, including co-leading the concept development and organization of a new "Academy" that integrates interdisciplinary research and education on climate resilience in partnership with external stakeholders.
He is also an active member in the World Meteorological Organization and the American Meteorological Society.
Honors & Acknowledgements
AWARDS AND LEADERSHIP
As Associate Dean of Graduate Studies, Prof. Majumdar and his office oversee the welfare of all M.S. and Ph.D. students and the 6 graduate programs. He has also served as a Graduate Program Director and Chair of the Rosenstiel School Graduate Academic Committee for 3 years, coordinating the development of the new graduate programs across the Rosenstiel School. He was recently inducted into the University of Miami's "LeadershipU" academy on executive training. He is also a prominent working group member of various national and international organizations, including the World Meteorological Organization.
Current and recent research projects include the predictability and related mechanisms behind the formation, motion, and intensification of tropical cyclones; graphical communication of weather risk; probabilistic prediction and verification of tropical cyclones using ensemble forecasts; and the targeted assimilation of current and future satellite and aircraft data in tropical cyclone prediction.  The research involves a combination of reanalysis, observational, and forecast data.  The research is conducted in collaboration with scientists at the Naval Research Laboratory, NOAA, ECMWF, several universities, and private sector companies.  We gratefully acknowledge funding from the Office of Naval Research, NSF, NASA, and NOAA.