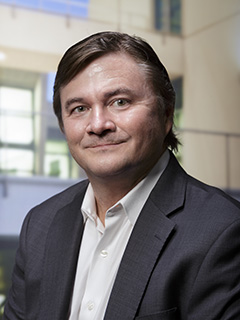 Richard J Todd
Assoc. Professor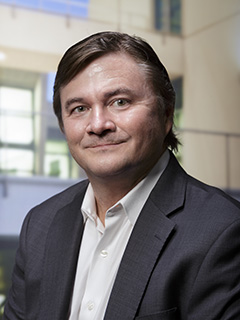 Quote
To study music is to study one's self. It is an art form that demands one's best each and every day. I ask of my students that they adhere to the four R's of success – Research, Repetition, Retention, and Result – thereby being accountable for their progress and aware of how it was achieved. I believe a great teacher is someone who makes themselves unnecessary as quickly as possible. A great student makes sure that happens. Making music is one of the greatest gifts to be given, and also to be shared. At Frost, you will be given every opportunity possible to become the best you can be. That distinction will be in your hands, and the journey will have been worth it.
Biography
Concert Artist, Recording Artist, Orchestral Artist, Chamber Music Artist, Jazz Artist, Studio Artist, Composer, Arranger, Master Teacher, Published Author – Richard Todd's career can best be described as unparalleled. He has been a soloist at Carnegie Hall, the Hollywood Bowl, the Sydney Opera House, and Walt Disney Concert Hall, among his many appearances A graduate of USC as a student of Waldemar Linder and the legendary Vincent DeRosa, Professor Todd was also a student at the Music Academy of The West and at Tanglewood, where he met the great Gunther Schuller, who was later to become his mentor and record producer.

His professional career began at age 21 as a member of the Utah Symphony. At age 22 he became principal horn of the New Orleans Symphony. At age 24, he won the Medaille d'Or at the Toulon International Competition. Professor Todd then moved back to Los Angeles and began working in the studios at the same age. Richard Todd has experienced and excelled at every form of music that he has attempted. Principal Horn of the Los Angeles Chamber Orchestra for 35 years, performer in many of the world's premier chamber music festivals, dozens of solo appearances with orchestras both here and abroad – including world premieres of Kenneth Fuchs' Canticle To The Sun and Craig Russell's Rhapsody For Horn And Orchestra. He was also hand-picked by Gunther Schuller to record his Horn Concerto #1 in 1992, and the Brahms Trio, which was his final recording before his death in 2015. His classical career has received hundreds of rave reviews from both the press and the public alike.

As a jazz artist, his education came from lessons with Ellis Marsalis and listening to every great artist available. He has performed with Clark Terry, Lalo Schifrin, McCoy Tyner, Andre Previn, Terrence Blanchard, Billy Childs, Ray Brown, John Clayton, Shelly Berg, Peter Erskine, Alan Pasqua, Tom Scott, Billy Pierce, Arturo Sandoval, Ronnie Scott, Marian McPartland and dozens of others in jazz clubs, concert halls, and jazz festivals. His studio career has spanned over35 years and included over 2,000 film and television scores. He has been given screen credit on scores such as Star Trek Into Darkness and Tomorrowland. He was twice commissioned by the LA Chamber Orchestra to compose works for them and became the first sitting member of the orchestra to have a composition performed. The work, "ceLebrACiOn", was premiered at the opening concert of the orchestra's 40th anniversary season. He was formerly faculty at Cal Arts, UCLA, USC, and the University of Indiana. Professor Todd joined the Frost School in 2009 and has grown his studio consistently since his arrival. He has dozens of former students enjoying careers as orchestra performers, freelance artists, studio musicians, artistic administrators, and instructors at major institutions such as UCLA and USC.
Professor Todd is a Buffet Artist for Hans Hoyer Horns and is developing his own line of signature mouthpieces with Osmun Music.
Learn more about Richard Todd by visiting his personal website here.
Honors & Acknowledgements
Professional Experience

Solo and Chamber Recordings
New Ideas - GM
Rickter Scale - GM
With a Twist - RCM
Horn sonatas of Three Centuries - GM
Three Concertos - GM
Brahms Trio - GM
Rhapsody For Horn and Orchestra - Naxos
What Headphones? – Andre Previn - Angel
French Chamber Music – Andre Previn - Angel
Select Film Credits
Indiana Jones and the Temple Of Doom
Back To The Future 1,2, and 3
Hook
Independence Day
The Color Purple
Lethal Weapon 1,2,3,4
The Incredibles
Toy Story 1,2,3
Up
Star Trek 2009, Into Darkness, Beyond
Over 2.000 more
Partial List of Artists
Barbra Streisand
Frank Sinatra
Paul McCartney
Elton John
McCoy Tyner
Celine Dion
Michael Buble
Aerosmith
Michael Jackson
Madonna
Red Hot Chili Peppers
Kanye West
Puff Daddy
Ray Charles
Willie Nelson
Kenny Rogers
Shirley Horn
Chicago
Arturo Sandoval
Clark Terry
Elvis Costello
Diana Krall
Andrea Bocelli
Julio Iglesias