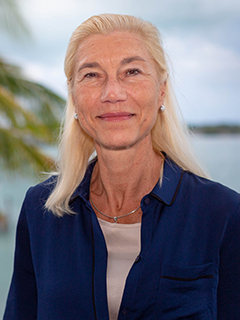 Vassiliki H. Kourafalou
Research Professor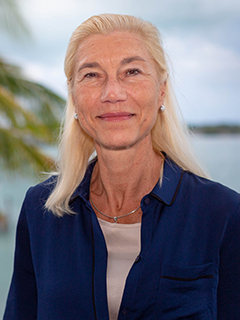 Research Professor, Department of Ocean Sciences - Rosenstiel School of Marine, Atmospheric, Earth Science
Villy Kourafalou is a Research Professor at the Department of Ocean Sciences in the University of Miami's Rosenstiel School of Marine, Atmospheric, and Earth Science. She is an expert in coastal dynamics, extending to the shelf break processes and interaction with oceanic flows. 

Kourafalou has taught courses on Coastal Oceanography and advises graduate students on coastal and shelf processes, river plume dynamics, numerical modeling, and ocean prediction.
Education
| | |
| --- | --- |
| 1979 | B.S. Physics, University of Athens, Greece |
| 1983 | M.S. Phsyical Oceanography, University of Miami |
| 1993 | Ph.D. Physical Oceanography, University of Miami |
Career Summary
Kourafalou has pioneered research in river plume dynamics and interaction of coastal and offshore flows. She has a strong record on advancing the numerical modeling of coastal and regional seas, with over 60 publications on related processes and methods, including coastal forecasting and observing system design. She holds a Physics degree from the University of Athens, Greece, her native town. She moved to the U.S. for her graduate work, earning M.S. and Ph.D. degrees in Physical Oceanography from the University of Miami. She did postdoctoral work at Italy's National Research Council and was a Research Scientist at Greece's Hellenic Center for Marine Research. She moved back to Miami after several years in Europe and joined the faculty at the University of Miami in 2007. The international media has featured her work in several newspaper and magazine articles, radio and TV interviews.

Awards and Leadership Positions
Starting with a post-doctoral fellowship by the European Union, Kourafalou has benefited from international work recognition and diverse collaborations from early in her career. She has dedicated efforts in facilitating international partnerships in ocean prediction and the exchange of best practices and scientific methods, leading a dedicated Task Team since 2009. She also leads the Coastal and Shelf Modeling Lab at the University of Miami and co-directs a center dedicated to Ocean Modeling and Observing System evaluation and design, a University of Miami and NOAA partnership. She has chaired several international workshops and conference sessions.
Scientific Research
Current research in Kourafalou's group focuses on the science needed to advance the understanding, modeling, and prediction of the interdisciplinary dynamics in the coastal ocean and regional seas. Applications include transport and fate of coastal waters carrying sediments, nutrients and pollutants; ocean feedback to tropical storms and hurricanes; design of new and optimization of existing ocean observing systems. The focus is on coastal to large-scale exchanges, toward the study of seamless ocean systems, from the deep to the shelf and coastal scales.

Service at UM and for the Wider Scientific Community
In addition to her leading role in the international ocean modeling and forecasting community, Kourafalou has dedicated substantial efforts to increase awareness and build strategies for inclusive practices in the academia and in research centers. She has chaired committees and forums to promote equal opportunities for scientists at all levels of their career, toward a truly diverse oceanographic community.