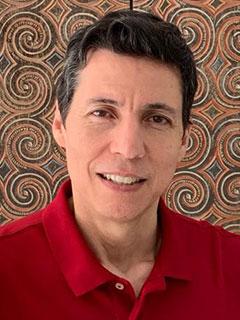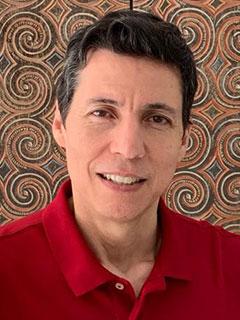 About Me
Quote
"Dance and movement, more than a way to make a living, can become a way of living."
Biography
Jorge L. Morejón is a Lecturer of Dance at the Frost School of Music. He received his bachelor's degree in Special Education from Florida International University with a focus in Dance in 1998, and was awarded his Master's Degree in Liberal Studies from the University of Miami in 2006.
Dr. Morejón started dancing with Creation Ballet Dance Company in Gasping in Oblivion and Bolero Suite. He was invited to the Florida Dance Festival where he was lead dancer/actor in Sleepless City. He dance the role of High Priest in La Bayadère withBallet Theatre of Miami. He made his opera debut in Turandot with the Greater Miami Opera Chorus performing in Caballeria Rusticana, Pagliacci and Christophoro Colombus. In 2000, he did Master level work in Expressive Arts Therapy at the European Graduate School, Switzerland, and in 2004 he opened the Performance Space Camera Obscura in Little Havana where he directed Three Greek Women and Rabinal Achi.
Following his graduation from UM in 2006, he moved to Toronto where he started his doctoral program in Theatre Studies where he performed in Seven Against Thebes and co-choreographed Mirrored Spaces. In 2008, he transferred to the University of California, Davis and completed his Ph.D. in Performance Studies. While in California, Dr. Morejón performed with the Montalvo Arts Center in Divide Light: A New Opera and with Side Show Physical Theatre in The Ten PM Dreams and the Elephants Graveyard. He also performed in The Winter's Tale and Hinterland with UC Davis' Theatre and Dance Department. In addition, he performed and choreographed My Hands / Tus Brazos with Linda Bair's Dance Company.
Dr. Morejón got his start in television when he appeared on the soap operas "Angelica Mi Vida" and "Guadalupe" on the Telemundo network. His professional theatre debut took place in Maria Antonia at Teatro de Bellas Artes and The Maids with Creation Art Center, Miami.
After completing his Ph.D. in 2011, Dr. Morejón became Lecturer and Dance Coordinator at the Department of Creative and Festival Arts, University of the West Indies, Trinidad and Tobago. There he choreographed and directed productions such as
Re-Awakening the Caribbean Spirit
,
Maria Antonia
and
The Areito Restoration Project
. He also directed and produced the Fete
dela
Dance and Soul to Sole Festivals. In 2014, he performed in the Innerloop Performance Project
in
Miami and in
The Healing Power of Expression
for the International Association of Eating Disorders Professionals Conference in St. Petersburg, Florida. He is currently working towards his certification in Dance/Movement Therapy with a Master in Social Work at the University of Central Florida. Currently, he is directing and performing the international theater project
Side Show Freaks and Other Injuns
to open in 2018.
Honors & Acknowledgements
Professional Experience

Career Highlights
Creation Ballet Dance Company in Gasping in Oblivion and Bolero Suite
Opera debut in Turandot with the Greater Miami Opera Chorus
Opened the Performance Space Camera Obscura in Little Havana where he directed Three Greek     Women and Rabinal Achi
Performed in The Winter's Tale and Hinterland with UC Davis' Theatre and Dance Department
Performed and choreographed My Hands / Tus Brazos with Linda Bair's Dance Company
Appeared on the soap operas "Angelica Mi Vida" and "Guadalupe" on the Telemundo network
Made his professional theatre debut in Maria Antonia at Teatro de Bellas Artes
Directed and produced the Fete dela Dance and Soul to Sole Festivals.
Performed in the Innerloop Performance Project, Miami
Honors, Awards & Competitions
Premium Teaching Award, 2014 Nominee. Theme: Focusing the Frenzy. Student Engagement and Technology. UWI / Guardian Group.

Excellence in Education Awards 2010 Nominee, University of California, Davis

UCD & Humanities Graduate Research Fellowship for academic year 2010-2011.

University of California, Davis, Chancellor's Graduate and Professional Student Advisory Board, 2009 – 2010

University of California, Davis, Teacher Assistant Counselling Fellowship, 2009-2010

University of Miami's Summa Cum Laude Graduate, 2006

Florida International University's Cum Laude Graduate, 1998

Kiwanis of Little Havana Scholarship for Community Arts Work, 1994

Association of Commentators and Arts Critics, (ACCA), Best Dramatic Actor of the Year, Miami, 1992

Association of Commentators and Arts Critics (ACCA), Special Recognition, Miami, 1991

Association of Commentators and Arts Critics (ACCA), Young Talent, Miami, 1987
Publications
"Caribbean Male Dancers: Redefining Masculinity," Journal of Gender Studies. 2015

"Changing Higher Education Paradigms: Crafting New Multidisciplinary Educational Programmes and Policies through the Arts," Caribbean Teaching Scholar, 2014

"The Evolution of Dance: A Caribbean Perspective," History in Action. 2012