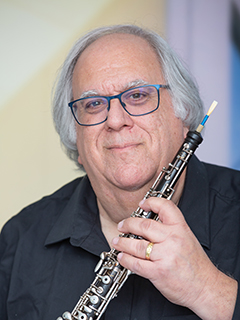 Robert Alan Weiner
Lecturer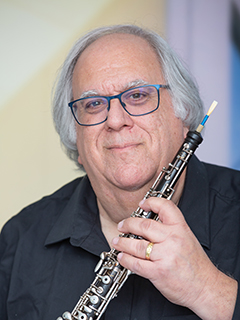 About Me
Quote
"I want my students to ultimately be able to explore so they can find their own way. I do not wish for my students to be clones of their teacher."
Biography
Robert Weiner has been teaching Oboe at the FROST SCHOOL OF MUSIC since 1998. He also coaches chamber music and serves as the faculty mentor for the Stamps Woodwind Quintet. He has taught Ear Training in the Experiential Music Curriculum since its inception. He previously taught oboe at Conjunto Cultural Ollin Yoliztli in Mexico City, Oklahoma City University, University of Oklahoma, and Cornell University.
In addition to his academic duties, Mr. Weiner is Principal Oboist with the Florida Grand Opera and other local South Florida music organizations. He has also served as Principal Oboist with the Mexico City Philharmonic, Miami City Ballet Orchestra, Oklahoma Symphony Orchestra, and others, as well as guest Principal Oboist with the St. Louis Symphony Orchestra and the Florida Philharmonic. Mr. Weiner has been a soloist with orchestras in the United States and Mexico. He has been a recitalist and chamber musician in Florida, New York, Oklahoma and Mexico. Mr. Weiner also has been a Master Class clinician in the United States and Mexico. He was Director and Oboist of the Oklahoma City Chamber Players and has performed with several New York City area orchestras, including the American Symphony Orchestra, New York City Ballet and Long Island Philharmonic.
Mr. Weiner has recorded for several major record labels and he remains active as a Miami studio musician. Acknowledged for his work on gouging machines and reed-making, he is in demand by professionals for advice and performance in those areas. He is also active as an editor and arranger, specializing in music for Oboe. He holds a B.M. degree from the Eastman School of Music, and a M.M. degree from the State University of New York at Stony Brook. He studied oboe with Robert Sprenkle, Ronald Roseman, Harold Gomberg, John Mack, and Joseph Robinson.
Honors & Acknowledgements
Professional Experience

Career Highlights
Performed Concerti by Mozart, R Strauss, Corigliano, Maderna, JS Bach, CPE Bach, Telemann, Handel, Vivaldi, Marcello, Cimarosa and Rimsky-Korsakov with orchestras in the United States and Mexico
Premiered works written for him by Christopher Rouse, Brian Israel, Fred Thayer, Ray Luke and Frank Payne
Performed with many of the world's greatest artists, such as Luciano Pavarotti, Placido Domingo, Itzhak Perlman, Alicia de Larrocha, Yo-Yo Ma and many more
Won first full-time orchestra position as Principal Oboe in Oklahoma City
Performed as Principal Oboe with the St. Louis Symphony
Played Beethoven's Ninth Symphony in the Cathedral in Mexico City
Performed concerts in Carnegie Hall, New York
Honors, Awards & Competitions
B.M. degree from the Eastman School of Music
M.M. degree from the State University of New York at Stony Brook
Recordings
R

ecordings for several major record labels
Active as a Miami studio musician
Publications
Editor and arranger, specializing in music for Oboe
Personal Website