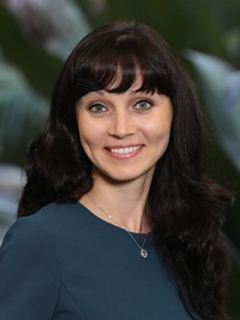 Khrystyna Bochkay
Associate Professor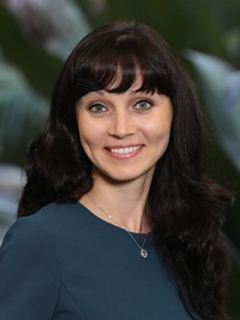 Biography
Khrystyna Bochkay teaches advanced managerial accounting in the undergraduate program and joined the faculty in 2014 after completing her PhD in Accounting at Rutgers University. Khrystyna holds a Bachelor of Science in Mathematics and a Masters of Science in Statistics from Ivan Franko National University in L'viv, Ukraine.
Khrystyna's research interests include corporate disclosures, capital markets, behavioral finance, forecasting and textual analysis. Her doctoral dissertation focused on the usefulness and predictive ability of textual information in annual corporate reports filed with the SEC. Khrystyna is also working on research that explores the information value and disclosure strategies in a large sample of earnings conference calls and other corporate disclosures.
Khrystyna often attends and presents her work at leading accounting conferences and workshops in the US and worldwide. Khrystyna's other interests include photography, cooking, yoga and traveling.
Education
| | |
| --- | --- |
| 2014 | Ph.D. Accounting, Rutgers Business School |
| 2009 | M.S. Statistics (with honors), Ivan Franko National University, L'viv, Ukraine |
| 2008 | B.S. Mathematics (with honors), Ivan Franko National University, L'viv, Ukraine |
LIST OF SPECIALTIES: Financial and Managerial Accounting
Professional Experience
| | |
| --- | --- |
| 2014 - | Assistant Professor, Accounting, Miami Herbert Business School |
| 2011 - 2013 | Course Instructor, Rutgers Business School |
| 2012 - 2013 | Guest Lecturer, Rutgers Business School |
LIST OF SPECIALTIES: Empirical capital markets; mandatory and voluntary disclosures; disclosure strategies; forecasting; market participants' use of information, and textual analysis
Publications
with V. Anand, R. Chychyla, and A. Leone Using Python for Text Analysis in Accounting Research (Foundations and Trends in Accounting Vol. 14: No. 3–4, pp 128-359. ).
With P. Joos Macroeconomic Uncertainty and Quantitative vs. Qualitative Inputs to Analyst Risk Forecasts (The Accounting Review. available online June 2020).
With J. Hales and S. Chava Hyperbole or Reality? Investor Response to Extreme Language in Earnings Conference Calls 31-60 (95.2 The Accounting Review. 2020).
With R. Chychyla and D. Nanda Dynamics of CEO Disclosure Style 103-140 (94.4 The Accounting Review. 2019).
With K. Bochkay, S. Sankaraguruswamy, and M. Willenborg Management Disclosures of Going-Concern Uncertainties: the Case of Initial Public Offerings 29-59 (93.6 The Accounting Review. 2018).
With C. B. Levine Using MD&A to Improve Earnings Forecasts 458-482 (Journal of Acounting, Auditing and Finance. 2017).