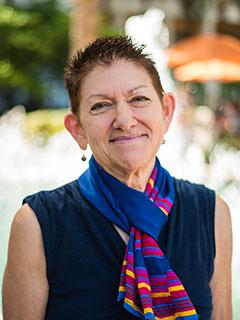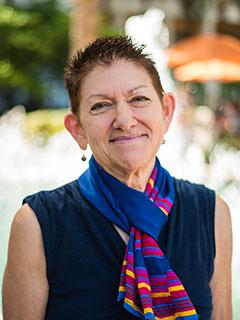 Dr. Elbaum is a developmental psychologist and education researcher who seeks to understand and improve educational outcomes for children with disabilities and their families through empirical research and involvement in federal accountability efforts related to early intervention and special education services. Her current research focuses on child and family outcomes of early intervention and preschool special education services.

In the years following the reauthorization of the Individuals with Disabilities Education Act (IDEA), Dr. Elbaum assisted multiple states to develop their statewide system for measuring outcomes of early intervention and special education services for children and families. A scale that she and colleagues developed, the Schools' Efforts to Partner with Parents Scale, was the first instrument available to states to measure schools' facilitation of parent involvement. A version of this scale is currently being used by the majority of U.S. states to address the IDEA accountability indicator related to parent involvement.

Dr. Elbaum was part of the Florida state leadership team responsible for developing and implementing a statewide system for measuring, tracking, and reporting the developmental progress of infants, toddlers and preschool children served in Florida's Part C early intervention program and the state's Preschool Program for Students with Disabilities. Between 2005 and 2018, Dr. Elbaum was responsible for managing and analyzing Florida's state and local program data on the developmental progress of children served in the state's IDEA-funded early childhood programs. Dr. Elbaum also collaborated with the New York State Bureau of Early Intervention (NYSBEI) on the development of the NYSBEI's statewide family survey and on a research project awarded to the NYSBEI under the Combatting Autism Act to investigate outcomes of early intervention for children with ASD. Dr. Elbaum is currently Co-Investigator on an IES-funded research project to examine malleable factors that can promote language development for preschool children with disabilities served in inclusive classrooms. To date, Dr. Elbaum has directed state and federally funded research, professional development, and technical assistance projects representing over $14.5 million in extramural funding.

Dr. Elbaum has served as a consultant to the U.S. Department of Education, Office of Special Education Programs (OSEP) and multiple OSEP-funded Technical Assistance Centers on issues related to program evaluation, state data collections, outcomes measurement, and the development of state improvement plans under IDEA. In the 2018-19 academic year, she served as Acting Chair of the Department of Teaching and Learning.
Funded Projects
Teacher and Peer Speech in Inclusion Classrooms: Malleable Factors Affecting Language Outcomes for Children with Disabilities. National Center for Special Education Research, Institute of Education Sciences Award # R324A180203, 7/01/2018-6/30/2022, $1,399,735. Co-Investigator. Principal Investigator: Daniel Messinger.

The purpose of this project is to leverage innovative technologies to understand the role of teacher and peer speech in the language development and social relationships of preschool children with disabilities served in inclusive preschool classrooms. Malleable factors include teacher vocal turn-taking with children, and peer speech exposure during social contact. The project uses real-time objective measurement of language in context to investigate the impact of these factors on children's growth in receptive and expressive language and peer interactions. Classrooms that include children with autism spectrum disorder will be compared to classrooms including children with other disabilities or identified language delays.



ESE Parent Survey Project. Florida Department of Education CFDA #84.027A, 874-2626B-7CD01, September 1, 2018-August 31, 2019, $422,195. Principal Investigator.

The purpose of this project is to provide support to the Florida Department of Education, Bureau of Exceptional Education and Student Services for statewide data collection, data interpretation, and program improvement related to schools' facilitation of parent involvement in educational planning and services for student with disabilities. Dr. Elbaum is responsible for revising and updating the state's online survey instrument, conducting both measurement and statistical analyses of the data, developing reports, and providing technical assistance to the state and to local school districts on engaging parents of students with disabilities.