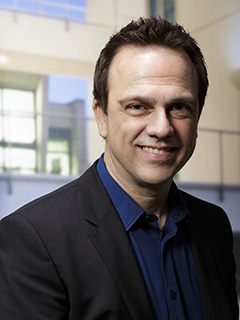 Carlos Rafael Rivera
Associate Professor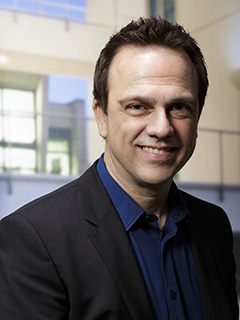 About Me
Quote:
Having spent the better part of my life making and teaching across musical genres, I know of no other way to so deeply feel the wonder of being alive.
Biography:
Carlos Rafael Rivera is an Emmy Award-winning composer, whose career has spanned several genres of the music industry. He mentored with the incomparable Randy Newman while earning a DMA in Composition at USC's Thornton School, where he studied with Donald Crockett and Stephen Hartke.

His work for Film and TV includes scores for Netflix's THE QUEEN'S GAMBIT, starring Anya Taylor-Joy, the EMMY Award-Winning GODLESS, directed by Scott Frank and produced by Steven Soderbergh, starring Jeff Daniels and Michelle Dockery, as well as Universal Pictures' A WALK AMONG THE TOMBSTONES, starring Liam Neeson.

As a guitarist, he has performed onstage as the opening act for The Who at the Hollywood Bowl; recorded studio sessions for Island/Def Jam, and Universal Records; as well as had songs featured on ABC's Scrubs, MTV, and VH-1.

His work for the performing arts has been featured by some of the most prominent ensembles and soloists, including Arturo Sandoval, Colin Currie, Chanticleer, Cavatina Duo, the Chicago Sinfonietta, the American Composers Orchestra (ACO), and the Los Angeles Guitar Quartet (LAGQ); commissioned by the Simon Bolivar Youth Symphony and the American Wind Symphony; recorded by Warner, Sony, Naxos, and Cedille labels; and awarded by the Herb Alpert Foundation, the Guitar Foundation of America, BMI, and twice by ASCAP.

As an educator, Carlos is Assistant Professor and Director of the Media Writing and Production Program at the acclaimed Frost School of Music at the University of Miami.

He is represented by Bradley Rainey at William Morris Endeavor Entertainment (WME).
Listen to his January 2021 NPR interview here.
Honors & Acknowledgements
Professional Experience
As Composer/Songwriter/Guitarist
Television
Netflix: Godless, 2017
-Original Score for the Steven Soderberg produced miniseries, starring Jeff Daniels, Michelle Dockery, and directed by Scott Frank

ABC: Scrubs (My Absence), 2009
-Original Song "Last Salutation" co-written and performed with Randy Coleman
Film
Universal Pictures: A Walk Among the Tombstones, 2014 Original Score for the Universal Pictures release, starring Liam Neeson, and directed by Scott Frank
The Weinstein Company: Feast, 2006 - Original Song "You Will Shine" co-written and performed with Randy Coleman for the Weinstein Company release, starring Balthazar Getty, and directed by John Gulager 
Live Performance Highlights
26 date US Tour opening for Bryan Adams and Def Leppard, 2005
Opening act for The Who at the Hollywood Bowl, 2004 
As Affiliate
William Morris Endeavor Entertainment – Amos Newman, Agent, since 2014
Aranjuez Artistic Services – Sean Samimi, Manager, since 2016
Associaton for Popular Music Education – Board Member, since 2017
The Society of Composers and Lyricists, since 2014
The Recording Academy (NARAS/Grammys), Voting member since 2005
The Latin Recording Academy (LARAS/ Latin Grammys), Voting member since 2005
Harry Fox Agency, Inc. – since 2007
Pi Kappa Lambda - National Music Honor Society, since 2003
Phi Kappa Phi – National Honor Society, since 1997
Broadcast Music, Inc. (BMI), since 1996
Recent Commissions/Awards
2021 Hollywood Music in Media Award Winner: Outstanding Score – TV Show/Limited Series
The Queen's Gambit (Netflix) – Carlos Rafael Rivera
Netflix – Los Gatos, CA, 2017
Original Score for Godless, a six hour mini-series produced by Steven Soderbergh, starring Jeff Daniels and Michelle Dockery, and directed by Scott Frank 
CINTAS Awards, Brandon Fradd Fellowship in Music Composition – Miami, FL, 2015
Selected as Finalist in the composition of a new work by the CINTAS foundation, which awards fellowships annually to creative artists of Cuban lineage who live outside of Cuba 
Kickstarter – Chicago, IL, 2016
Planned and oversaw The Cavatina Duo's first successful Kickstarter campaign in order to help promote the completed Cedille recording and enable an increase in visibility 
Academy of Motion Pictures Arts and Sciences – Los Angeles, CA, 2015
The Academy of Motion Picture Arts and Sciences selected A Walk Among the Tombstones as one of 114 scores from eligible feature length motion pictures in contention for nominations in the Original Score category for the 87th Oscars 
XIV BSO Gold Spirit Awards – Madrid, SPAIN, 2015
Two time Nominee for A Walk Among the Tombstones under the Best Thriller and Breakout Composer of the Year categories 
Thomas Baron through a grant to Cedille Records – Chicago, IL, 2015
Commission of Plegaria y Canto al Bodre de La Mar, a chamber work for the Cavatina Duo and Lincoln Trio 
Universal Pictures – Los Angeles, CA, 2014
Original Score for A Walk Among the Tombstones, starring Liam Neeson and directed by Scott Frank