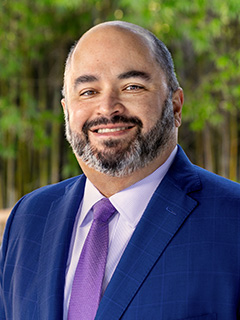 Rudy Fernandez
Executive Vice President for External Affairs and Strategic Initiatives and Chief of Staff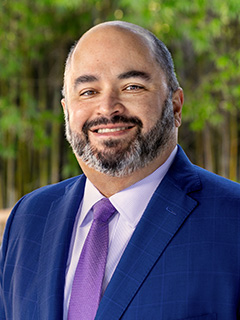 About the Executive Vice President for External Affairs and Strategic Initiatives and Chief of Staff
Rudy Fernandez serves as executive vice president for external affairs and strategic initiatives and chief of staff at the University of Miami. Fernandez has a unique role with broad leadership scope, which includes responsibility for the Board of Trustees office, University system-wide communications—including UHealth—and dotted-line oversight of the athletics department.
Fernandez oversees University Communications and he created the Public Affairs division to better coordinate all communication and external relations efforts. He has nurtured successful relationships with federal, state, and local government entities, leading the University's legislative strategy. As chief of staff, he manages the Office of the President, as well as the board office, and works with the board and executive leaders across the enterprise in developing and implementing long-range strategies on behalf of the institution.
Prior to joining the University in 2007 as vice president for government and community relations, and later as senior vice president for public affairs and communications, Fernandez spent a decade in Washington, D.C. He was special assistant to the president in the George W. Bush White House. He also held senior positions in the U.S. Department of Transportation, the Bush-Cheney 2004 Campaign, and the Republican National Committee.
Fernandez earned a bachelor's degree in government from Harvard University and an M.B.A. from the University of Miami. He is a member of Iron Arrow and the Orange Bowl Committee, and he and his wife, Jennifer, are the proud parents of four children.