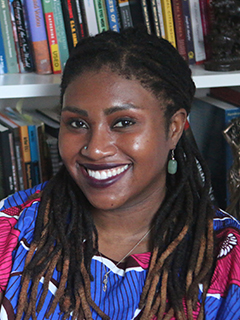 Eziaku Atuama Nwokocha
Asst. Professor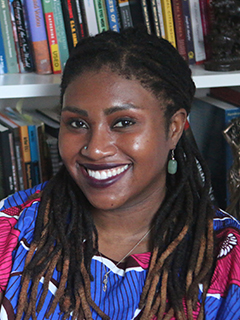 Eziaku Nwokocha is an Assistant Professor at the University of Miami. She is a scholar of Africana religions with expertise in the ethnographic study of Vodou in Haiti and the Haitian diaspora. Her research is grounded in gender and sexuality studies, visual and material culture and Africana Studies. Previously, Nwokocha held a position as a Presidential Postdoctoral Research Fellow in the Department of Religion at Princeton University and a Visiting Fellow at the Center for Culture, Society and Religion at Princeton. She obtained a Ph.D. with distinction in Africana studies from the University of Pennsylvania, a Master's degree in Africana studies from the University of Pennsylvania, a Master's degree in Theological studies from Harvard Divinity School, and a Bachelor's degree in Black studies and Feminist studies from the University of California, Santa Barbara. Nwokocha was a Ford Predoctoral Fellow during her PhD and Ronald E McNair Scholar as an undergraduate. She is the author of Vodou en Vogue: Fashioning Black Divinities in Haiti and the United States (University of North Carolina Press, 2023), an ethnographic study of fashion, spirit possession, and gender and sexuality in contemporary Haitian Vodou, exploring Black religious communities through their innovative ceremonial practices. The book is featured within the series Where Religion Lives. 
Nwokocha is currently working on her second book project which is tentatively entitled: "'Tell My Spirit': Black Queer Women in Haitian Vodou," which investigates Black queer women's interactions with Haitian Vodou divinities, their performance of ritual work, and their formation of religious communities in multiple locations including Montréal, Canada; Miami, Florida; Havana, Cuba; Paris, France; Brooklyn, New York, and Northern California. She pays particular attention to spiritual possession, which serves as a site for subversive ritual performances that contest dominant national and regional discourses on sexuality, gender, and race. Nwokocha's work has been featured in the Journal of Haitian Studies, Harvard Divinity Bulletin, Reading Religion, and Women Studies Quarterly. 
Nwokocha enjoys teaching several courses which include Caribbean of Religion (REL 330), Anthropology of Religion (REL 109) and Religion and Gender (REL 345). She also is a certified Spin® Instructor and yoga enthusiast.
Education
| | |
| --- | --- |
| | Ph.D. Africana Studies, University of Pennsylvania |
| | M.A. Africana Studies, University of Pennsylvania |
| | M.T.S. African and African American Religions, Harvard Divinity School |
| | B.A. Feminist Studies, University of California |
| | B.A. Black Studies, University of California |
LIST OF SPECIALTIES: Africana Religions; ethnography; Black Feminism; visual and material culture; race and religion, gender and sexuality, religious performance; religious fashion; labor in religion; spirit possession