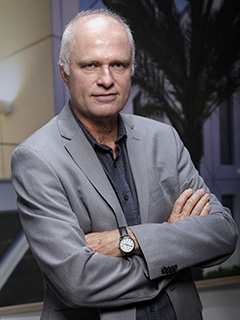 John S. Hart
Associate Professor of Professional Practice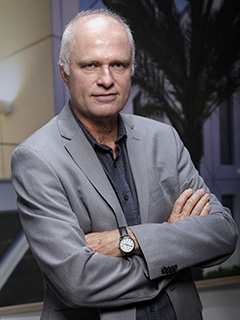 About Me
Quote 
"Every musician is a unique individual. I try to find that which is inside of each student, the special qualities that make them who they are, and nurture those strengths. By providing all the information necessary to develop the skill sets that are demanded of a professional musician but also paying close attention to the varying needs of the individual player, I hope to direct each student on a path to not only a long career in music but also an artistically fulfilling one" 
Biography 
John Hart is a Lecturer in Jazz Guitar at the FROST SCHOOL OF MUSIC. As the head of the Jazz Guitar Department, Professor Hart teaches applied lessons, ensembles, and vocal accompaniment. He is one of the most sought-after and prolific guitarists on the jazz scene today.
A New York fixture on the New York music scene for 30 years, Professor Hart has distinguished himself as a band leader with ten CDs -- including releases on such prestigious labels as Blue Note and Concord -- as well as a first call sideman to the stars. A prolific recording artist, John has appeared on 100-plus CDs as a sideman.
In addition, Professor Hart's resume includes associations with numerous jazz greats from earlier generations and cutting edge contemporary artists. He may be best known for a sixteen year tenure with organist Jack McDuff, a gig which proved to be a proving ground for many of the great jazz guitar innovators. He has also worked with Jimmy Smith and can be seen on YouTube performing with him at the Mt. Fuji Jazz Festival in 1990. Other associations include Lou Donaldson, James Moody, Jon Hendricks and more recently Dr. Lonnie Smith. His versatility is apparent when you look at some of his other associations. He has played in bands led by Brian Blade, Chris Potter, Larry Goldings, Bob Belden, Rick Margitza, Javon Jackson and has played with the Maria Schneider Orchestra for the last 20 years.
JazzTimes said of Professor Hart, "An alum of the Brother Jack McDuff University of Jazz Guitar, John Hart can burn his way through blues changes on a level that's right up there with fellow graduates George Benson and Pat Martino." Bill Milkowski said in Jazziz magazine, "John Hart is a modern day keeper of the flame" and Scott Yanow from Jazztimes said "Hart is a true original"
Professor Hart's recording career as a leader began in 1990 when he signed with Blue Note records. In 1992, he formed the John Hart quartet which featured young star Chris Potter. The band was together for seven years, during which time they toured extensively, were featured on NPR's Jazzset, and recorded an album for Concord records. In 2001 he formed the John Hart trio, which recorded three CDs for Hep records. He has also headlined at the Montreux Jazz Festival, the Edinburgh Jazz Festival, the Vancouver Jazz Festival, the Nairn Jazz Festival, the Victoria Jazz Festival and many of the premier jazz clubs in the U.S.
In addition, Professor Hart has been the guitarist of choice for many of New York City's great jazz vocalists and has performed and/or recorded with Hilary Kole, Lizz Wright, Philip Bailey, Rene Marie, Deborah Cox, Jon Hendricks, Annie Ross and Michael Feinstein among others. He played in the house band at the legendary Apollo theatre in the 1980's, later did a variety of studio work, played on soundtracks for HBO's "Sex in the City," and made a recent appearance on "Prairie Home Companion" with the popular band Pink Martini. From 2011 – 2014, he was the musical director of the Birdland Jazz Quartet, the house band at the famed jazz club Birdland.
Professor Hart recently signed with Zoho Records, which will release a new trio release,
Exit from Brooklyn
, in the spring of 2016. It places him into consideration on the first ballot for the 2017 Grammy awards.
Honors & Acknowledgements
Professional Experience
Career Highlights
Leader of the John Hart Trio and the John Hart Quartet

Headlined at the Montreux Jazz Festival, the Edinburgh Jazz Festival, the Vancouver Jazz Festival, the Mt. Fuji Festival, the Nairn Jazz Festival, the Victoria Jazz Festival, and many of the premier jazz clubs in the U.S.
Performed and/or recorded with Hilary Kole, Lizz Wright, Philip Bailey, Rene Marie, Deborah Cox, Jon Hendricks, Annie Ross and Michael Feinstein among others
Played in the house band at the legendary Apollo theatre
Played on soundtracks for HBO's "Sex in the City"
Recent appearance on "Prairie Home Companion" with the popular band Pink Martini.
Musical director of the Birdland Jazz Quartet, the house band at the famed jazz club Birdland, 2011 – 2014
Honors, Awards & Competitions
Accolades from

JazzTimes and Jazziz magazines

 
Recordings
Checkmate was released on April 15, 2021
Ten CDs as a bandleader, including releases on prestigious labels Blue Note and Concord
Over 100 CDs as a musical contributor
Exit from Brooklyn was released in spring 2016