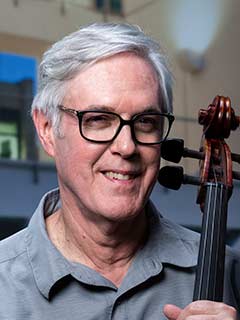 Ross T. Harbaugh
Professor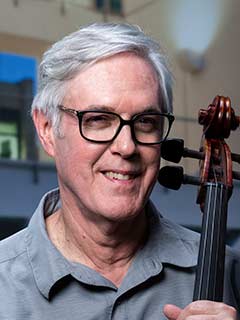 About Me
Quote
"The language of music is my voice. I have extensive experience in solo playing, string quartet, and orchestra performance. I will work with you to develop the tools you'll need for your own musical vision. The FROST SCHOOL OF MUSIC will give you the flexibility and skills to find your own voice in today's musical landscape."
Biography 
Ross Harbaugh is Professor of Cello at the FROST SCHOOL OF MUSIC, and cellist of the Bergonzi String Quartet. As a founding member of the New World Quartet, Professor Harbaugh won the Naumburg Prize, a Prix du Disque, and recorded 20 records and CD's for the Vox, MCI Classic and IMP Masters, CRI, Centaur, Fleur de Son, and Musical Heritage labels. 
Professor Harbaugh has performed throughout Europe and the United States, including concerts at such prestigious venues as the Kennedy Center, Alice Tully Hall, and Wigmore Hall in London, and has appeard in concert with such renowned artists as Leonard Rose, Bill Preucil, Richard Goode, Jeffrey Kahane, Raphael Hillyer, Joel Krosnick, Jerome Rose, Gil Kalish, and the Guarneri Quartet.  He has soloed with the Atlanta Symphony, Cincinnati and Toledo Symphonies, among many others, and appears nationally in recital each year.  He was Principal Cellist of the Grand Rapids and Toledo Symphonies, and has performed under direction of Erich Leinsdorf and Max Rudolf.  In the pop world, he has appeared on recordings with Michael Jackson and Busta Rhymes. 
Professor Harbaugh's distinguished teachers include Janos Starker and Leonard Rose in the United States, and Andre Navarra at the Paris Conservatory. He also took chamber music study with the Juilliard Quartet. His teaching experience includes stints at Harvard University, University of Michigan, and Interlochen, with master classes at Yale and Brown Universities. Mr. Harbaugh presents workshops in ensemble communication, Tai Chi for Cello, and gives cello workshops throughout the country at such venues as the 7th American Cello Congress Tempe, the Tennessee Cello Workshop, and the ASTA National Convention this year. He has authored numerous articles for American String Teacher and The Strad, and appears regularly on National Public Radio. His students are prize winners in numerous musical competitions, including "From the Top." They hold positions in respected orchestras, schools of music, and chamber ensembles.
In addition, Professor Harbaugh has also served as a judge for the Fischoff Chamber music Competition and the Stulberg Competition, and the Fulbright Competition for Graduate Study Abroad. He performs and teaches in numerous summer festivals including Cabrillo, Interlochen, Madeline Island, Pine Mountain, Hamden-Sydney, the ORFEO Music Festival in Vipiteno, Italy, and the Margess Institute in Switzerland. This summer he will be teaching and performing at the Blue Ridge Chamber Music Festival, the Pine Mountain Music Festival, Interlochen National Music Camp and the Castleman Quartet Program in Fredonia, NY. In 2017, he is recording the
Chopin Sonata
and performing the Saint-Saens Cello Concerto on tour in Florida.
Honors & Acknowledgements
Professional Experience

Career Highlights
Won the Naumburg Chamber Music Prize with the New World String Quartet
Performances at Alice Tully Hall, Lincoln Center, Wigmore Hall. Carnegie Hall
Served as Artist-in-Residence at Harvard University for eight years
Concerto appearances with Atlanta, Cincinnati, Grand Rapids Symphonies, Canadian Chamber Orchestra, Brevard Symphony
Performances with Leonard Rose, Guarneri Quartet, Bill Preucil, Richard Goode, Jeffrey Kahane, Edgar Myer, Nestor Torres, Jon Secada
Recordings with Busta Rymes, Michael Jackson, Grant Johannsen, Gloria Estefan
Residencies at University of Michigan, Yale University, Interlochen Arts Academy
Studies with Janos Starker, Andre Navarra, Peter Howard
Work with Antal Dorati, Michael Tilson Thomas.
Honors, Awards and Competitions
First Prize, Naumburg Chamber Music Competition
Grand Prix du Disque, Diapason (French Music for String Quartet)
National Endowment for the Arts Touring Grants (six years)
National Foundation for Advancement in the Arts Teaching Award
Chamber Music America C.M.Paul Residency Grant Awardee (two years)
Michigan Council for the Arts, Residency and touring Awardee (four years)
Top Prize, Atlanta Young Artists Competition
Top Prize, MTNA Competition
President of Pi Kappa Lambda
Recordings
Cello Serenade CD Baby (w Bernice Mrozinski)
Dennis Kam Chamber Music (w Dimitri Ashkenazy, Amy Tarantino)
Bergonzi String Quartet Plays Ginastera, Wolf, Debussy (Fleur de Son)
Felix Mendelssohn Quartet Op. 12, 13, 81 (Centaur Records)
For Bergonzi Four, The Bergonzi Quartet
Bergonzi String Quartet Live, Bergonzi String Quartet
By Arrangement Only, Bergonzi String Quartet
Wild (Peter and the Wolf, Carnival of the Animals), Bergonzi String Quartet
Brahms String Quartets Nos. 1 and 2, New World String Quartet (IMP Masters)
No. 3 and Quintet in F Minor, New World String Quartet (IMP Masters)
Ravel, Debussy, Dutilleux quartets, New World String Quartet (IMP Masters)
Schubert Quartet in D Minor, Death and the Maiden, New World String Quartet (MCA Classics)
Leos Janacek: The Two Quartets (Musical Heritage Records)
Dvorak Opus 51, 96, 105, New World String Quartet (Centaur Records)
Ernest Bloch Quintet w Grant Johannesen, New World String Quartet (CRDG Records)
Publications
"Ensembles: An Owner's Manual" American String Teacher
"What: You're Not Getting Along?" American String Teacher
"Mind Shifts" American String Teacher
"Interview with Joel Krosnick" American String Teacher
"Interview with Eugene Lehner" American String Teacher
"Open Sesame: Effective Language in Rehearsals" American String Teacher
"Tai Chi for Cello" Strad Magazine
Editor, Chamber Music Forum, American String Teacher, 1989-92; 2015-16