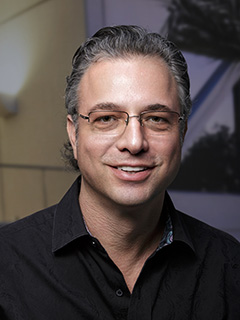 Jeffrey M Buchman
Asst. Professor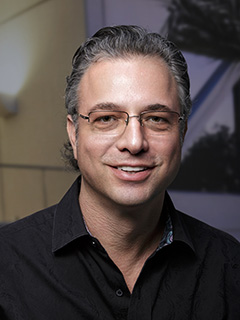 Quote
"As artists, we should strive try to live every day in a way that makes a difference in the world. Through our artistry, we have tremendous power and tremendous responsibility. We have the power to heighten people's awareness of the limitless beauty of the human experience that exists around them and within them every moment of their lives, and we have the responsibility to guide them towards choices that are driven by passion, empathy and compassion." 
Biography
Jeffrey Marc Buchman is Assistant Professor and Stage Director for Opera at the FROST SCHOOL OF MUSIC. Opera News called him "a formidable talent." Constantly pushing the limits of the performing arts, Professor Buchman's versatility has led him to a wide variety of venues where he's interpreted many of opera's classics, while also regularly premiering new works. His innovation puts him at the forefront of a new era in directing.
Professor Buchman's journey began as a trumpet player in the Greater Baltimore youth orchestra, which, in turn, led him to the Baltimore School for the Arts and the Interlochen Arts Academy, where he discovered his love of classical singing and opera. His operatic debut was with Deborah Voigt in her first performances of Ariadne auf Naxos at Boston Lyric Opera. He subsequently went on to win first prize in the National Society of Arts & Letters vocal competition, as well as the prestigious Luciano Pavarotti International Voice Competition. That led to a personal invitation from the legendary tenor to sing with him on Live from Lincoln Center: PAVAROTTI PLUS.
Mr. Buchman has directed Donizetti's Le Convenienze ed Inconvenienze Teatrale for Seattle Opera, Carmen for Atlanta Opera, Rigoletto, The Magic Flute, and Andy Vores' No Exit and Eugene Onegin for Florida Grand Opera, Ricky Ian Gordon's 27 for Michigan Opera Theatre, Laura Kaminsky's As One for Hawaii Opera Theatre, Il Barbiere di Siviglia for Lyric Opera Baltimore, Rigoletto and South Pacific for Anchorage Opera, Hansel & Gretel for Sarasota Opera, Laura Kaminsky's As One for Opera Colorado, L'elisir d'amore for Toledo Opera, Romeo et Juliette, Daughter of the Regiment, Gianni Schicchi and Suor Angelica for Intermountain Opera, Il Barbiere di Siviglia and Tragédie de Carmen for Syracuse Opera, La Cenerentola for Green Mountain Opera, Cold Sassy Tree for Sugar Creek Opera, Turandot and Manon Lescaut for Mobile Opera, Il Trovatore, Faust, Don Pasquale and The Magic Flute for Opera Naples and Il Barbiere di Siviglia for Orlando Philharmonic.
In addition to his work at opera companies across the U.S., Mr. Buchman has had extensive experience working with young singers, including directing Don Giovanni and The Magic Flute at Philadelphia's prestigious Academy of Vocal Arts, Carmen, La Traviata and La Bohème at Indiana University's Jacobs School of Music, The Magic Flute and Cosi fan Tutte at the Brevard Music Festival, L'Elisir d'Amore at the Brancaleoni International Music Festival, Il Tabarro and Gianni Schicchi at Opera Project Columbus, La Traviata and L'Elisir d'Amore at Cincinnati Conservatory of Music Summer Opera Bootcamp, Le Nozze di Figaro and Don Giovanni for the Miami Summer Music Festival, Don Giovanni for UCLA's Herb Alpert School of Music, The Bartered Bride, Cosi fan Tutte, Die Fledermaus, Hansel & Gretel, Lo Speziale, Pasatieri's La Divina, Amelia al Ballo and The Magic Flute for the New World School of the Arts, and Gianni Schicchi, Suor Angelica, Stravinsky's Mavra and Golijov's Ainadamar for the FROST SCHOOL OF MUSIC at the University of Miami.
An innovative director, Professor Buchman has stood at the helm of a variety of new and groundbreaking productions ranging in scale from the most intimate of chamber operas, such a Laura Kaminsky's opera As One for two performers and string quartet, to his work as Artistic Director of "Live Arts", a dynamic multimedia arena event involving more than 1,200 performers from broadway, ballet, opera and symphony produced by the Grand Rapids Symphony.  He also continues to collaborate with composer Carson Kievman, having directed the world-premieres of  his works, Fairy Tales: Songs of the Dandelion Woman, Intelligent Systems: The Surrender of Self in Mystical Contemplation and Tesla.
Professor Buchman studied German at the Goethe-Institut in Prien am Chiemsee, Germany and Spanish at the Instituto Cervantes in New York. He holds a Bachelor of Music degree in Opera from the Boston Conservatory of Music and a Masters of Music degree in Voice from the Peabody Conservatory of Music in his native city of Baltimore, Maryland.  He credits artistic success with the ability to begin with the discipline and skill-building that ultimately allows for the release and freedom that must occur for true expression. Operatic art form, he says, is uniquely powerful. He quotes his friend and mentor, world-renowned stage director and producer Tito Capobianco by stating "Opera is a hurricane of passions of which the singing human voice is the epicenter, dragging fiercely all the arts with it in a sublime and romantic psychosis of insatiable sensuality."
Honors & Acknowledgements
Professional Experience

Career Highlights
Enjoys popularity creating fresh and innovative productions of the traditional operatic repertoire at opera houses throughout the United States
Regularly interprets the works of contemporary composers, including Osvaldo Golijov, Laura Kaminsky, Carlysle Floyd, Ricky Ian Gordon, and Carson Kievman
Made his operatic debut with Deborah Voigt in her first performances of Ariadne auf Naxos at Boston Lyric Opera
Invited personally by Luciano Pavarotti to sing with him on Live from Lincoln Center: PAVAROTTI PLUS.
Extensive experience working with young singers
Honors, Awards & Competitions
Winner of the Luciano Pavarotti International Voice Competition
1st Place in the National Society of Arts & Letters Competition in Voice
Recipient of Shoshana Foundation Award
Recipient of Florida Grand Opera's Evelyn P. Gilbert Award
Recipient of Central City Opera Studio Artist of the Year Award