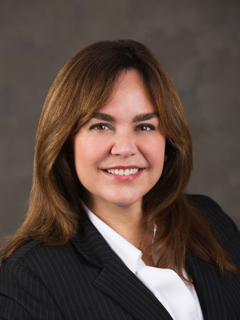 Aileen M. Ugalde
Senior Vice President & General Counsel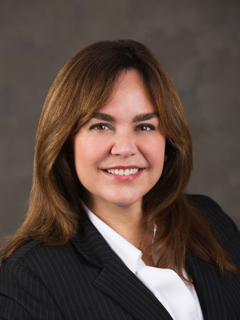 Senior Vice President and General Counsel
Aileen Ugalde is Senior Vice President and General Counsel of the University of Miami. She was appointed Vice President and General Counsel in 2006. Over the course of her tenure, Ms. Ugalde previously served as Vice President for Government Affairs, Assistant to the President, and as Secretary to the Board of Trustees. She was the Executive Director for the past two Presidential Searches at the University of Miami, first in 2000 and again in 2014. She served as the Executive Director of the 2004 Presidential Debate Committee, which hosted the first televised U.S. Presidential Debate in South Florida.
Ms. Ugalde graduated magna cum laude from Harvard College with a degree in Latin American Studies and International Relations, and earned her law degree with Honors from the University of Miami, where she was the Harvey T. Reid Scholar and served on the Law Review. Prior to joining the University, she practiced in the employment and litigation groups of the Miami office of Akerman, LLP.
Ms. Ugalde is the Chair of the Board of the Arsht Center, one of the largest performing arts centers in the United States. She served on the Board of Directors for City National Bank from 2006 until it was sold to Caja Madrid in 2008. She also served as a founding member of the Board of Directors for the Jay Weiss Center for Social Medicine & Health Equality from 2004 until its merger with the Sylvester Comprehensive Cancer Center in 2012.  
Under Ms. Ugalde's leadership, the General Counsel's Office was honored as the "Legal Department of the Year" by the Daily Business Review in the publication's 2018 Professional Excellence Awards. Hispanic Business Magazine named Ms. Ugalde one of its "100 Most Influential Hispanics" in 2006 and one of its "Top 20 Elite Women" in 2008. She was also named one of "The 20 Leading Latinas in Business" by Hispanic Enterprise Magazine in 2007.