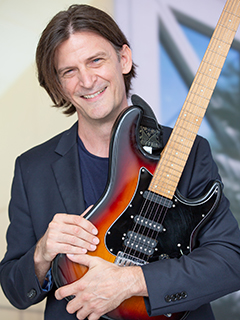 Brian E. Russell
Lecturer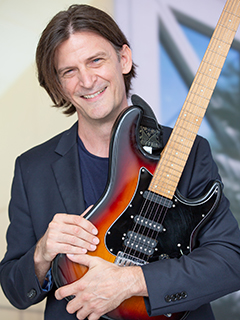 About Me
Quote
"I love every style of music… especially when there's a guitar in it!  The reason that I became a teacher was to guide other guitar players who needed someone to show them how to become a musician. One of the most challenging and perhaps the most entertaining parts of my interaction with my private students is working to develop professional and creative habits that will serve them musically and professionally now and in the future. "
Biography
A multifaceted musician, researcher, educator, and lecturer, Brian E. Russell, Ph. D. serves as Director of Contemporary Guitar studies, Director of Assessment and Lecturer at the FROST SCHOOL OF MUSIC. A second generation Miamian, he has devoted his career to playing and teaching the guitar. His musical background in a variety of contemporary genres, from rock, pop and heavy metal to jazz, country and bluegrass, has made him a valuable and versatile musical contributor on both the stage and in the studio. Apart from recording with the legendary Julio Iglesias and adding his accompaniment to such popular modern musicals as "Rock of Ages," "Wicked," "The Last Five Years," and "Tommy," he also writes and produces original music with his group, the Brian Russell Alliance.
Dr. Russell's dedicated approach to mentoring musicians and motivating them to pursue success careers has been a hallmark of his teaching style. The Grammy Foundation recognized him as a Quarterfinalist for the prestigious Grammy Music Educator Award.
He continues to pursue research involving performance measurement paradigms, jazz theory knowledge acquisition, creativity in jazz improvisation, and measurement development. He has published his research in several national and international music education journals and has shared his findings in several worldwide forums. He currently serves on the editorial committees for the International Journal of Music Education and for the Journal for Popular Music Education and serves as an invited reviewer for the Psychology of Music journal.
Dr. Russell earned his Ph. D. in Music Education with a cognate in jazz performance from the FROST SCHOOL OF MUSIC. His experience teaching guitar, piano, orchestra and choral music at the college, high school, and middle school levels has provided Dr. Russell with unique insights into guiding and inspiring aspiring student musicians on their journey from studies at the university to satisfying musical careers beyond the campus.
Honors & Acknowledgements
Professional Experience

Career Highlights
Recording with Julio Iglesias

Accompanying musician for musicals "Rock of Ages," "Wicked," "The Last Five Years," and "Tommy"

Taught guitar, piano, orchestra and choral music at college, high school, and middle school levels

World renowned musician, educator, researcher and lecturer
Honors, Awards & Competitions
2017 Quarterfinalist for the Grammy Music Educator Award from the Grammy Foundation
Recordings and Compositions
Attitude Adjustment

(2016) Brian Russell Alliance
Publications
Research published in several national and international music education journals
Serves on editorial committees for the International Journal of Music Education and for the Journal for Popular Music Education 
Invited reviewer for the Psychology of Music