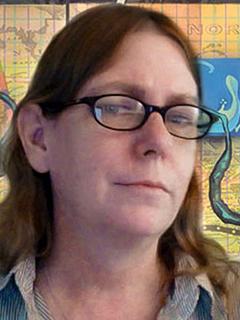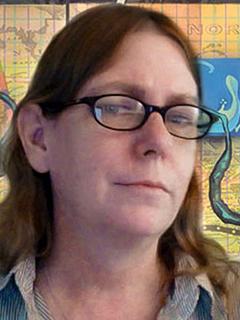 Lise Drost grew up in Miami and attended Miami Dade Junior College and Florida International University before earning her MFA from Southern Illinois University at Edwardsville.  She then did Artist Residencies in Pennsylvania, Oregon and Wyoming before deciding to return to Miami. She taught part time at Florida International University and full time at the New World School of the Arts before joining the University of Miami in 1993.   
She has received two Florida Individual Artist Grants in 1993/94 and 1999/2000 and 16 University of Miami Research Support Awards between 1996 and 2021. 
She works in Silkscreen, Lithography, Relief Printing and Etching making both editions and unique pieces, which also utilize inkjet printing, painting and collage. 
Lise Drost had 25 solo exhibitions including shows at the Deland Museum of Art, the Polk Museum of Art (both in Florida), Miriam Perlman Gallery in Chicago, and Bird in Hand Gallery in Washington D.C.  She has been in more than 300 group invitational and juried exhibitions and has contributes regularly to both open and curated print exchanges.  Drost has works in many public collections including the Art Institute of Chicago and the Denver Art Museum.  She received grants to have prints published and added to the collections at Island Press at Washington University in St. Louis, Brandywine Workshop in Philadelphia and Flatstone Studio at the Ringling College of Art & Design in Sarasota. 
Lise Drost is a member of several print organizations including: 
Print Austin: 
https://printaustin.org/member-directory/#!biz/id/610a794705805945fa4a43a5 
Mid America Print Council: 
https://midamericaprintcouncil.org/profile/lise-drost 
Print Arts Northwest: 
https://printartsnw.org/gallery/ 
Southern Graphics Council International: 
https://www.sgcinternational.org/directory/#!biz/id/60c556bc3455f853516678c0 
Artist Website: 
Lise Drost Prints and Collages