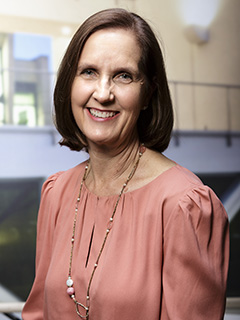 Carol Kaminsky
Senior Lecturer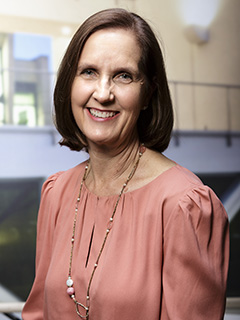 About Me
Quote
I want my students to embrace and embody the study of dance and dance/movement therapy through their unique personality and point of view. Students with a solid foundation in the concepts of dance have the tools for self-discovery, artistic inquiry, communication and confidence in performance.
Biography
Carol Kaminsky is a senior lecturer in dance and is the Dance Program Coordinator at the Frost School of Music. Professor Kaminsky teaches dance/movement therapy, modern dance, dance methodology, creative dance for children, improvisation, composition and stretching and body work. Ms. Kaminsky began her ballet training and performance at a young age with Thomas Armour and Robert Pike at the Miami Conservatory, now the Thomas Armour Youth Ballet, and tap dance training with Ron Daniels. She received her Bachelor's degree in Dance from the University of South Florida in Tampa, Florida and her Master's degree in Dance/Movement Therapy from Goucher College in Baltimore, Maryland.
Ms. Kaminsky began her dance career teaching children, specializing in creative dance and modern dance education for preschoolers and elementary school aged children and children with special needs. She developed and taught in the University of Miami Children's preparatory dance program and summer dance camps. She is currently teaching movement for children in the UM Music Prep Program.
Ms. Kaminsky's clinical background includes dance therapy with hospitalized patients in acute psychiatric care, women in eating disorders treatment, children with special needs in schools, and individuals with Parkinson's disease. She did numerous workshops and seminars integrating dance/movement therapy for wellness and personal growth. Additionally, Ms. Kaminsky is a facilitator of Mindfulness Based Stress Reduction (MBSR) and and currently teaches mindfulness in private practice. She is part of the UMindfulness Program that offers meditation sessions to UM students and staff.
Honors & Acknowledgements
Professional Experience

Career Highlights
Teaching/Directing in the University of Miami Dance Program.
Honors, Awards & Competitions
Grant recipient from the National Parkinson Foundation for teaching dance and theater classes for people with Parkinson's disease and creating a video of the work, 2014-2015.
Performance
Choreographed and performed contemplative dance pieces at the Contemplative Pedagogy in Higher Education Summer Institute at Smith College 2014 and 2015.

Performing career with Miami based dance company Karen Peterson and Dancers Inc., a mixed ability dance company featuring disabled and able-bodied dancers. 1992-2009.

Choreographed and performed Just Looking, a dance and music piece for eight dancers and two musicians on eating disorders for Eating Disorders Awareness and Prevention Week at New Theater, Coral Gables 2002.
Performed with Coconut Grove Danstheatre 1975-78.
Performed with Miami Ballet (now Thomas Armour Youth Ballet) corps de ballet Swan Lake, Giselle, Sleeping Beauty.
Presentations
National Association for the Education of Young Children 2011, Orlando, A Dance a Day: Incorporating Sensory-Based Movement into Your Curriculum
Grief, Bereavement & the Arts, Baptist Health South Florida Conference, 2010, Miami, Dance Therapy and Grief
Jackson Hospital Leadership Conference, 2008, Miami, Mindfulness in the Workplace
South Miami Hospital. 2007-2011, presentations on stress reduction, Dance for the Health of It, Mindfulness and Parenting, Making Time for Fun and Play, Stress Reduction for Nurses, Our Time Together: Parent and Child Workshop for Wellness
Florida Alliance for Health Education, Recreation and Dance 2006, Orlando, Dance for the Special Needs Child
University of Miami ESE Preschool Teacher seminar 2006, Miami, Dance for the Special Needs Child
Association for Group Psychotherapy and Psychodrama Conference 2005, Miami, Dance/Movement Therapy for the Special Needs Child
American Dance Therapy Conference 2002, Burlington, Vermont, presentation of Just Looking: Creating a Dance Therapy Performance for Eating Disorders Awareness and Prevention
Music Therapy Conference 2000, Miami, Dance and Healing