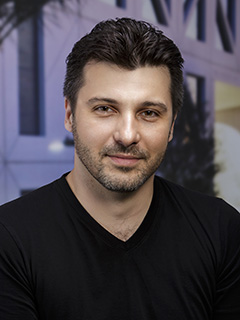 Svetoslav R Stoyanov
Assoc. Professor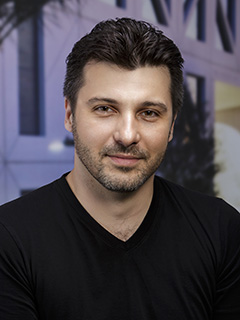 Quote
"Ultimately, being a professional musician translates into a way of existence; a lifelong journey. It is my belief that one must earn the privilege of teaching music, by practicing this profound art-form regularly and very honestly; by continuing to learn and remaining utmost open-minded; by simply loving music unconditionally. Being able to perform and teach the art of music is a dream come true for me."
Biography
Praised by the New York Times for his "understated but unmistakable virtuosity" along with a "winning combination of gentleness and fluidity," Svet Stoyanov is a driving force in modern percussion. He has performed more than one thousand recitals and has presented over two hundred masterclasses worldwide.

Winner of the prestigious Concert Artists Guild International Competition, Mr. Stoyanov was also presented with the Johns Hopkins University Alumni Award. His career highlights feature solo concerto appearances with the Chicago, Seattle, and the American Symphony Orchestras, as well as solo performances in Lincoln Center, Carnegie Hall, The Kennedy Center and Taiwan National Concert Hall amongst many others worldwide. Some of the conductors he has performed with include James Conlon, Gerard Schwarz, Oliver Knussen, Marin Alsop and Pierre Boulez.

Svet Stoyanov has recorded for numerous labels, featuring Telarc, Naxos and Bridge Records. His recent albums "Percussive Counterpoint", as well as "Textures and Threads" were broadcast internationally and applauded for their artistic integrity, virtuosic ingenuity and excellent quality. Mr. Stoyanov's upcoming recording projects feature an original concept audio-visual album, as well as a record, celebrating the music of his native country: Bulgaria.


A passionate advocate for contemporary music, Svet Stoyanov has commissioned a significant body of solo and chamber works. Most recently, American Rome Prize winner Andy Akiho completed a work for Mr. Stoyanov and his Time Travelers Percussion Project, called Pillar IV. The work was recently premiered to great acclaim in New York's National Sawdust.

A significant recent collaboration of Mr. Stoyanov is the commission of "Sideman" – a percussion concerto written for him by the composer and musical mastermind Mason Bates. The concerto was already performed in Miami and at the Kennedy Center in Washington D.C. This season Mr. Stoyanov will perform the piece again in Miami, Kansas City and Baltimore. The concerto was also just recorded by Mr. Stoyanov for an upcoming release.

Alongside his diverse performance career, Svet Stoyanov is the Director and Associate Professor of Percussion Studies at the Frost School of Music, University of Miami, where he has collaboratively built a most unique and innovative modern percussion program.

Mr. Stoyanov endorses some of the finest percussion instruments and products today, namely Adams, Remo, Zildjian, Pearl and Pro Mark. His artistic mission is committed to the purity, quality and virtue of music.
Honors & Acknowledgements
Professional Experience

Career Highlights
One of the 3 percussionists in the world to win the prestigious Concert Artists Guild International Competition and to receive professional artist management
One of the youngest percussionists worldwide, to become a full-time Professor and to be awarded tenure
Solo recital (and multiple subsequent performances) in Carnegie Hall
Premiered Percussion Concerti by Philip Glass and Mason Bates
Percussive Arts Society International Convention 2016 performance of Alejandro Viñao's "Khan Variations", after an invitation to the special event "Marimba now and then", celebrating the art and repertoire for Marimba
Private studies with the late Prof. Dr. Dobri Paliev – founder and patriarch of the Bulgarian percussive school
Concert performances with some of the world's foremost concert percussionists, featuring Emmanuel Sejourne, Katarzyna Myćka and Robert van Sice
Solo Recordings
"Percussive Counterpoint" – Concert Artists Guild Records
"Textures and Threads" – Bridge Records
"Sideman" – upcoming (tba)