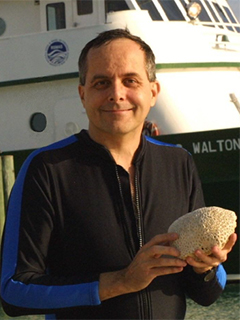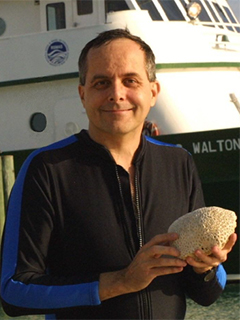 Professor, Department of Marine Biology and Ecology - Rosenstiel School of Marine, Atmospheric, and Earth Science
John W. McManus, PhD. is a Professor of Marine Biology and Fisheries at the Rosenstiel School of the University of Miami. In 2007, he chaired the Five-Year Review of the NOAA Coral Reef Conservation Program, which led to major changes in its structure and activities. As the former Leader of the Aquatic Environments Program of the WorldFish Center in Southeast Asia (formerly ICLARM), he was the founder of ReefBase, the Global Coral Reef Database, and the International Coral Reef Action Network (ICRAN). He is known for innovative approaches to science in support of coastal and watershed management which ranging from simple approaches by which villagers can assess their resources to cutting-edge science and technology. He and his wife Dr. Liana McManus were recognized by the World Technology Network for being among 'the most innovative individuals in the world in 2006'. A pioneer in decision-support and scenario-testing modeling applications in the marine environment, he teaches annual courses on "Object-Oriented Programming and Agent-Based Modelling", "Coral Reef Science and Management", and "Introduction to Marine Science". The author of over 80 publications, his current work includes studying the relationships among food webs, ecological dynamics, reef geomorphology, human impacts, and climate change, as well as developing a new coastal ecohydrology modelling approach to facilitate integrative research and management decision-making. He also continues to assist efforts to develop a large Spratly Island International Peace Park in the South China Sea, an idea often attributed to an early reef connectivity study he conducted. His students have worked on a wide range of topics in marine ecology, often involving field-verified computer models.

Teaching and Mentoring
McManus teaches courses on Introductory Marine Science, Marine Conservation, Coral Reef Science and Management, and Agent-Based Modelling. He has supervised numerous M.S. and Ph.D. students.

Service at UM and for the Wider Scientific Community
McManus has helped organize, chair or co-chair numerous international conferences, workshops or training programs, and has reviewed articles for a variety of scientific journals.
Career Summary
McManus received a Ph.D. in Biological Oceanography from the University of Rhode Island. He is a former Director of the National Center for Coral Reef Research and Program Leader for Aquatic Environments at the World Fish Center in Southeast Asia. After studying reefs in the Smithsonian-Peace Corps Program in the late 70's and then developing fisheries software as a consultant , he spent seven years leading an intensive study of a large Philippine reef while living in a fishing village, and another seven years founding and leading ReefBase – the Global Coral Reef Database prior to moving to the Rosenstiel School in 2000. He has more than 100 publications
Honors & Acknowledgements
Recognition
McManus was recognized by the World Technology Network as "one of the most innovative persons in the world in 2006". He has been a sponsored plenary speaker more than 20 times for national and international presentations.
Scientific Research
McManus' research has covered many aspects of coral reef science and management, as well as fisheries and epidemiology. Beginning in 1992, he showed in an innovative particle tracking study that the Spratly Islands may be crucial to keeping many over-harvested regional coastal fish populations from local extinction -- leading to the suggestion that they be set aside as an International Peace Park. This idea was strongly supported by regional scientists, and is often described as the most promising alternative to armed conflict and reef fisheries collapses in the South China Sea. Most recently, McManus has been working on models and field methods to determine the future of coral reef fisheries and coastal protection as coral reefs are impacted by human stresses and climate change.