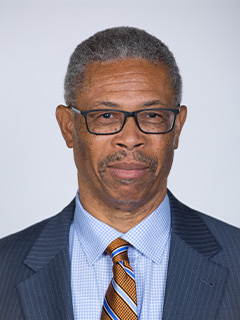 Donald M Jones
Professor of Law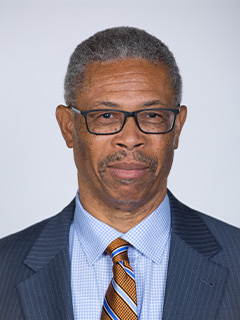 Professor of Law
Donald Jones, Professor of Law, is a Baltimore native and a graduate of the New York University School of Law. He teaches Constitutional Law, Criminal Procedure, and Criminal Law at the law school.
Professor Jones is a prominent author, legal theorist, and commentator who has earned an international reputation by thinking critically about important issues concerning the civil and political rights of all Americans.
Professor Jones is the author of three books – Race, Sex and Suspicion: The Myth of the Black Male (Praeger 2005); Fear of a Hip-Hop Planet: America's New Dilemma (2013); and Dangerous Spaces: Beyond the Racial Profile (Praeger 2016).  Professor Jones' work weaves together law, history, and human narratives to explore the gulf between formal equality and the social disadvantage people of color still experience in their lives.
In addition to his now three books, Professor Jones has written numerous articles in leading legal journals. His most famous works include Darkness Made Visible: Law, Metaphor, and the Racial Self in the Georgetown Law Journal (1993); No Time for Trumpets: Title VII, Equality and the Fin de Siecle in the University of Michigan Law Journal (1994). His essays also appear in books including Chapter 13 of Delgado and Stefancic, Critical White Studies: Looking Behind the Mirror (1997) and in Levitt et al, Hurricane Katrina: America's Unnatural Disaster (2009).  More recently Professor Jones published Plessy's Ghost: Grutter, Seattle and the Quiet Reversal of Brown, 35 Pepp. L. Rev. 583 (2008); "A Bronx Tale: Disposable People, the Legacy of Slavery and the Social Death of Kalief Browder." (U. Miami L. Rev.) 2016.
In 1997 Professor Jones was awarded the James Thomas prize by Yale University, recognizing him as one of the leading scholars in the country for that year.) In 2007 he was voted the most outstanding member of the National Bar Association for that year.
Professor Jones has lectured nationally for many years. Representative presentations include lectures in connection with Critical Theory - at both Yale and Harvard; keynote addresses before the NAACP Annual Convention, presentations at book fairs, Race, Sex and Suspicion: The Myth of the Black Male at the Miami Book Fair in 2005; Fear of a Hip-Hop Planet: America's New Dilemma at the Miami Book Fair in 2013; Race and Psychology at the Sigmund Freud University in Vienna (2015) and University of Prague (2017);  teaching lawyers about the role of narrative in litigation at ACLU Litigation Conference September 2017.
As a teacher Professor Jones has developed several innovative courses including teaching a course about the intersection of law and criminal justice policy called The Wire, using television series as a springboard to legal and social analysis.  Professor Jones also created and directs an externship to allow students to get experience in working on civil rights litigation addressing critical legal and social  issues.
As a public intellectual, Professor Jones has written numerous editorials for the Miami Herald, The Huffington Post and the South Florida Times. He has also appeared as a legal expert on national and local television. In 2000, Professor Jones was the official Constitutional Law advisor for Channel 4. Since then, Professor Jones has appeared on PBS' Frontline, CNN's Burden of Proof; The O'Reilly Factor, Michael Putney's The Week in Review, and Jim Defedes' Facing South Florida on CBS 4.
In 2003, Professor Jones testified as a Constitutional expert before the U.S. Congress on restoration of rights to ex-felons, advised governmental agencies as a consultant including: the Equal Employment Opportunity Commission (2002); the Miami-Dade County Commission (2003) to draft the affirmative action plan for Miami-Dade County; in 2006 he advised the City of Miami on the constitutionality of its regulations on deadly force. In 2015-2016, Professor Jones was retained by the General Counsel for the Miami-Dade County School Board to advise that office concerning affirmative action policies. Professor Jones is a sought after speaker at many universities.
Area of Expertise