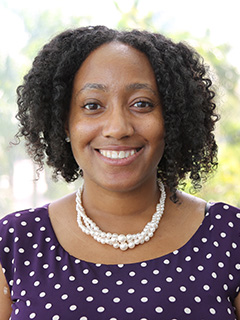 Amina Gautier, Ph.D.
Assoc. Professor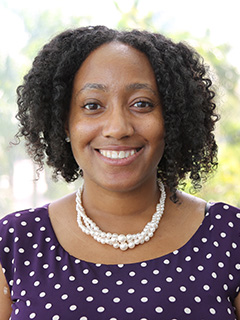 Amina Gautier is the author of two short story collections: Now We Will Be Happy (University of Nebraska Press, 2014), which won the Prairie Schooner Book Prize and At-Risk (University of Georgia Press, 2011), which won the Flannery O'Connor Award for Short Fiction. More than eighty of her short stories have been published or are forthcoming in journals such as Antioch Review, Callaloo, Chattahoochee Review, Crazyhorse, Glimmer Train, Iowa Review, Kenyon Review, North American Review, Notre Dame Review, and Southern Review among others. Her stories have also been reprinted in several anthologies, including Best African American Fiction, Discoveries: New Writing from The Iowa Review, The Lineup: 25 Provocative Women Writers, New Stories from the South, Notre Dame Review: The First Ten Years, The Sincerest Form of Flattery: Contemporary Women Writers on Forerunners in Fiction, and Voices. Gautier's individual stories have won the Crazyhorse Fiction Prize, the Danahy Prize, the Jack Dyer Prize, the Lamar York Prize in Fiction, the Schlafly Microfiction Award, and the William Richey Award. Her work has received scholarships and fellowships from the American Antiquarian Society, Breadloaf Writer's Conference, Callaloo Writer's Conference, Hurston/Wright Foundation, Kimbilio, Prairie Center of the Arts, Sewanee Writer's Conference, and Ucross Foundation, as well as artist grants from the Illinois Arts Council and the Pennsylvania Council on the Arts. She received her BA and MA in English Literature from Stanford University and her MA and Ph.D. in English Literature from the University of Pennsylvania. Both a writer and a scholar, her critical essays and reviews appear in African American Review, Daedalus, Journal of American History, Libraries and Culture, Nineteenth Century Contexts and Whitman Noir: Black America and the Good Gray Poet, and have been supported with fellowships from the Northeast Modern Language Association, Social Science Research Council, and the Woodrow Wilson Foundation.
WEBSITE: http://aminagautier.wordpress.com/
TEACHING STATEMENT: The cornerstone of my creative writing courses is the workshop experience. The workshop is an intimate space for lovers of writing to improve their craft as well as an environment where students can examine the ways in which their writing reflects their cultural, social, religious, ethnic and racial influences. In the fiction workshops, I encourage my students to develop their range, to write stories both long and short, to write stories in first person, second person, third person, to write from the point of view of men as well as women, old as well as young i.e. to write from their experiences and from experiences that are not their own. They are encouraged to not only write what they know but also to write what they wish to know about. I seek to create an environment wherein the workshop operates as a place of shared learning and not the place where broken stories come to be fixed; therefore, I strive to empower students by putting them in conversation with one another. As a teacher of creative writing, I know that I am not only helping students develop their craft, but that I am also training future peers and shaping the next generation of writers. Therefore, I seek not only to instill knowledge and help them develop skills, but I also work to prepare my students for the writing life that comes after the workshops and the degrees. My ultimate goal is to prepare students to not need a formal workshop i.e. to become their own workshop. I work to endow them with the tools of the trade in order to empower them for a future where they outgrow the workshop. To do so, I must help them learn not merely how to write and revise their stories for our workshop, but—more importantly—how to continue to teach themselves, improve their craft and challenge themselves in the types of stories they will write.
Education
| | |
| --- | --- |
| | B.A. English Literature Stanford University |
| | English Literature University of Pennsylvania |
| | Ph.D. English Literature University of Pennsylvania |