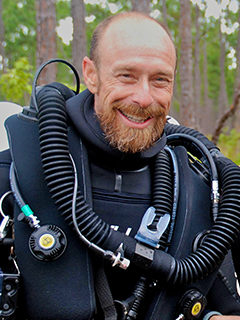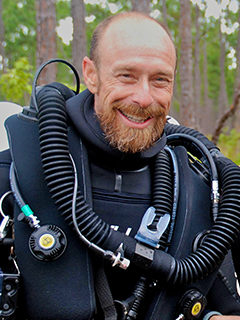 Professor, Department of Environmental Science and Policy - Rosenstiel School of Marine, Atmospheric, Earth Science
Dr. Kenny Broad is an environmental anthropologist who studies the relationship between humans and their environment. He received his Ph.D. in anthropology from Columbia University in 1999. Kenny has led or participated in extreme scientific and filmmaking expeditions on every continent – from urban jungles to the deepest caves on the planet – to gather information and samples that shed light on little known environmental and cultural subjects. He is a professor in the Department of Environmental Science and Policy at the University of Miami's Rosenstiel School of Marine, Atmospheric, and Earth Science and is Director of the University's Abess Center for Ecosystem Science. He also Co-Directs the Center for Research on Environmental Decisions at Columbia University. Broad's numerous publications address the interdisciplinary aspects of natural resource management, ranging from the impacts of climate variability and change to environmental justice to perceptions of risk by diverse stakeholder groups. Broad was chosen as the 2011 National Geographic Explorer of the Year. He also received the National Geographic 2006 Emerging Explorer Award and was elected a Fellow National of the Explorers Club in 2009.
Education
| | |
| --- | --- |
| 1989 | B.A. Literature, University of California |
| 1992 | M.A. Marine Affairs, University of Miami |
| 1999 | Ph.D. Anthropology, Columbia University |
Honors & Acknowledgements
Honors & Awards
University of California at Santa Barbara, College of Creative Studies - Graduation Commencement Speaker, 2019
University of California at Santa Barbara, College of Creative Studies 50th Anniversary Honorary Council, 2017-2018
Distinguished Visiting Fellow, University of California at Santa Barbra, January 2017
National Geographic Society, Explorer of the Year, 2011
The Explorers Club, Fellow National, 2008-present
Florida Trend Magazine, Trendsetters: Today and Beyond Award, 2008
National Geographic Society, Emerging Explorer Award, 2006 (http://www.nationalgeographic.com/emerging/kbroad.html)
Ransom Everglades, Distinguished Alumni Award, 2006
Mexican Academy of Sciences, Distinguished Professor Visitors Program, 2004-2005.
Teachers College, Columbia University Gardner Cowles Fellow in Applied Anthropology, 1996-1997.
Columbia University, Global Systems Initiative Training Grant, 1995-1996.
Columbia University, Teachers College General Scholarship, 1993-1995.
Our World-Underwater Associate Scholar Award, 1992-93.
National Speleological Society Abe Davis Safe Cave Diving Award, 1992.
National Association for Cave Diving Bronze Wakulla Award, 1992.
Admirals of the Fleet of Florida Scholarship, 1991.
Memberships
Certification, licensure
United States Coast Guard 25-ton Licensed Captain (200-ton inactive status)
Certified --U.S. / FAA Helicopter Pilot: Commercial & Instrument Ratings: R22, R44, R66, Airbus H125 (AS B3e)
Certified--State of Florida Emergency Medical Technician (inactive status)
Certified--National Board of Diving and Hyperbaric Technology - Diver Medical Technician (inactive status)
Certified--National Speleological Society/Cave Diving Section (NSS/CDS)
Certified--NSS/CDS Recovery Specialist
Certified--National Association for Cave Divers
Certified--Confederation Mondiale des Activites Subaquatiques Commission Speleologie (2 Star Speleology Diver)
Certified--NOAA Working Diver
Certified-IANTD Closed Circuit Rebreather Diver (Cis-Lunar, Megalodon, K.I.S.S. Sidekick)
Certified--International Association of Nitrox Divers (IAND) TRIMIX Diver
Certified—PADI Master Freediver
Instructor--IAND Technical Nitrox Instructor (inactive)
Instructor--American Nitrox Divers (inactive)
Instructor--Professional Association of Dive Instructors (inactive)
environmental anthropology, human ecology, exploration science, caves