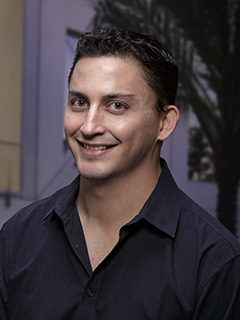 Martin Bryce Bejerano
Associate Professor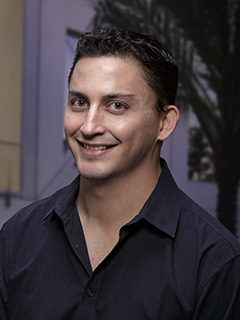 About Me
"To play music for a living is to be truly fortunate. I hope to impart this truth on my students as we work together to put them on the right path to becoming successful musicians.They inspire me and keep me excited about music, as I share my experiences and philosophy of learning and playing music to hopefully return the favor."
Biography
Martin Bejerano is an Assistant Professor of Jazz Piano at the FROST School of Music. As head of the jazz piano department, he teaches applied jazz piano instruction, advanced improvisation, undergraduate jazz composition, jazz accompanying, and Trio Ensemble. Jazz Times said of him, "Add Martin Bejerano to the expanding roster of hot young pianists that stretches from Hiromi Uehara and Eldar Djangirov to Robert Glasper and Taylor Eigsti…"
Professor Bejerano has been active as a professional musician from the age of fifteen. An internationally acclaimed jazz pianist and composer, he has been a member of Grammy Lifetime Achievement Award-winner Roy Hayne's Grammy-nominated quartet for fourteen years, and has performed and/or recorded with such jazz luminaries as Christian McBride, Dave Holland, Pat Metheny, Chick Corea, Russell Malone, Ron Carter, Roy Hargrove, Ignacio Berroa, Lonnie Plaxico, Arturo Sandoval, Brian Lynch, Marcus Strickland, E.J. Strickland, Adam Nussbaum, Joe Locke, Kate Kinhan, Kevin Mahogany, Armando Gola, and Jonathan Joseph.
Aside from performing at most of the major jazz clubs, festivals and venues around the world as well as on "Late Night With David Letterman," he is also featured on over fifteen albums, including the Grammy-nominated Fountain of Youth, and three albums as a leader of the award-winning Martin Bejerano Trio.  His trio has performed at such notable venues as Symphony Space, Dizzy's Club Coca-Cola, The Jazz Gallery, Barquisimeto Jazz Festival, El Hatillo Jazz Festival, Lucerne Piano Off-Stage Festival, Festival Miami, South Dade Cultural Arts Center, and Arturo Sandoval's Jazz Club.  The group was also featured on NPR's "Jazz Set," a nationally syndicated radio show that spotlights outstanding jazz artists.
An award-wining composer, Professor Bejerano was awarded the prestigious New Jazz Works composition/ensemble development grant from Chamber Music America in 2010, and, in 2014, he was awarded the "Bacardi Choice" Commission by Bacardi and the Dranoff International 2 Piano Foundation to compose a piece for two pianos. His piece "Fantasia de Tres Mundos", a fusion of classical, jazz, and Afro-Cuban influences, premiered in April 2014 at the South Miami-Dade Cultural Arts Center and has been performed and recorded internationally. In 2016, he was commissioned to compose a Latin jazz arrangement of Dvorak's "New World" Symphony for chamber orchestra, as part of the New York Philharmonic's "New World Initiative".
As an educator, Professor Bejerano has presented numerous masterclasses and clinics all over the world, and has adjudicated for the National Young Arts Foundation, the Jazz Educators Network, and numerous other institutions.  He has been published in Keyboard magazine, and in August 2016, he released a one of a kind multi-media iBook on jazz improvisation, Practicing Jazz Improvisation.
Honors & Acknowledgements
Professional Experience

Career Highlights
Pianist and founding member of Grammy Lifetime Achievement Award-winner Roy Haynes Fountain of Youth quartet.
Grammy nomination for Fountain of Youth, Roy Haynes Quartet , 2002
Performances with Christian McBride, Dave Holland, Pat Metheny, Chick Corea, Ron Carter, Russell Malone, Ignacio Berroa
Performances at such notable venues as Alice Tully Hall, Rose Hall (Lincoln Center Jazz), Symphony Space, The Kennedy Center, Queen Elizabeth Hall, Philharmonie Berlin, Philharmonie Kohln,  Orchestra Hall (Detroit), Chicago Symphony Center,  Newport Jazz Festival, Playboy Jazz Festival, North Sea Jazz Festival, Stockholm Jazz Festival, Copenhagen Jazz Festival, Umbria Jazz Festival, and nearly all the major jazz clubs in the world
Leader of award-winning Martin Bejerano Trio, including international performances and three critically acclaimed albums
Honors, Awards & Competitions
2016 composition commission for New York Philharmonic's "New World Initiative"
2014 "Bacardi Choice" Commission, awarded by Bacardi and the Dranoff International 2 Piano Foundation
2010 Chamber Music America's "New Jazz Works" Commission/Grant
3rd place winner, Great American Jazz Piano Competition (1999)
Adjudicator for National Young Arts Foundation, Jazz Educators Network (JEN), and the American Jazz Piano Competition
Recordings
Over a dozen recordings as a sideman, with three albums as leader of Martin Bejerano Trio
Publications
Practicing Jazz Improvisation, Interactive multi-media iBook (Martin Bejerano, 2016)
"Developing Solo Piano Chops", article for Keyboard magazine (August, 2016)