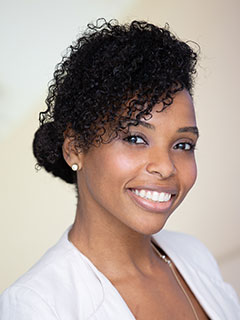 Cassandra Claude
Lecturer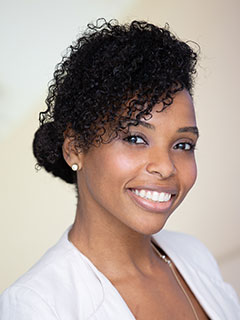 About Me
My philosophy of teaching is one that involves the whole student. I believe in offering wisdom and to singers and to become a conduit to them evoking sounds that are reflective of their life experiences. I involve the importance of vocal technique in an effort to point the way towards opening the threshold of connecting body and mind, and nature and nurture to singing. I allow my students to consider beyond the fixed technique and towards a place of singing from the depths of them. Singing is personal, and it is important to feel connected to the honesty and beauty of their talent.
Biography
An accomplished and in-demand voice teacher, Cassandra has become a staple and representation of fine vocal techniques to emerging singers today. In addition to Frost School of Music, she upholds a thriving vocal studio and is the owner of Performing Artist Mastermind, Mentorship Program. She has become a leader in promoting cultural and artistic awareness through vocal instruction and has had students performed on stages cross-country including Carnegie Hall, NBC's The Voice, Sullivan Theater on the Square, Adrienne Arsht Center, X-Factor while also having students chosen as lead roles for theaters in New York, Philadelphia, Chicago, Sarasota, and Los Angeles.
 
As a vocal pedagogue, she regularly works with a wide range of singers to achieve a voice that can move healthily and easily through a variety of genres by way of reducing tension, anxiety, and emotional blockages. Through her coaching technique, she strives to help singers discover their unique voice and own technical ability to develop an extraordinary instrument with confidence and authenticity.
 
Her dedication in vocal arts carries through as she has been invited to teach master classes around South Florida, taught as a guest voice teacher at the University of Miami musical theater sector, served on vocal-juries for Miami's top Magnet Music programs, a vocal adjudicator for the National Association of Teachers of Singing as well as the District Florida Vocal Association for Solo and Ensemble, and serves as Superintendent for the Miami-Dade County Youth Vocal Competition. She has also been invited to feature her students in events all across the state of Florida, Georgia, and New York.
 
Her voice lessons remarkably not only educate but also enrich and enlighten people of all ages, therefore, nourishing the appreciation of vocal performance. After she earned a Bachelor's in Music Education and began teaching, her passion to enrich lives through a person's individual voice coupled with her entrepreneurial spirit, led her to subsequently earn a Master of Business Administration in Entrepreneurship to provide better leadership in this realm.
Along with performing and the degrees she holds, Cassandra continually studies the art of commercial singing, songwriting, and successful techniques for marketing musical artists. Through her work with record labels, managers, publishing houses, and sporting events, she knows what it takes to produce exciting, unique singers.  Under her leadership, Cassandra produces singers that mesmerize audiences through pure tonal ability and skill of the vocal instrument. Yet beyond that, her goal with these vocalists is to produce an "honest" singer with a timeless voice that stands out. She remains an active member of NATS, FMEA, FVA, APME, NAfME, and other fine arts communities both domestically and internationally.
 
Personal Website:  cassandraclaude.com
Honors & Acknowledgements
Professional Experience
Career Highlights
WSVN Channel 7, Young Talent Big Dreams; Adjudicator
National Association Teachers of Singing; Adjudicator
Florida Vocal Association, Solo and Ensemble; Adjudicator
Association of Popular Music Education Conference, "Empowering and Encouraging Women in traditionally Male Music Professions"; Panelist
Association of Popular Music Education Conference, "Performing Artist Mastermind, How to Create Your Life's Mission Statement"; Clinician
Florida Music Educators Association Conference "Lung Trainers for Singers"; Clinician
IBM TV, "Careers in the Arts"; Panelist
GirlTLKRadio (Performing Artist Mastermind); Speaker
Global Youth Leadership Conference; Clinician
Texas Music Educators Association "Lung Trainers for Singers"; Clinician
Where Every Child Is A Star Inc., Music Leadership Conference; Clinician
Haitian Cultural Center, Arts Camp; Clinician
Publications
Upcoming: Author of "A Singer's Compass" (publisher, Newman Springs Publishing)
Healthy Magazine Inc. *Articles are both in print and online*
Contributing literary information in pursuit to inform and enlighten a broad audience in aspects of Music Education and Artist Development.