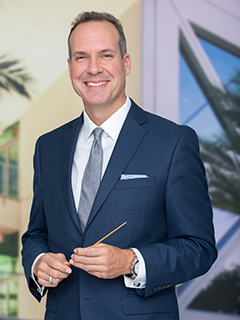 Scott Thomas Flavin
Lecturer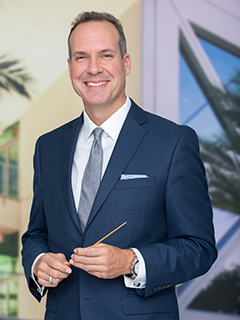 Quote
Teaching is one of my greatest joys – to be able to help motivated students grow as musicians is endlessly fascinating and rewarding. My goal as a teacher is to help students become their own best teachers, and use that skill to strive to ever-greater heights.
Biography
Scott Flavin is a lecturer in violin performance and chamber music and Resident Conductor for The Henry Mancini Institute at The Frost School of Music.
In addition to his extensive teaching, he enjoys an incredibly versatile musical career. He is a highly sought-after concertmaster, having served from 2002 to 2019 as concertmaster of Florida Grand Opera, and having appeared in that role with major conductors and performers, including such diverse artists as Luciano Pavarotti, Lena Horne, and Itzhak Perlman. Equally active in chamber music, Flavin is the first violinist of the internationally-acclaimed Bergonzi String Quartet and violinist of PULSE Trio, who regularly perform across the country and around the world, premiering new works and regularly receiving glowing reviews by publications such as the New York Times and Washington Post.
Flavin holds several important positions as a conductor, including Resident Conductor with The Henry Mancini Institute Orchestra and Music Director of the Miami Mozarteum Orchestra. He has appeared on the podium with artists including Chick Corea, Bobby McFerrin, and Joseph Silverstein. He has conducted for various festivals, and the nationally-broadcast "Jazz and the Philharmonic" for PBS television.
Flavin is also an active arranger, composer, and writer. He has written four plays that have been presented in productions across the country and writes articles regularly for various publications. His arrangements for string quartet are popular, having been heard often on radio (Performance Today) and around the country in concert, as well as recorded by the Bergonzi String Quartet. His composition Fragment(s) was premiered in 2017 at the Mainly Mozart Festival, and other works have been performed on radio and in concert.
As a recording artist, he is constantly in demand. His recordings include chamber music on the Naxos, M&W, and Centaur labels, and commercial recordings on Sony, EMI, and Warner Brothers, including appearances on over a dozen Grammy Award-winning albums, with such stars such as Placido Domingo, Michael Jackson, and Shakira. He has also performed on television several times for MTV Unplugged and the Video Music Awards.
Scott Flavin grew up in Boston, where he received his early musical training, and then attended the Eastman School of Music. He was a member of the Rochester Philharmonic Orchestra for seven years, and concertmaster of Miami City Ballet for six years.
Honors & Acknowledgements
Professional Experience

Career Highlights
First Violin, Bergonzi String Quartet
Violin, PULSE Trio
Chamber music performances internationally, in concert and on radio and television
Concertmaster for Florida Grand Opera, 2002 - 2019
Conductor for PBS Television special "Jazz and the Philharmonic", conducting artists including Bobby McFerrin, Dave Grusin, and Mark O'Connor
Selected Recordings
Commercial recordings for major labels, including Sony, Warner Brothers, EMI, including over a dozen Grammy-award winning albums
Recordings as conductor and violinist
Solo recordings:

Great Violin Solos of the Opera and Ballet
Brahms: The Complete Violin Sonatas
Trésors Oubliés: Unknown Violin Treasures from the Franco-Belgian School (in production)