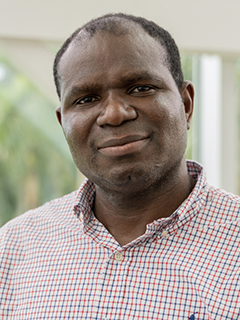 Christian Agatemor
Asst. Professor
Secondary Faculty in Biology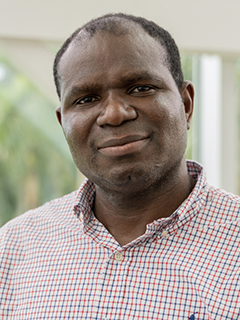 Education
| | |
| --- | --- |
| 2018-2021 | Post Doctoral Research Fellow, Johns Hopkins School of Medicine, Baltimore, MD, USA. |
| 2017-2018 | Post Doctoral Research Fellow, Harvard School of Engineering and Applied Sciences, Cambridge, MA, USA |
| 2017 | Ph.D. , University of Prince Edward Island, Charlottetown, PE, Canada. |
Research at the Agatemor Lab interfaces between chemistry and cell biology. Specifically, the lab develops chemistry-based tools to study and regulate biological systems. These tools include bioorthogonal chemical reporters, bespoke glycans and glycan ligands, redox-active biomaterials, and deep eutectic solvents. The overarching goal is to use these tools to study and regulate posttranslational modifications and cell fate that affect human health. Our research focuses on four distinct areas, including the design and synthesis of the following:
bioorthogonal chemical reporters to study posttranslational modifications,

glycomimetic and glycan ligands to regulate cell-cell interactions,

redox-active biomaterials to regulate radicals, and

deep eutectic solvents for cytosolic delivery of biologics.
Publications
Agatemor C, Middleton SAD, Toledo D. How Pervasive are Post-translational and -transcriptional Modifications? (Trends Cell Biol. Accepted. 2021).
Agatemor C, Brown TD, Gao Y, Ohmori N, Ibsen KN, Mitragotri S, Choline-geranate deep eutectic solvents improve stability and half-life of glucagon-like peptide-1. (Adv. Therap. 4, 2000180. 2021).
Du J, Agatemor C, Saeui CT, Bhattacharya R, Jia X, Yarema KJ Glycoengineering human neural and adipose stem cells with novel thiol-modified N-acetylmannosamine (ManNAc) analogs (Cells 10, 377. 2021).
Agatemor C, Buettner MJ, Ariss R, Muthiah K, Saeui CT, Yarema K. "Exploiting metabolic glycoengineering to advance healthcare" (Nat. Rev. Chem. 3, 605. 2019).
Banerjee A, Ibsen K, Chen R, Brown T, Agatemor C, Mitragotri S, "Ionic liquids for oral insulin delivery" (Proc. Natl. Acad. Sci. USA, 115, 7296-7301. 2018).