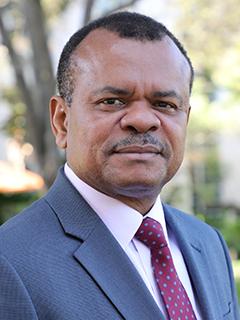 Louis Herns Marcelin
Professor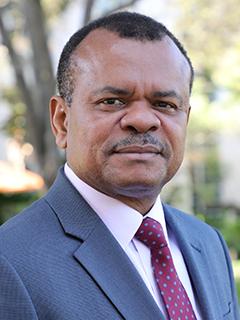 Dr. Marcelin is a sociocultural anthropologist whose research focuses on anthropology of family and kinship in the Americas. His research also examines questions related to health and human security, and the roles of power, violence, and marginalization in society (particularly in Brazil, Haiti, the Dominican Republic, and the United States). He began his career conducting extensive field research on family, kinship, and religious practices in rural and urban areas of Haiti. His doctoral work titled, "Family, Domesticity, and Kinship among Afro-Brazilians in Bahia, Brazil" was conducted at the Universidade Federal do Rio de Janeiro. His analysis of the house and family processes has proven critical for subsequent analyses of the political economy of race, the social organization of exclusion, and the resilient nature of plantation structures that underlie the marginalization of people of African descent, in Brazil and throughout the Americas. In furtherance of his research interests, in 1999 he was awarded National Institutes of Health (NIH)/National Institute on Drug Abuse (NIDA) research grants to implement the Haitian Adolescent Study over 13 years to investigate the intersections of marginalization, health risks, drug use, gang violence, and immigration processes in South Florida.

Over the course of his research career, he began questioning the limitations of academic disciplines and their epistemologies leading him to place collaboration at the core of his works. In 2007, this led him to found the Interuniversity Institute for Research and Development (INURED) in Port-auPrince, Haiti. INURED is a transnational and transdisciplinary institute with the mission to contribute to the development of high-level research and scientific training in Haiti with the aim of improving the educational, socio-economic, and political condition of that society. INURED has served as a conduit for cross-disciplinary collaboration between University of Miami students and faculty, their peers from other universities, with local community stakeholders through participatory action research. These collaborative endeavors have given rise to milestone studies including: a post-disaster study of Hurricane Matthew in Haiti titled, "Mapping Assets-Access for Equitable Recovery and Reconstruction in southern Haiti," the first national study on Violence Against Children (VACS) in Haiti, funded by the CDC in the US; the study of Public Policies, Migration, and Development in Haiti, a 10-country comparative case study funded by the OECD in France; the study of Diaspora Impact on Recovery in Post-Conflict and Post-Crisis societies, funded
Page 2 of 3

by the IDRC in Canada as well as the Study of the Higher Education sector in Haiti funded in part by the U.S. Fulbright Scholars program and INURED, among other studies.

In 2018, he was awarded funding from NIH/NIDA for a 3-year pilot study titled, "Culturally Modified Family Based Therapy for Haitian Youth and Their Families in South Florida." In that same year, as part of an international team of researchers, he was awarded a United Kingdom Research & Innovation Global Challenges Research Fund for a project titled, "South-South Migration, Inequality and Development Hub". Led by Professor Heaven Crowley (Principal Investigator) at Coventry University, Dr. Marcelin is one of three co-Directors and co-Investigator of the project which focuses on the intersection of migration, inequalities and development. The five-year project involves researchers from 19 countries and 27 partner organizations, including INURED, and was the largest award made by the Global Challenges Research Fund in 2018 at £20 million.

Dr. Marcelin has received numerous awards and fellowships including: the Woodrow Wilson Institute's Education & Resilience in Post-Disaster Societies fellowship in 2011, the Academic Writing Residency fellowship at the Rockefeller Foundation's Bellagio Center in 2016; the American Council of Learned Societies (ACLS) fellowship in 2017, the Distinguished Scholar in Residence award at the Museu Nacional Universidade Federal Rio de Janeiro in 2018, and the Stellenbosch Institute for Advanced Study in South Africa's The Future of Democracy Residency Award in 2018.
Publications
Marcelin, L.H., Cela, T., and H. Dorvil Haitian youth in the Americas //Les Jeunes Haïtiens dans les Amériques (Québec, Presses de l'Université du Québec.. 2017). [Link]
Marcelin, L.H. and Cela, T. After Hurricane Matthew: Resources, Capacities, and Pathways to Recovery and Reconstruction of Devastated Communities in Haiti (Miami and Port-au-Prince, University of Miami and Interuniversity Institute for Research and Development (INURED). 2017).