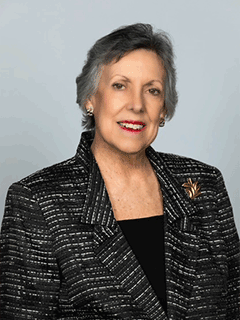 Georgina A. Angones
Asst. Dean, Advancement
Law Development & Alumni Relations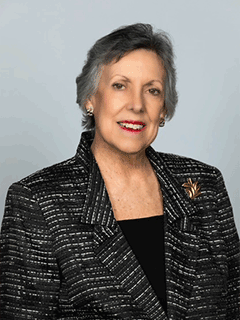 Georgina "Georgie" Alfonsin Angones is a Cuban-American who earned a B.A. from the University of Miami in 1972. She was a 1974 Rockefeller Foundation Fellow in Middle Management and is a member of both the Society of Iron Arrow at the University of Miami and the leadership honor society of Omicron Delta Kappa. Prior to joining the administration at the Law School in 1980, she had served the University of Miami in various capacities beginning in 1973.
She has served on the Judicial Nominating Committee for the District Court, Southern District of Florida and the Third District Court of Appeals. She is Past Chair of MCCJ (the Miami Coalition of Christians and Jews) and the Miami Dade Public Library. She has served on the Board of Miami Children's Hospital and the Junior League of Miami, as well as the Naval Academy Selection Committee.
Ms. Angones has also served on the ABA's Council for Racial and Ethnic Diversity In the Educational Pipeline. She is a recipient of FIAC's, Arthur Helton Humanitarian Award and the Junior League's Women Who Make a Difference Award in recognition of her community leadership.
She is a Eucharistic Minister at Epiphany Catholic Church and has served on the Boards of the St. John Vienney College Seminary, the Archdiocese of Miami Development Council and the Vision 2000 Committee, as well as Baypoint Schools for youth at risk, and the Florida Bar Foundation Board of Trustees. She is a fellow of the Florida Bar Foundation and a Sustainer of the Junior League of Miami and is active with the AJC and the ADL.
Her other memberships include Leadership Miami, the Council for Advancement and Support of Education, ABA Council for Diversity in the Educational Pipeline, U.S. Senator Marco Rubio's Southern District Judicial Advisory Commission, and the National Society of Fundraising Executives. She has participated on the planning committees and speaker panels of conferences for the Institutional Advancement sections of both the Association of American Law Schools and the American Bar Association. 
In 2022 the Cuban American Bar Association (CABA) recognized Angones for her commitment to both the community and the legal profession with its Amigo Award.
She is married to Frank R. Angones, JD '76, a partner in the law firm of Angones, McClure and Garcia, P.A. He is a past President of CABA (1982) and the first Cuban-American to have been elected as President of both the Dade County Bar (1994) and The Florida Bar (2007).