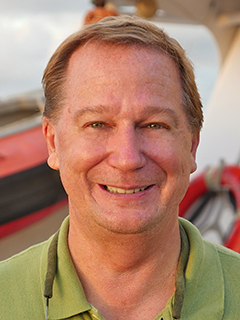 Lynn Keith Shay
Professor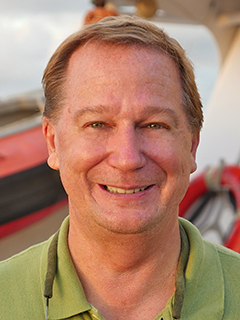 Professor, Department of Ocean Sciences - Rosenstiel School of Marine, Atmospheric, and Earth Science
Lynn K (Nick) Shay is a Professor of Oceanography in the Ocean Sciences Department at the University of Miami's Rosenstiel School of Marine, Atmospheric, and Earth Science. Shay's research focuses on mesoscale air-sea interactions and coastal ocean processes for both weak and strong winds such as tropical cyclones (e.g., hurricanes). The approach is to use remote sensing techniques from both satellite (radar altimetry) and high-frequency radar techniques to understand the air-sea interface in combination with in-situ measurements such as profiling floats and expendable profilers both of which can be deployed from research aircraft or ships. These experimental data are cast within 3-dimensional ocean and coupled models working with colleagues from various institutions to examine these complex interactions and assess the impact of surface conditions on the subsurface ocean physics in the mixed layer and thermocline. 

Shay teaches graduate courses on Air-Sea Interaction, Waves and Tides and Coastal Ocean Circulation and advises graduate students in the Ocean Sciences and Meteorology and Physical Oceanography programs. Shay directs the Upper Ocean Dynamics Laboratory in the Department of Ocean Sciences where students have an opportunity to design experiment and conduct research.
Education
| | |
| --- | --- |
| 02 | Post Doctoral Dr. S. Daniel Jacob, |
| 04 | Post Doctoral Dr. Wilson Segura, |
| 12 | Post Doctoral Dr. Benjamin Jaimes, |
Career Summary
Shay has published over 100 peer-reviewed scientific publications in top-tier journals and collaborated with prominent scientists at universities, government laboratories, and in the private sector. He received his PhD in Physical Oceanography at the United States Naval Postgraduate School (NPS) in 1987 while holding an ONR Research Assistantship in the Department of Meteorology at NPS. After completing his postdoctoral training at NPS in the Meteorology Department, he took a research faculty position at the Rosenstiel School in 1989.

Awards and Leadership Positions
Shay has led several experimental several projects funded by the Office of Naval Research, National Science Foundation, National Oceanic and Atmospheric Administration, National Aeronautical and Space Administration, Minerals Management Service, and the Gulf of Mexico Research Institute. He served on a National High Frequency Radar Steering Team for NOAA's Integrated Ocean Observing System Program, Rapporteur (panel leader) for Air-Sea Interactions and Oceanic Impacts for several World Meteorological Organization's (WMO) International Workshops on Tropical Cyclones, Panel member for WMO's Landfall Processes, and Co-Chaired NSF/NOAA Program Hurricanes at Landfall. Shay has convened several sessions at major national and international meetings and is often invited to give keynote presentations. In 2011, Shay was awarded a NASA achievement award for the work during the NASA Genesis Rapid Intensity Program. Shay was elected fellow of the American Meteorological Society (AMS) in 2012. He served as Co-Chief Editor for the AMS Journal of Oceanic and Atmospheric Technology and is the current editor-in-chief of Elsevier's Dynamics of Atmosphere and Ocean international journal.
Honors & Acknowledgements
Honors & Awards
2017: Alfred P. Sloan Award (Who's Who in Publications 20 year Award)
SECOORA Board of Directors (2017-2020)
2016: Richard H. Hagemeyer Award (NOAA Office of the Federal Coordinator of Meteorology)
2012: Fellow of the American Meteorological Society
2011: NASA Group Achievement Award: Genesis and Rapid Intensification Science Team
2010: Board of Directors For SECOORA
2009: Presidential Whos' Who WMO Panel Member: International Workshop Tropical Cyclones Landfall Processes (Expires 2013) RSMAS Representative (FLCOOS, SECOORA)
2008: NASA Hurricane Science Team; NOAA Hurricane Forecast Improvement Project (Co-Chair Observations Committee)
2007: Who's Who in American Education GCOOS: Observation Committee
2004: Fellow of NOAA's Cooperative Institute of Marine and Atmospheric Science> SEACOOS : HF radar Committee Chair
2002: Shay, Goni, Black paper awarded best research paper at AOML for 2000
1998: Invited Lecturer: Upper Oceanic Processes, Landfalling Tropical Cyclones UCAR Advanced Study Program, 13 - 24 July, 1998, National Center for Atmospheric Research, Boulder, CO.
1995: Honorable Mention: Variability of HF Doppler Radar Current Measurements of Continental Shelf Currents, Poster Presentation at the Third Thematic Conference on Remote Sensing for Marine and Coastal Environments, B.K. Haus, H.C. Graber, L.K. Shay and R.D. Chapman
1991: University of Miami General Research Award, Shay, Chang, and Elsberry paper cited as one of the best research papers at NRL for 1990 (NRL only gives award to NRL scientist if lead author).
1982: Awarded Navy Scholarship to study for a Masters Degree at Naval Postgraduate School.
1979: Outstanding Employee: Naval Oceanographic Office.
Memberships
Professional & Honorary Organizations
American Meteorological Society (AMS)
American Geophysical Union (AGU)
Sigma Xi
The Oceanography Society (TOS)
Scientific Research
Shay conducts experimental studies using platforms such as research aircraft (NOAA WP-3D, and Air Force WC-130J) to deploy oceanic and atmospheric sensors in hurricanes to examine the air-sea interactions in the oceanic and atmospheric boundary layers. The rationale is to unlock the key air-sea interaction processes involved in rapid intensification during hurricane passage by analyzing the data and assess both oceanic and coupled model performance. A key aspect is to implement an operational forecast model that has an active ocean coupled to an atmospheric model. During Deep Water Horizon, Shay's research team mapped the Loop Current and eddy field from the NOAA WP-3D on 12 missions deploying more than 1000 sensors. These data were used by the operational centers to model the Loop Current and improve the trajectory or movement of subsurface hydrocarbons (and oil) from the 3-D ocean fields. A second aspect of Shay's research is to use the HF radar remote sensing to measure currents, winds, and waves in real time to improve the understanding of the coastal circulation for a wide spectrum of activities such as search and rescue, pollutant dispersion, storm surge, and ship detection and tracking. These research avenues have societal relevance at their core. Shay's laboratory does the basic and applied research to facilitate transitioning to operations and operational oceanography.

Service at UM and for the Wider Scientific Community
Shay's research contributes to operational needs and hurricane intensity forecasting the National Hurricane Center that helps prepare the "U" in case of a hurricane. Within the Rosenstiel School and more specifically the Ocean Sciences Department, Shay led a team of scientists in putting together the first OCE Strategic Plan by merging three divisions that were in the school. Shay also represents the school in the NOAA IOOS program on the Board of Directors for the Southeast Regional Association and as an alternate member in the Florida Institute of Oceanography, a statewide oceanographic organization. Shay has also served on various review committees at the school and university levels and has served on the Faculty Senate and the School Council.