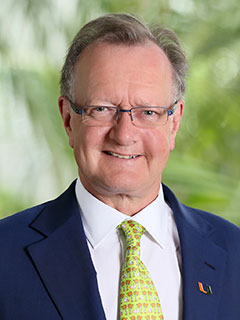 John A. Quelch
Dean, Academic
Leonard M. Miller University Professor
University of Miami Herbert Business School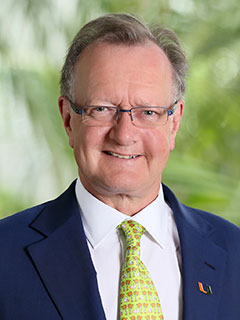 John Quelch was dean of the University of Miami Herbert Business School and the University's vice provost for executive education from July 1, 2017, to December 31, 2022. Quelch has a wealth of senior leadership experience, having previously served as the dean and senior associate dean at three internationally-recognized business schools.
Prior to joining the Miami Herbert Business School, Quelch was the Charles Edward Wilson Professor of Business Administration at Harvard Business School. He also held a joint appointment as professor of health policy and management at the Harvard T.H. Chan School of Public Health – the first to hold dual primary appointments in those two schools, and one of only a few faculty members across Harvard University with this distinction.
Prior to his most recent time at Harvard, Quelch was dean, vice president and distinguished professor of international management of the China Europe International Business School (CEIBS) from 2011 to 2013. Under his leadership, annual revenues increased by more than 25% to over $100 million; the school's MBA global ranking in the Financial Times improved from 24 to 15 and its Executive MBA ranking from 18 to 7; and the school launched programs to integrate faculty and staff activities across four CEIBS operations in Shanghai, Beijing, Shenzhen and Ghana.
From 1998 to 2001, Quelch served as dean of the London Business School, where he helped transform the school into a globally competitive institution and launched seed capital funds to invest in student and alumni start-ups. 
Quelch initially joined Harvard Business School in 1979, holding a number of positions over the years, including Sebastian S. Kresge Professor of Marketing, co-chair of the marketing department and Lincoln Filene Professor of Business Administration. He served as senior associate dean of Harvard Business School from 2001 to 2010.
Quelch is the author, co-author or editor of 25 books, as well as numerous business case studies on leading international organizations. He also is known for his teaching materials and innovations in pedagogy; during the past 35 years, his case studies have sold more than 4 million copies.
Quelch has served on numerous corporate, nonprofit and public agency boards, including as chairman of the Massachusetts Port Authority. He is a member of the Trilateral Commission and the Council on Foreign Relations.
Quelch earned a BA and an MA from Exeter College, Oxford University; an MBA from the Wharton School of the University of Pennsylvania; an MS from the Harvard School of Public Health; and a DBA in business from Harvard Business School.
In addition to the United Kingdom and the U.S., he has lived in Australia, Canada and China. He was appointed a Commander of the Order of the British Empire (CBE) in 2011, and in 2017 was elected a Fellow of the American Academy of Arts and Sciences.
Education
| | |
| --- | --- |
| | SM DBA, Harvard |
| | MBA , Wharton |
| | B.A. M.A., Oxford |
LIST OF SPECIALTIES: Marketing Strategy | Building Global Brands | Customer Behavior | Marketing and Public Policy
Professional Experience
| | |
| --- | --- |
| - | Dean, China Europe International Business School |
| - | Senior Associate Dean, Harvard Business School |
| - | Dean, London Business School |
LIST OF SPECIALTIES: Consumer Centricity in Healthcare, Marketing and Public Policy
Publications
With G. Moore and E. Boudreau Choice Matters: How Healthcare Consumers Make Decisions and Why Clinicians and Managers Should Care (Oxford University Press. 2018).
With C-I. Knoop Compassionate Management of Mental Health in the Modern Workplace (Springer Publishing. 2018).
With E. Boudreau Building A Culture of Health: A New Imperative for Business (Springer Publishing. 2016).
Consumers, Corporations and Public Health (Oxford University Press. 2016).